Configure HiPay with your Online Store
On this page
HiPay Wallet is an electronic payment gateway, it is easy to configure for your Jumpseller Store. Learn more about HiPay Pricing.
---
Let us take you through the process of setting it up:
Create a HiPay Account
Complete the HiPay registration by adding the relevant information.

After you Create your account, you should recieve this confirmation email.
Register Website
To start the website registeration, go to My websites from the side bar.

Click on the Register a new website button

To register your website, start by adding the relevant information in the following required fields.
Merchant Site ID
After you have registered a website with HiPay, you will find your Merchant ID.
---
Configuring the Admin Panel
Finally, return to your store's Admin Panel > Settings > Payments > HiPay and complete the following fields.
Account number

Merchant Site ID
You will find all this information in your HiPay account panel: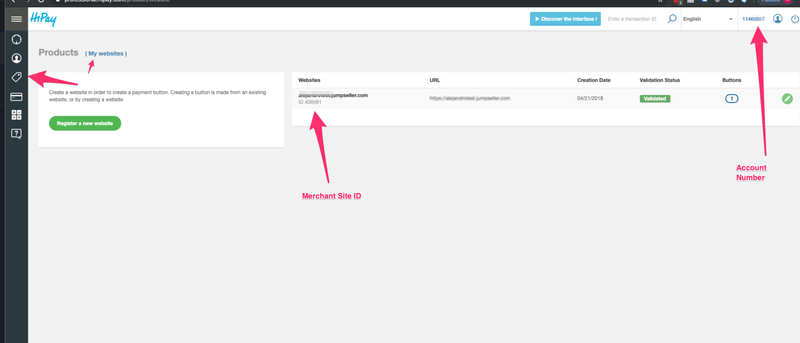 If you want test the payment method, please follow the instructions at: HiPay test site.
---
FAQ
Can I create a button with HiPay and use it on my Jumpseller Store?
It is possible to create a button with HiPay and add the HTML code to your Jumpseller store, however, the Button is integrated with a Fixed Amount, so if you have different products on your store, and the prices are different, adding a button can be problematic for you.
Can I do an advanced integration with HiPay using my Jumpseller Store?
No, your Jumpseller store is not integrated with Hipay Webservices, instead we use a simpler API integration.
---
For up-to-date information on the status of our system and all its services, please visit status.jumpseller.com. You can also subscribe to receive notifications about any updates or maintenance work on the site.