TITANPush
On this page
TITANPush is a platform with tools that help brands sell more through their websites and communicate better with their customers.
Impact your customers with messages on their phones and computers when they are not browsing your site through push notifications. Advertise and communicate using banners and pop-ups strategically placed on your website, provide your customers with their own history of viewed products and even allow them to see the hottest products.
In addition, you can set contact buttons of WhatsApp and Facebook Messenger to capture queries directly from your website. Finally, we also offer a Linkpage, our contact tool so that you can communicate all your important links and social networks with a single link.
Your account is FREE for the first 30 days. To see our plans, click here. For support or more information, sign up for our free DEMO.
TITANPush offers:
PUSH NOTIFICATIONS to notify users that have left your site.
HISTORY, MOST VIEWED, POP-UPS, BANNERS and CHAT to communicate with users present on your site.
LINKPAGE to communicate various links on social networks.
WEB PUSH NOTIFICATIONS
Manual and automatic campaigns.
Audience segmentation.
Sending methods: Normal / Scheduled / Smart.
Automatic Retargeting notifications (visited product reminder)
Winback push notifications (brand reminder)
MOST VIEWED
Enter text in the button
Choose the appearance of the card
Select the font
Configure on which pages it will be displayed
HISTORY
Choose to display it as a button or pop-up
Configure the appearance of the elements
Select the font
Configure on which page it will be displayed
EXIT POP-UPS
It will only be displayed when the user tries to leave the website.
Adjustable texts, fonts and colors.
Customizable image and button.
Schedule the pop-up visibility.
Choose the pages on which the pop-up will be visible.
BANNERS
Visible on smartphones and computers.
Adjustable texts, fonts and colors.
Button with custom URL and UTM included.
Schedule visibility.
Choose on which pages each widget will be visible.
LINKPAGE
Create unlimited links.
Set colors, text, typography, image, icons, and background.
View the number of clicks per button.
Hide buttons temporarily and bring them back when you need them.
Customize your page title.
CHAT: WHATSAPP & FACEBOOK MESSENGER
Choose where it will be displayed.
Add text to the button.
Use one button or both simultaneously.
Choose days and times in which the button will be displayed.
Configure on which pages the button will be visible.
---
How to configure the app
Registration is automatic, which means no manual registration is necessary. You just have to install the TITANPush app on Jumpseller.

The prices are staggered related to the number of subscribers obtained through the subscription pop-up of the push notification channel.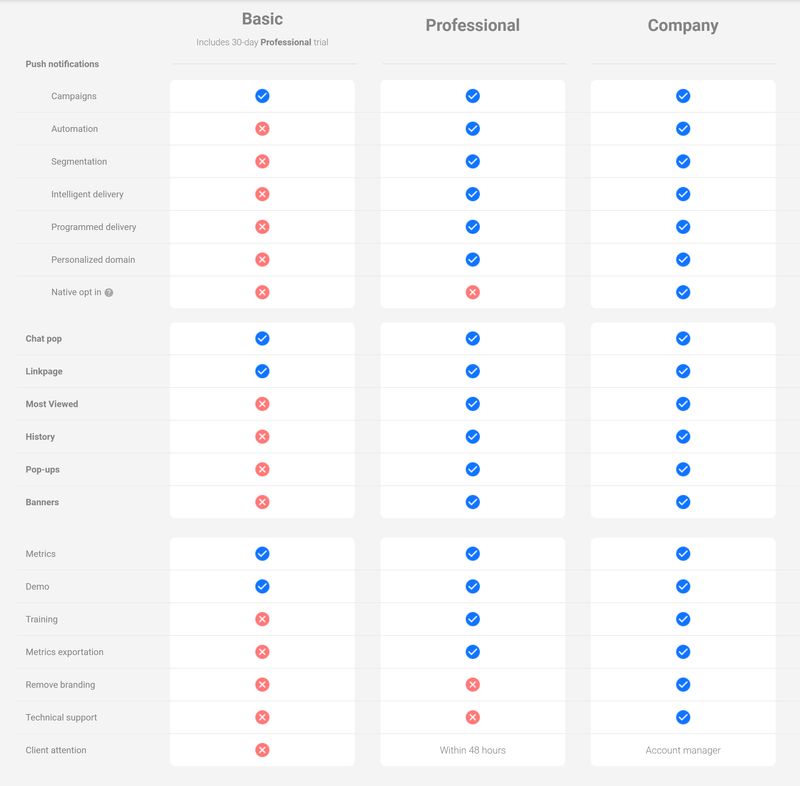 To see all of our prices, choose a range of subscriptions in the professional channel dropdown: https://www.titanpush.com/en/pricing
The installment of TITANPush is 100% automatic, it is only necessary to click on the app and give the necessary permissions.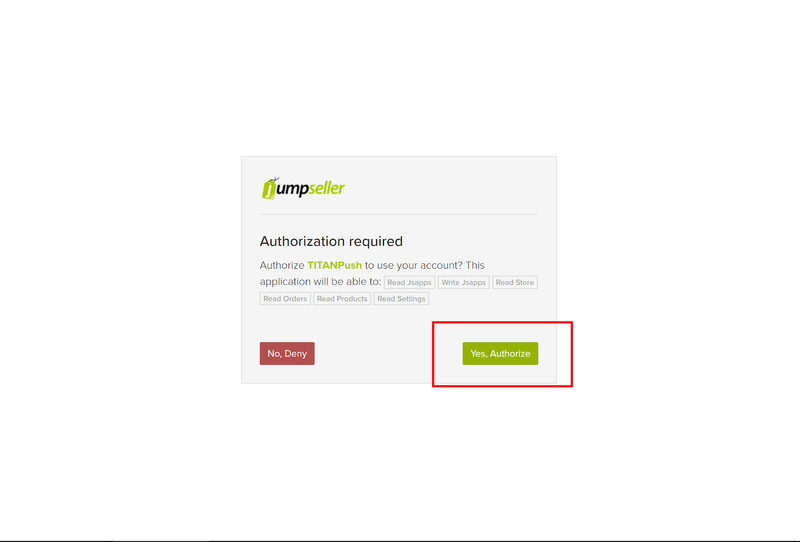 Support contact:

No support for free accounts
Basic support and within 48 hours: info@titanpush.com
Specialized support: Email + WhatsApp
---
FAQ
1) What is a banner?
A banner is a tool with which you can communicate messages through custom banners in different parts of your site. You can have banners coexisting on different pages at the same time with different messages. It is an agile and versatile tool, with which you can communicate amazing deals or simply display an informative and relevant message for 100% of your website visitors.
You can customize the banners according to your taste: define colors, add an image, and select the typeface that best suits your brand; then decide where you want it to be displayed and at what time and days.
Finally, you can measure the results by observing the metrics that are reported in our main panel or following the impact from Google Analytics. See more about banners (use a link to the landing for the home page, do not use it for internal Faqs)
2) What are Pop-Ups?
Pop-Ups are messages that capture the attention of your site's visitor. Whether your client tries to leave, goes through the site, or by the time spent on the site, this tool allows you to display a relevant message that directs the client to take an action: a deal, news, or simply communicate whatever you consider important. You can customize your window completely, defining titles, colors, adding an image, and selecting the font that best suits your brand.
You can choose the page of your site where you want to show the pop-up and when you want to show it by setting days and times.
You can also create as many pop-up campaigns as you need.
Finally, you can measure the tool's performance on Google Analytics, in addition to viewing the metrics in our main panel.
3) What is the Pop Chat?
Talk to your customers on WhatsApp or Facebook Messenger. Enable contact on two platforms that your customers already use to talk to them. In just a few minutes you can set up this contact channel, defining the position of the bubble and setting up where and when you want it to be displayed, defining days and times; You can include text inside the bubble with a call to action to make it more appealing. The customers would see the contact channel on your website, and start a conversation with you from your website; From there you can assist them.
4) What is a Link page?
A lin page is a customizable microsite used to order the channels of your company in one place. You can upload links to payment methods, contact channels, online courses, social networks, etc. You can choose a background with a color or an image to personalize your Link page. Personalize 100% of your content. You can define colors, fonts and add icons; Also, choose in which order they are displayed. You can always change your links
At the end of the setup, you will see a unique link with the name of your site, ready to use! Finally, you can view the number of clicks each of the links obtained in a given period from our main panel.
5) What is the browsing history?
It shows the browsing history of products, making available for each client their history of products seen on the web, with the aim that they return to their purchase intentions.
This tool allows you to customize the appearance of both the bubble and the pop-up to adjust it to suit your website.
You can set up a floating bubble or integrate Browsing History as part of your site.
6) What is History?
It is a tool that makes available to users their history of products seen on the brand's site. There are two ways to display this tool on the site: either List or Pop-up.
The pop-up will be displayed on the site when a user returns to visit it, showing the last one or the last three products visited. In this way, you will lead your client directly to resume a purchase intention. You can choose the style and font of the product cards. You can also customize the tool through HTML.
On the other hand, the list will be displayed in the form of a card once the user has clicked on the bubble that will be displayed on the site.
Finally, you can choose the pages of your site where the product history will be displayed.
7) What is Most Viewed?
This tool will allow your customers to see the products most visited by your website users, showing them the purchasing trends.
You can set up our floating bubble template or integrate "Most Viewed" as part of your site.
You can choose the style and font of the product cards; You can also customize the tool through HTML.
Finally, you can choose the pages of your site where the product history will be displayed.
---
For up-to-date information on the status of our system and all its services, please visit status.jumpseller.com. You can also subscribe to receive notifications about any updates or maintenance work on the site.