Syncee for Retailers
On this page
Syncee is a leading B2B dropshipping platform designed to help retailers and suppliers connect worldwide. On Syncee Marketplace, you can find millions of dropshipping products from real, reliable suppliers from the US, CA, EU, UK, AU + more.
Add products to your Jumpseller store easily with Syncee, and automate the product uploads, updates & order synchronization.
---
Why work with Syncee
Millions of dropshipping products in various categories

Real B2B suppliers from all over the world

You can work with local suppliers for short delivery time

Automate the product uploads, updates

Automate the order data synchronization

Customizable product price settings

No inventory risk & No minimum orders

Pick products one-by-one or in bulk

Built-in chat for retailers and suppliers

DataFeed Manager
---
How to create a Syncee account
Go to your Jumpseller account, and click on the Apps menu. Look for the Syncee - Global Dropshipping app, and click on the name of it. After this, you have to click on the green Install App icon. So you can move forward, authorization will be required. Click on the Yes, Authorize button.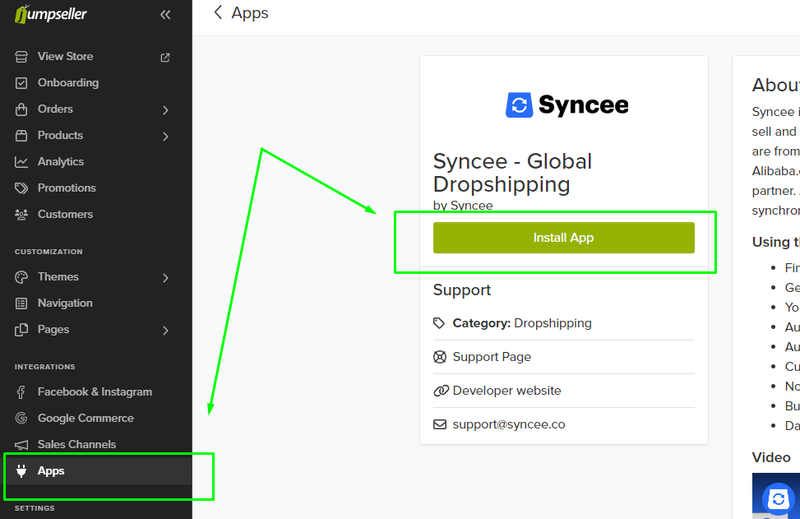 Your Jumpseller store will be connected to Syncee now, and you'll have to go through a quick onboarding process. The onboarding process helps you learn more about Syncee, and you will also have to pick which solution of Syncee you want to start off with.
Marketplace: Pick ready-to-sell products from available suppliers on Syncee Marketplace. Automate the product uploads, updates, and order sync.

Alibaba.com Dropshipping: Add Alibaba.com dropshipping products to your store easily with Syncee. Automate the product uploads, updates, and order sync.

DataFeed Manager: If the supplier you want to work with is not available on Syncee marketplace, you can bring their product datafeed file in any format like CSV, XML, XLS(X), JSON, or TXT. Automate the product uploads and updates.
---
How to add products to your Jumpseller store via Syncee
Once you created a Syncee account, you can decide which of the solutions you'd like to move forward with.
Syncee Marketplace
There are two solutions you can pick from if you want to get products from Syncee Marketplace. If you go to the Search Products menu, you can browse a huge directory of products and pick them one-by-one. If you go to the Find Suppliers menu, you can manage your chosen supplier's products in bulk.
Now let's see how you can add products to your store if you want to pick products one-by-one.
Step 1: Go to the Syncee Marketplace > Search Products menu.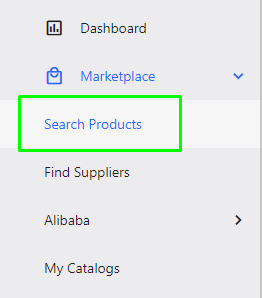 Step 2: Use the search bar and the filter options to look for the products you want to sell. There are various Advanced Search filter options that help you get a more personalized search result.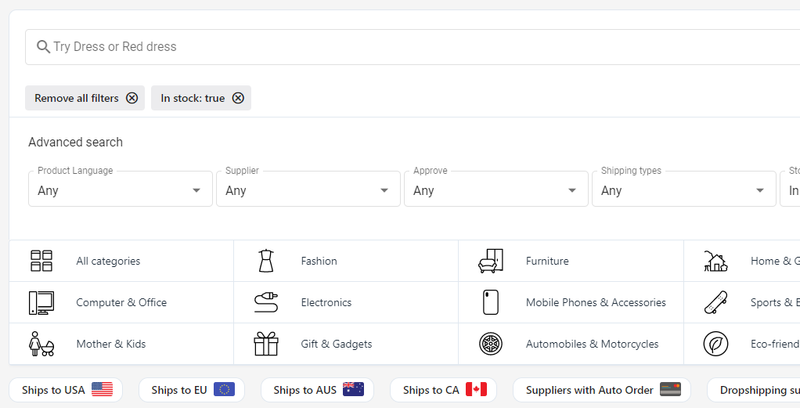 Step 3: Once you found the products you want to sell, you have to arrange them into a catalog. Click on the green Add to catalog button under your chosen product, and create a new Syncee catalog or add the products to one of your existing catalogs. You'll have to add a price margin as well.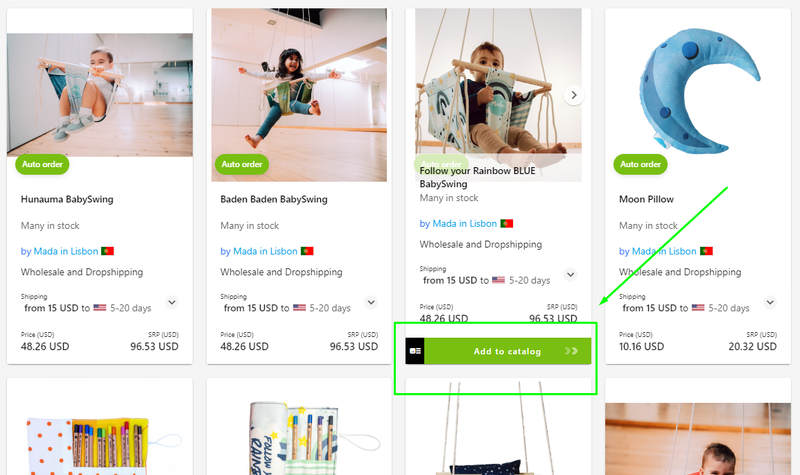 Step 4: You can add further catalog settings by going to the Marketplace > My Catalogs menu, and clicking on the name of your catalog. If you do not want to add any further settings, or you are ready with them, you'll have to click on the Sync button at your catalog to upload products to your Jumpseller store with one click.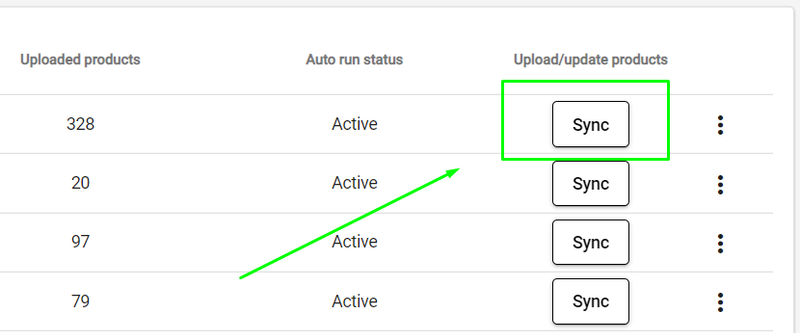 Syncee offers a free Starter Marketplace plan that allows you to browse among millions of dropshipping products. Collect the products you love into your Syncee catalog, and upgrade your plan to import products into your online store. Your free DataFeed plan also allows you to prepare products you will want to sell. Our pricing is based on the product number, not the variant SKU. Free trial available!
---
Benefits of upgrading from the Starter plan
Upload 25 or more products to your store
Create more catalogs
Chat with suppliers directly
Automate the product updates
Automate the order data synchronization
Do you have any questions about Syncee? Reach out to Syncee's customer support team via support@syncee.co or in-app live chat. Check out Syncee's Help Center to find more articles with detailed explanations of how Syncee works.
---
For up-to-date information on the status of our system and all its services, please visit status.jumpseller.com. You can also subscribe to receive notifications about any updates or maintenance work on the site.