How to upload a product
On this page
An important aspect of starting an Online Business is adding and listing your products. Depending on the products you are selling, you can create a suitable product page with pictures, details and variants, among other details. Let's go through all the steps to configure products on your Jumpseller Store.
In order to access to the Products section, go to Admin Panel: Products > All Products. If there are no products, you will see a "No Products Yet" message.
You can Add Products manually or you can directly import them using a CSV file with your existing product list.
How to import products by uploading a CSV file

If there are products already listed there, you can click on "Add Product" on the top right corner to add your new products.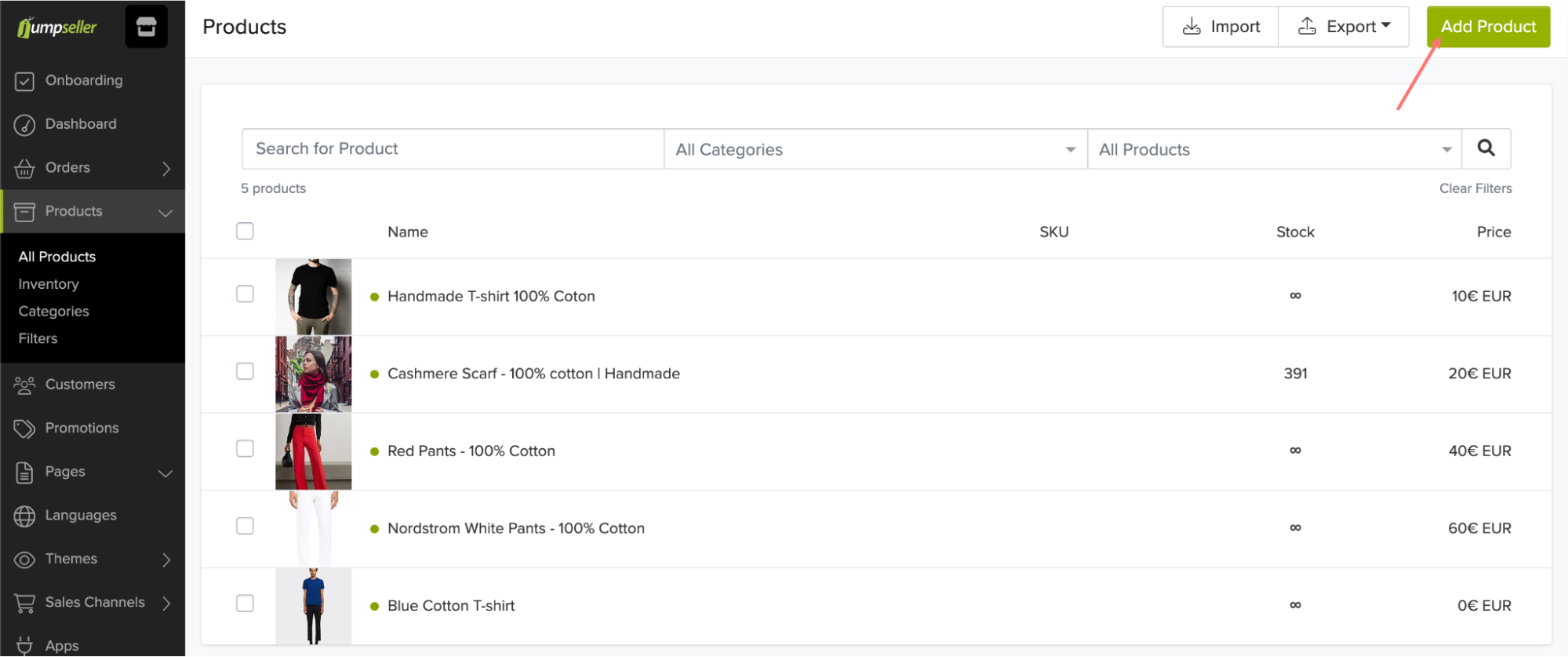 Once you are in the product creation view, you will see different sections with several input fields:
Basic info: Name (Required),

Categories: You can create new categories here depending on how you want to categorize your products.

Description: You can also add HTML on the description editor, but this step is not compulsory.

Featured: This option tags your product as "Featured". Depending on the template you're using, your products can be displayed prominently on your website, for example, in your homepage slideshow.
Images: For each product, you can upload as many images as you need (with a maximum file size of 2MB each). The first image on the top left corner is used as the main image and, depending on the template you are using, it can be the biggest one. If you want to select a new main image, upload it and then just drag & drop it to the first position from left to right. You can reorder the images in the image list.
Properties: Here you can set the Price of the product, define the Stock and add a Stock-keeping unit (SKU), which is a number or a code that identifies each unique product or item for sale. You can also add the Brand of a particular product, its barcode and set a status for it.

Status: There are three possible statuses in Jumpseller:
- Available: Your product is available on the store and can be added to the cart;
- Not Available: Your product is visible on the store but it isn't available to be purchased. This status is very useful if a product ran out of stock and you need time to replenish it (e.g. your supplier's factory is located in Asia) but you don't want to lose sales leads. Using this status, you can still show it, promote it, and receive inquiries for it.
- Disabled: Your product is not displayed on the store. In case you have seasonal products (e.g. sold only during Christmas season) and you don't want to promote them during the rest of the year.

Shipping: Edit shipping properties, such as weight, width, height, length, and package format.
Product options: To add further details to your products, you can use the Product Options. These will generate variants for which you can set specific properties (SKU, price, stock, weight).

You can edit and sort them by clicking on the "Edit" button.

Custom Fields: You can also create a Custom Field for any product by specifying its label and type. These custom fields can be shared across all the products. However, you will need to add every custom field and its respective value to your products manually.




Attachments: If you have additional information about a product on an external file (for example, in a PDF), you can upload it here and it will appear as a downloadable option on the product page.

Digital Products: If you want to sell Digital Products, such as music, software, Ebooks, among others, you have to check this box. This will hide all the shipping-related fields, and it will enable the upload of the product's files which will be private and only sent to the customer after the purchase is complete.

SEO: Your store is already confirmed to be SEO friendly, but you still need to add the relevant data for Google to index your pages. Add the Page Title, Meta Description and edit the URL.


---
FAQs
How to manage the stock of my products?
Managing stock can be a daunting task, especially if you have a huge amount of products. Some options to manage your inventory better are:
Edit your stock inventory in your Admin Panel. We do a simple inventory control;

For stores with hundreds of products, you can use our Import/Export Products to CSV option. We suggest you to first export your Product data, edit it without changing the file structure and then upload it again;
Import Products Via A CSV File
Please review our Import Products Via A CSV File page
How can I add a Video to my Product?
It is possible to add videos to your Product's description by embedding them:
Copy the video embed code from Youtube or Vimeo (or whatever service you use). Guide For YouTube

Go to your Product Details Page.

Click Add Video as below: