Product Reviews
On this page
What are Product Reviews?
Product reviews are typically the result of a buyer providing a company with feedback regarding the product they purchased.
Most online stores allow clients to rate and review their purchase, to help other customers get a clearer idea of the product before purchasing it.
---
Why are Product Reviews important for Online Stores?
With most new online stores, the focus is immediately on design and functionality. Many of these stores actually end up with a lack of sales and are often left thinking about what they could have done better.
One of the easiest ways to address the lack of sales is by enabling product reviews. Product reviews are user-generated content that lets buyers engage with the merchant and allows them to leave feedback.
Reviews can influence shoppers when they visit your store, and oftentimes they prove to be the decisive factor between making a purchase or not. According to some studies, 90% of consumers read online reviews before making a purchase and 88% of consumers will be prompted to take an action after reading positive reviews (source: Invesp).
As credibility is a key factor that decides the long-term success of your brand, product reviews help build that trust.
So, to summarize, with product reviews enabled, you can get the following benefits:
Boost sales,
Increase customer trust and loyalty,
Generate content for the website,
Rank higher on Google searches,
Build social proof,
Help with marketing.
---
Product Reviews Flow
Learn the five steps of the product reviews workflow.
Order Completed: Your customer creates an order.
Email sent to customer: After your defined time, the customer receives a request for review in an email. This email includes the name and a photo of the purchased products.
Customer Sends Review: The customer can add a rating from 1 to 5 and optionally a written review.
Approval Process: As an administrator, you can publish or unpublish these reviews. Only published customer reviews will be visible in your store.
Review is published.

---
Request reviews from your customers
For best results, define the best time to ask your customers for feedback. There are three settings to consider in the Admin Panel.
Go to Settings > General > Emails > Product Review. Here you can define the time between a customer making a purchase and receiving a follow-up email requesting a review. We recommend the following settings, even though you are free to change them to fit the specific context of your business.
Digital orders: Even though digital products are delivered immediately, it's best to give your customers some time to experience them. Recommended time: 1 Day.

Delivered paid orders: For this option, Jumpseller takes into account the time when all shipments of a paid order have the delivered status and sends the email after that. Recommended time: 1 Day.

Paid orders without shipments: Perhaps you forgot to create shipments for this order, or perhaps you don't use our fulfillment system. We will send the email after the order is marked as Paid. Recommended time: 14 Days.
After you finish the configuration, don't forget to activate this email.
Note: To receive weekly updates about the reviews placed during the previous week, go to General Settings > Emails and enable Reviews Status in the Administrator Emails section.
Request reviews and ratings manually
You can ask each client, order by order, for a review if you wish. This option is also helpful if you want to do some testing.
When entering a paid order, you will find a button with three points in the top bar with additional options. Click on it and then on Send Review Email.

---
Publish the reviews and ratings in your store
After some time, you will get enough ratings to publish them in your store; you can manage the publication by going to Products > Reviews.
Note: Make sure your theme's version supports product reviews. If, after publishing them you don't see them in your store, please contact our support team to help you find a solution.
Publishing your reviews will have the following effects.
In product lists such as categories, search, home pages, etc. 
The product block will show a score, a design with stars reflecting this score, and the reviews count.

On the product page
The rating score will show next to the price and name of the product. Below users will see the product reviews you have decided to publish.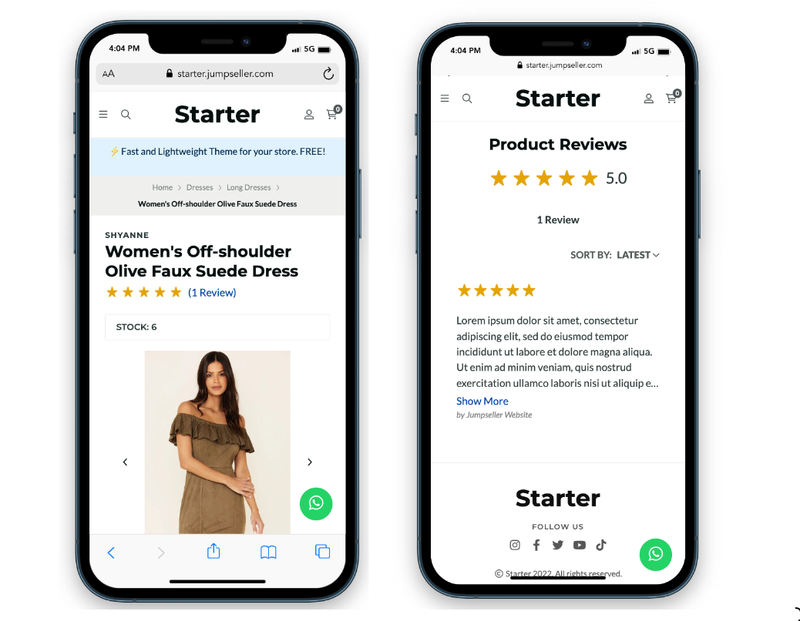 In search engines results
Search engines like Google will read structured data placed in the Html of your product pages and reflect it on their organic and paid results.

---
FAQs
Are product reviews available on all plans?

Available for Plans Pro and above.

Can I import my previous reviews from another platform?

At this moment in time, it is not possible to import product reviews to a Jumpseller store from another platform.

Can I reply to the reviews on the thread?

No, this is not something that has been implemented in the current version of product reviews.

With this new configuration, is it possible to ask my old clients to rate products?

At this time, it is not possible to have clients fill in product reviews if the purchase was made before this feature was enabled on your store.

Can I sync product reviews with social media?

There is no way to sync product reviews directly with Social Media at this time.

​​Do reviews "AutoPublish"?

No, they are marked as "Unread" first, and they need to be published manually after being reviewed.

Can I hide/delete bad reviews?

You can't delete them, but you can change their status on the reviews page and disable them for a product on the product page.

Is the only way to submit a review via email?

In the current version of product reviews, emails are the only way through which customers can submit a review.

Is there a way to change the order in which the reviews are shown (from best to worst)?

Yes, in the themes section.

Is there a way to automate translations for product reviews?

At this time, this is not possible. However, this functionality might be added as we work to improve the feature.
---
If you have any further questions you may contact us, we will be glad to assist you.
---
For up-to-date information on the status of our system and all its services, please visit status.jumpseller.com. You can also subscribe to receive notifications about any updates or maintenance work on the site.