How to Manage Url Redirects for your Online Store
On this page
URL redirects are used when you need to drive traffic from one webpage to another webpage or when content from URL A is moved to URL B.
Redirects are very important because if you moved your content from one location to another, you don't want your clients ending up on a non-existing page when they click on a search result. This can lead to losing customers and therefore sales.
From the SEO point of view, non-existing pages might hurt your SERP ranking.
Other situations when you need to use redirects:
You have migrated your online store from one platform to a new one.
You have deleted old content pages but their URLs still show on Google results page.
You have changed your domain.
---
When is a redirect needed?
When you migrate your store to Jumpseller, you might want to redirect your old categories, products and pages URLs to the new ones in Jumpseller.
This is because the URLs generated in Jumpseller might be a little bit different from those that were generated in your old platform.
We will explain this with an example.
Let's say that in your old store you had a category page with this URL A: www.yourstore.com/product-category/women-dresses
When you move your store to Jumpseller and create your category again, you might get this URL B: www.yourstore.com/women-dresses
So, what you need to do is set a redirect from URL A: www.yourstore.com/category/women-dresses to URL B: www.yourstore.com/women-dresses.
If the URL A turns to be the same as URL B, then there is no need to create a redirect.
How to Redirect URLs When Migrating your Online Store to Jumpseller
After you have created your product, category or page and saved it, Jumpseller will create an automatic URL (permalink) based on the name of the element.

To create a redirect from that old URL to the new one in Jumpseller, go to clic on Manage Redirects in the Search Engine Optimization section.

Then write your old path and select from the list the new element you want to point to and click on Add.
You are all set!
Do I need to set a redirect when you edit a permalink in Jumpseller?
The answer is No! Jumpseller will do this for you automatically. You can see your history of redirects here: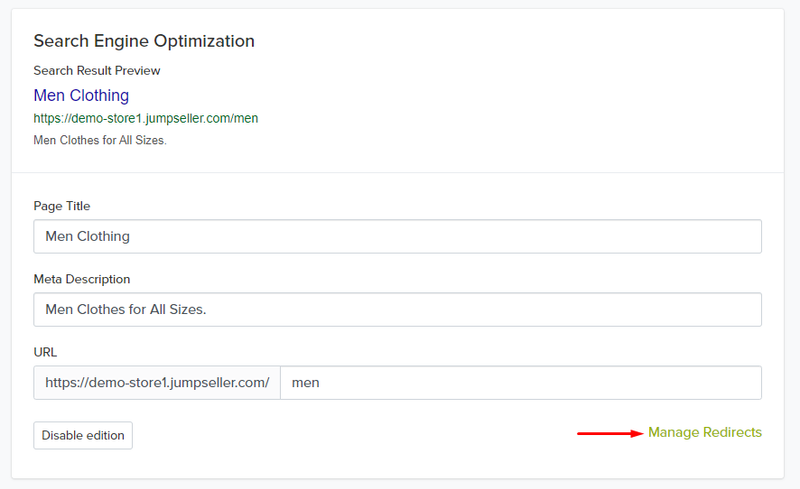 Once inside the "Manage Redirects" window, you will see all the time the url has changed and how the redirect has been automatically created.

Learn more about how to add SEO meta tags in Jumpseller and how to improve the SEO of your online store.
If you have any questions regarding all of this, you may contact us any time and we will be happy to assist you.
---
For up-to-date information on the status of our system and all its services, please visit status.jumpseller.com. You can also subscribe to receive notifications about any updates or maintenance work on the site.