If you have an Online Store and are struggling to make sales, we have the perfect guide for you!
In this article, we will take you through 8 tools that you can use to make your Online Store perform better and increase your sales.
---
Are you confident that the content on your website is readable and easy to digest?
Even if you have high-quality content, keep in mind that you only have 7 seconds to catch someone's attention, which is why it is important to optimize.
Use Readability Score to see if you are achieving your target of grabbing attention, otherwise change your ways!
This tool allows you to improve the readability of your content, increase the ROI (Return on Investment) and boost your sales.
Text analysis

Identify unclear messages

Take out the words that are left over

Eliminate jargon that contaminates the text

Find out if you are using the passive voice correctly

Fixes the use of adverbs

Scanning a website.

Save time and let the Readable robots do their work by finding in your site which texts should be fixed.

URL analysis

Monitor URL separately and gradually.

Rating of emails.

Send a test of your campaign to Readable and they will evaluate your email, returning it with suggestions to optimize it.

Prices There is annual and monthly invoicing. Three plans: US $5, US $27 and US $77.
---
A graphic design tool for non-designers.
Having an online store means you will need to generate a significant amount of visual material to display your products and promote them on various channels (Facebook, instagram etc).
Canva facilitates this work by giving you a platform where several people can collaborate creating templates, either by importing their own images or using the thousands of illustrations that the software offers you.
Search photos, illustrations and icons: There are free and other US $1.

Edit photographs: cut them, modify their angle, add filters and correct all the elements involved in an image.

Lean on predetermined sizes for each channel or type of format: social networks, printed banners, email marketing among others.

Get inspired and create based on great designs: If you do not know about design, do not worry, Canva offers templates for different kinds of messages.

Price Monthly or annual invoicing: Three options: free, US $12.95 and one customized for teams of more than 30 people collaborating.
---
Analyze the performance of your online store, both on computers and mobile devices and receive suggestions on how to optimize it.
If the loading times are high, people will exit your website!
Speed Score: Find out if your site is rated as fast, slow or normal.

Optimization score: Do you comply with the ideal practices for your page to perform well? Two factors are evaluated: the time it takes to load half of the top page, once the client landed on a page and the loading time of the entire page.

Optimization tips: Get a list of best practices.
Checkout this infographic about the latest Website Load Time Statistics
---
CRM - Customer Relationship Management
CRM (Customer Relationship Management) allows you to centralize the history of the relationship with your customers, making it easier to collaborate, communicate and share information in one place.
Note that if you use other Google Suite tools you can synchronize them with Zoho CRM.
Manage all customer interactions in one place.

Improve the perspective of your needs.

Add files from Google Drive.

Schedule your commitments with customers from Zoho in Google Calendar.

Import contacts from Gmail contacts.

Exports tasks from Zoho to Google Tasks.

Import information about your campaigns in Adwords to know which keywords lead to your offline sales. And vice versa, export your data in Zoho to Adwords to improve your campaigns.

The plans are between US $12 and US $35 per month and the billing is annual.
---
SEO tools: If they cannot find you, they cannot buy from you
It is an all in one suite of digital marketing that offers you tools to better position your website, taking advantage of the comparison with the online strategy of your competition.
SEO: If you want to publicize your online store, you have to make it easier for search engines, for example, Google, to find it. How? Through a set of actions that are known in the world of digital marketing as SEO. SEMrush allows you to diagnose how you are in this aspect and know what to do to improve it: you can investigate which keywords your competition uses (those for which you are "fighting" so that search engines show your site in the first places), know in what is best for you to position yourself, start a link building strategy (tactical for other websites to include links to your store in your content) and track the progress of your site's optimization.

Content Marketing: The toolkit lets you know what content is attracting the most visitors to your store, which needs to be improved or removed; track the behavior of the same through tracking your backlinks (links that have been put on other pages to yours) and know how it has been shared on social networks.

Advertising: You can know what your competition is doing and even receive suggestions based on your ads. For example: They show you ideas of graphic pieces for Google Display.

Social Networks: You can program your publications, monitor their performance and compare yourself with your competition.

Language: It has a site in several languages: English, Spanish, German, French, Italian, Portuguese, Russian and Chinese.

Pricing & Plans: Monthly Plans - US $99 up to $399 , Annual plans - US $999 up to $3,999. The free version allows you: A query to the day of a domain, create a project, check the traffic of ebay.com, amazon.com and searchengineland.com, create a list of keywords, create an SEO template to create content with punctual recommendations to write. Pro Tool Test for 30 days.
Free Chrome extension for SEO support to create content
It is a software, educational platform and community focused on simplifying the way of doing SEO.
It offers access to the most important metrics for your keywords, recommendations to optimize your store in the eyes of search engines, identification of opportunities to make a link building strategy, notification of errors in your site that harm your positioning and online mentions of your brand, among others.
Link analysis: Identify who mentions your brand on the Internet, even if they have not included links to your store.

Search for keywords: It allows you to determine which keywords to choose to focus your positioning strategy based on four metrics: search volume, difficulty, opportunity and potential.

Open Site Explorer: It is one of the most popular Moz tools. However, to use it you must have a paid plan. What you can do: see which SPAM sites are linking to your e-commerce, establish your target websites to do link building according to your level of authority and find broken links on your platform.

Language: Only in English.

Pricing & Plans: Monthly plans - US $99 up to $999, Annual plans - US $959 up to $9,590, What the free version allows you: Explore the best keywords for your business, discover opportunities to do link building and review key aspects of a site while you visit it. Pro Tool Test for 30 days.
---
Analytics: If you do not measure it, you do not know if it really works
Google Analytics and Mixpanel are two of the best tools to measure the behavior of your online store.
Which is better? It depends on what you need. If you have a small e-commerce, Google Analytics is ideal, but if you need a platform to closely track your buyers and execute actions such as automatic emails in each stage of the tunnel, Mixpanel will be more useful.
Importantly, Google Analytics is the best-known analytics platform worldwide and has free courses that certify you as an expert in the tool.
Google Analytics
It is Google's flag tool for measuring the behavior of a website.
Not only does it allow you to monitor your sales and other conversions (such as records, for example), but it also shows you how visitors use your store, how they arrive and what actions to take to improve their experience.
Thanks to this platform you can optimize your digital strategy and know where to focus, what to stop doing and what to improve so that your buyers arrive, stay and return.
To start you only need an account in Gmail. Check here the first steps to start using this tool.
Analysis tools: the platform provides diverse and in-depth reports on: visits to your online store in real time, the characteristics of your audience, sources of visitor acquisition, behavior and on-site conversions.

Content Analytics: discover which pages have better performance to optimize the user experience in them.

Social Network analytics: analyze the interaction of your visitors with features such as sharing your content in different channels.

Mobile Analytics: monitors users' experience on mobile devices.

Conversion Analytics: establishes conversion events as a record, a purchase and analyzes how they came to perform certain actions.

Advertising Analytics: one of the biggest advantages of Google Analytics is that it allows you to measure the performance of ads on social networks, search and display networks.

Measurement focus: Track visitor information in your store and the pages you visit during your visit.

Real-time reports: It works quickly for small businesses but for high traffic sites it is delayed, up to 24 hrs, so it can take a while to process all the data.

Conversion funnels: They are more complex to build.

Tracking: Traces the activity of a user through Cookies. The difficulty is in tracking your activity according to the device you are using. You need help from a developer to configure cross-tracking between web and mobile.

Contact with clients from the platform: Does not offer this possibility.

Customer service: Phone, mail or help forum.

Price: There is a Premium version for very large accounts and to know the exact price you must contact Google. Only available in the USA, Canada, Germany, Spain, France, the United Kingdom and Japan. Free version comes with all functionalities.
Mixpanel
A tool to understand the whole journey of your user (user journey): the acquisition, engagement, and retention, through analytics on which you can take actions.
The characteristics of this tool are divided into two classes: deep analysis and intelligent action.
Deep user analysis:

Engagement: What do your users do when they arrive at your e-commerce?

Retention: Are they returning to your store?

Funeles: How do users go on the shopping trip?

Audience: Who are your visitors?

Smart action:

Machine-learning: the platform shows you the important details that you might lose sight of. You do not need an expert in analytics, Mixpanel helps you to get key insights from the data on your site.

A/B tests: find the best user experience by doing experiments in a simple editor.

Messages: keep your buyers sending messages not only for who they are (demographic characteristics) but for what they do inside your store.

Measurement approach: instead of focusing on the page views, it does so in the actions / events that the user does in the site, for example: a click on a button or a video playback.

Real-time reports: It has the ability to process data in seconds.

Conversion Funds: They are easy to create.

Tracking: Tracks the user individually and is easy to configure. Visually it is easier to analyze.

Contact with clients from the platform: You can send messages from the platform according to the actions the client takes.

Price: Monthly: From US $0 to US $150 fixed and then the price varies depending on the needs of the company.

Customer service: Personal attention is fast.

Free version: reports are limited, dates from the last 60 days, 3 members per project.
---
It is the updated version of the platform formerly called "Google Webmaster Tools", a free service that helps you monitor how Google is finding your e-commerce.
It is not essential and if you are not registered it does not affect your positioning in the search engines, however, it is a useful tool to put on your Google glasses and understand how you see your website.
Interestingly, they send notifications when they detect problems in your e-commerce along with instructions on how to solve them.
The functionalities of this tool are divided into two classes: those that allow you to take actions to ensure that Google can access your content and those that make it easier for you to discover how Google and the world are searching for you.
Take action

Crawl, fetch as Google to make sure that Google can access your content.

Send content pages for Google to track with their search bots.

Create and monitor visually appealing content.

Remove the content that you do not want displayed in the search results.

Clean your online store of errors that affect performance.

Discover how Google and the world are searching for you.

Identify what terms searched by users in search engines have made your site appear in the results.

Compare which ones directed more visitors to your store.

Verify that the prices of your products, contact information or your company's events stand out in the search results.

Discover which external sites link to your website.
---
Live Chat
Live Chat can give any Online Business a boost, especially in this day and age when personal contact means so much to customers.
We recommend JivoChat, with this, you can talk with new and live visitors to your site with a proactive in-app support chat. Continue your conversation on Facebook. Make use of features like Free Online Chat, Visitor Monitoring, Smart Triggers and much more!
Receive all messages and even calls from clients in the Jivo Business Messenger – it's super convenient! Also, after you add your Facebook account to Jivo, conversations that have started on-site can be continued on Facebook after the visitor leaves your site.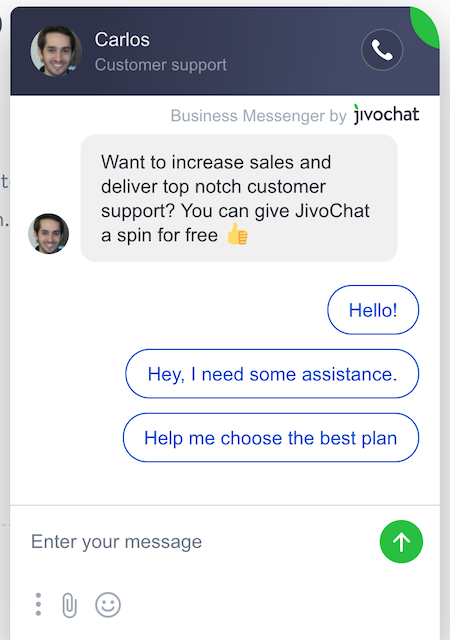 How to install the chat code on Jumpseller
---
Popups
Popups can be a great way to grab the attention of visitors. You can use apps like Poptin to create engaging popups and forms for your website in minutes. No coding skills required. Capture more leads and sales! Open a free account and start converting more visitors into customers.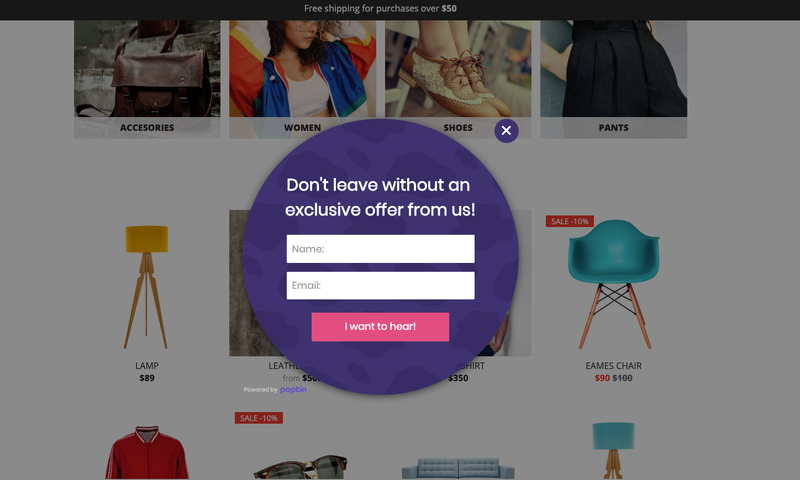 How to install the Poptin app on Jumpseller