Learn
Ecommerce Email Lifecycle
Email Marketing
Your relationship with your customers isn't static, it's constantly evolving. And that's where lifecycle marketing comes in.
The lifecycle marketing process involves sending emails (all of which are automated) to your customers during different stages of their relationship with your brand.
These emails start as someone enters your customer base, continue to send as they become active and loyal, and even get sent when a customer begins to lapse.
In this article, we'll dig into the three main stages of the customer lifecycle: Prospective, Active, and Lapsed. We'll also analyze some of the key emails you should be sending during each phase of that journey.

Source: Based on a graphic by Rejoiner
---
Contents
---
Prospective customers
Welcome emails
Welcome emails go out to anyone who subscribes to your email list or signs up for an account on your site. In your welcome email, you'll want to thank the person for joining your community, show off your brand identity, and begin the process of turning them from prospect to customer.
While you might not look at a welcome email as a traditional marketing opportunity, they bring in 320 percent more revenue than other promotional emails—so they are actually a prime sales opportunity.
Here's a great welcome email from the skincare company Malin+Goetz. It's simple but effective: A nice picture of their high-end products, a welcome message and mission statement from the founders, and a personal, limited time coupon code.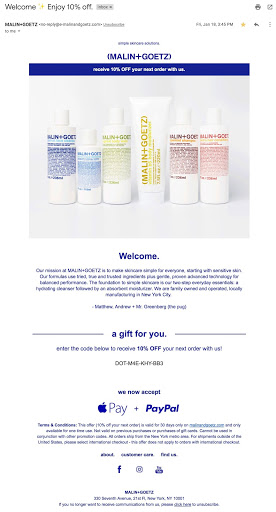 Cart abandonment emails
Abandoned cart recovery emails are a very lucrative facet of lifecycle email marketing. Roughly 7 out of 10 carts are abandoned, costing you thousands (if not more) in revenue.
Our team at Jilt has found it's possible to recover 15 to 20 percent of abandoned carts with a strategic email series—meaning a store doing $10,000 per month in sales can earn an extra $1,000 to $3,000 in additional monthly revenue.
Warby Parker's abandoned cart recovery email is a great example. The tone isn't judgmental or accusatory about the cart abandonment (literally: they even say "No judgment"). The email features a large picture of the product the customer added to their cart.
The email reminds the customer about Warby Parker's generous shipping and returns policy, and offers customer support. And the call-to-action takes the customer directly to the checkout to reduce any friction on finishing the purchase.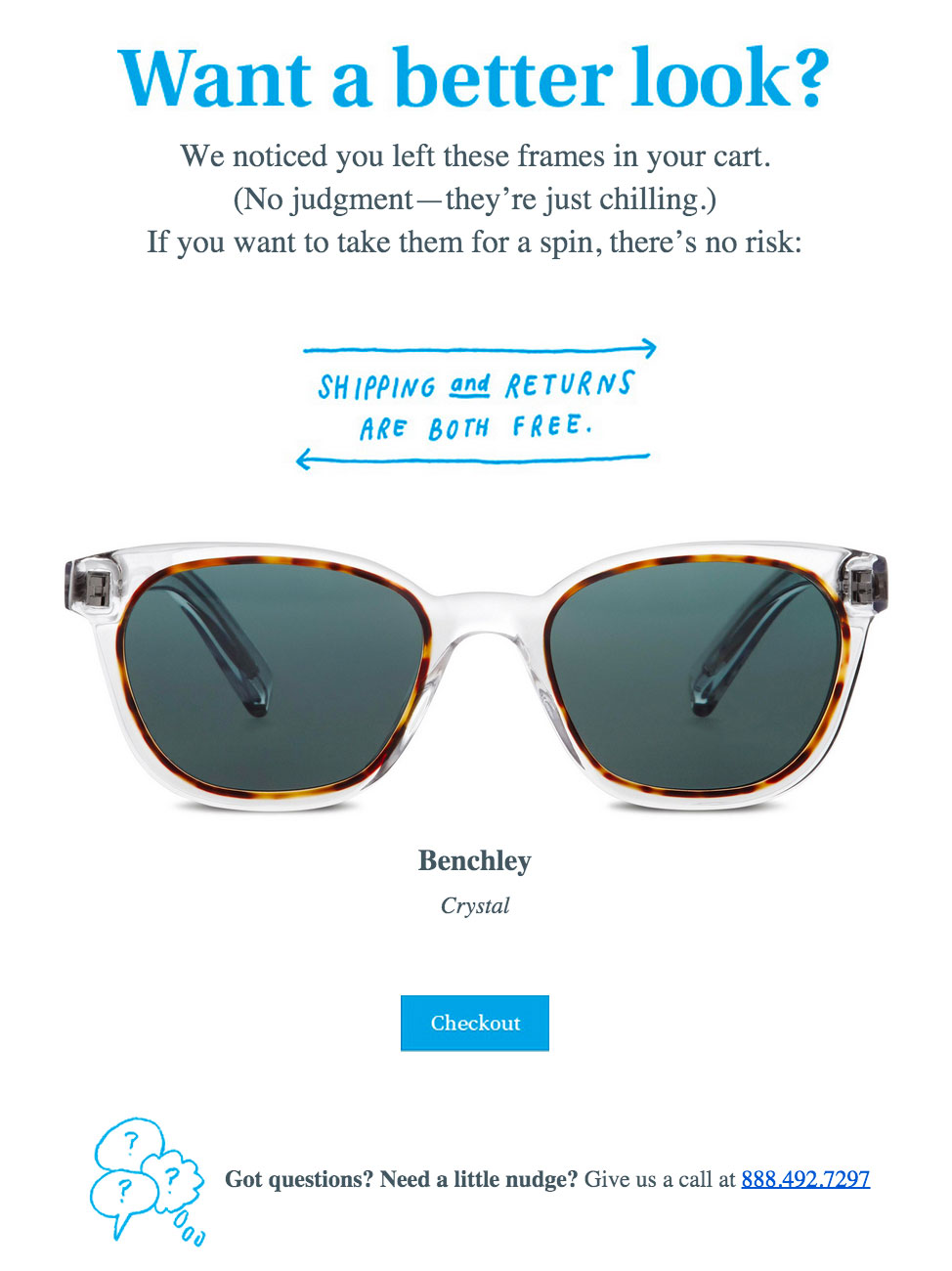 Source: Pinterest
---
Active customers
Thank you emails
Thank you emails are different than order confirmation emails. While order confirmation emails give a customer the raw details of their purchase (product, cost, shipping, etc.), a thank you email is there to get the customer excited about their purchase.
Your thank you email is reinforcing that the customer just made a great decision to buy something from you—and it begins the process of turning them into a repeat customer.
Approximately 1 in 3 customers makes a second purchase in their first year, and your goal with a thank you email is to push your customers to come back to buy from you again and again.
To that end, many stores will use a thank you email as a chance to offer a discount code here for a future order, cross-sell products that are related to what the customer purchased, or even begin promoting a VIP, loyalty, or rewards program.
Here's a thank you email that gives a customer the nuts and bolts of their purchase—but also contains personal sentiment from the owner and makes sure the customer is happy and satisfied. This email reinforces that the customer made a good decision to do business with an attentive, involved company.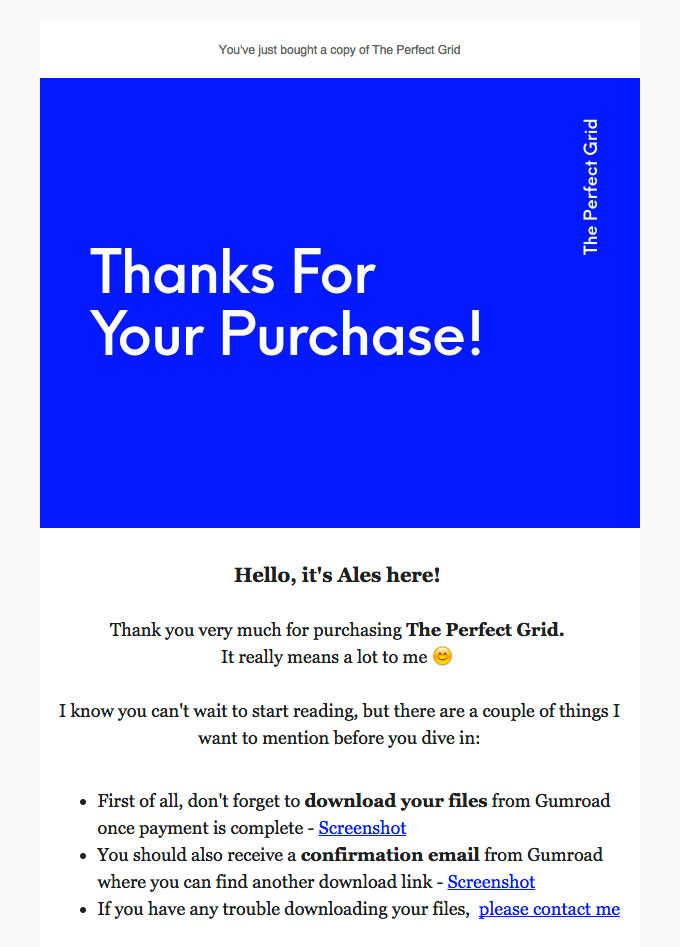 Source: Really Good Emails
Feedback and reviews requests
Once a customer has received their purchase and had some time to use it, the next step in the life cycle sequence is asking for feedback on your business or a review on the specific purchase.
Reviews are immensely valuable to your store—having just 5 reviews on a product can increase the likelihood of a purchase by 270 percent.
In your feedback and review requests, make sure to personalize the email to your customer, and even feature a picture of the product they bought (and a direct link to where they can leave their review).
You can even offer an incentive (just be careful about running afoul of service terms on third-party review sites, which make not allow incentives); the majority of customers say they're more likely to leave a review if a store gives them an incentive.
Plus, that incentive helps lead the customer to making another purchase in the future, so it's a win-win.
In this email, the Land of Nod asks for a review and offers the chance to win a $500 gift card. The email does a good job focusing on its primary purpose—getting a review, and making it clear there's an incentive to do so—while also managing to do a little bit of selling by mentioning 60 percent off on newly marked down products.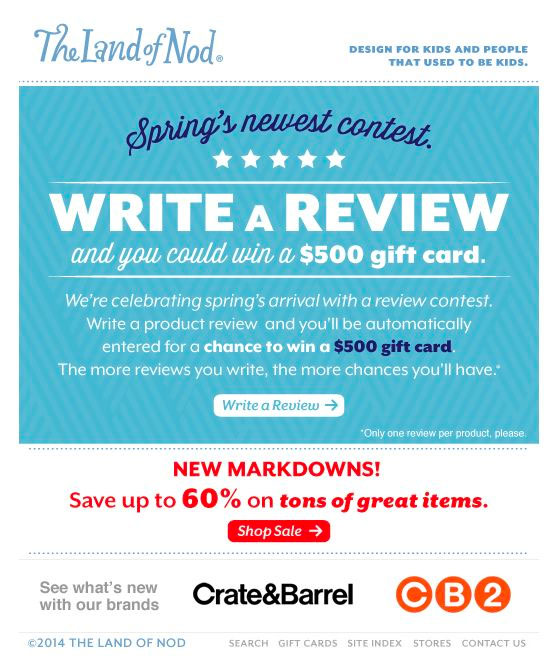 Source: Pinterest
Retention and loyalty programs
Lifecycle emails are a good way to introduce programs to reward loyal and repeat customers (and, hopefully, even turn them into brand advocates). Retention emails include things like an email on a customer's birthday or the anniversary of their first purchase.
And loyalty emails include things like VIP programs, or a referral program where you incentivize your most loyal customers to recommend your store to their friends.
These emails are a key component of keeping your customers in the "active" zone and not falling into the "lapsed" zone—where you become at risk of losing them.
Check out this VIP program update email. It shows a points balance, what you can get for those points, and promotes getting to a higher tier of the program. The goal here is simple: To keep the customer coming back (and spending money) though different VIP incentives.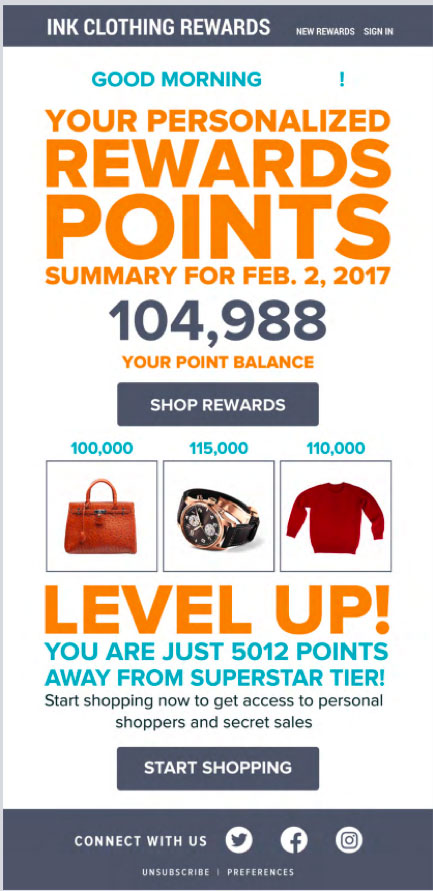 Source: Bronto
---
Lapsed customers
Replenishment emails
Replenishment emails are a clever way of re-engaging customers and, simultaneously, providing them with a valuable service. They sort of straddle the line between active and lapsed, with customers who receive not quite lapsed yet, but getting close.
Replenishment emails are automatically triggered when a customer is nearing the end of the supply of something they bought (coffee, supplements, diapers, and so on) or when their membership or subscription is running out.
They're effective, too; a study found replenishment emails have the highest click-to-open rate of any lifecycle email.
Here's a replenishment email from Purina that's calculated a customer is 10 days away from running out of dog food—which is just about the exact time when they'd say, "I really need to get more dog food," and builds in enough time for shipping so if the customer orders now, they won't actually run out.
This email makes it as easy as possible with a call-to-action that takes them directly to the purchase page for their dog's customized food blend.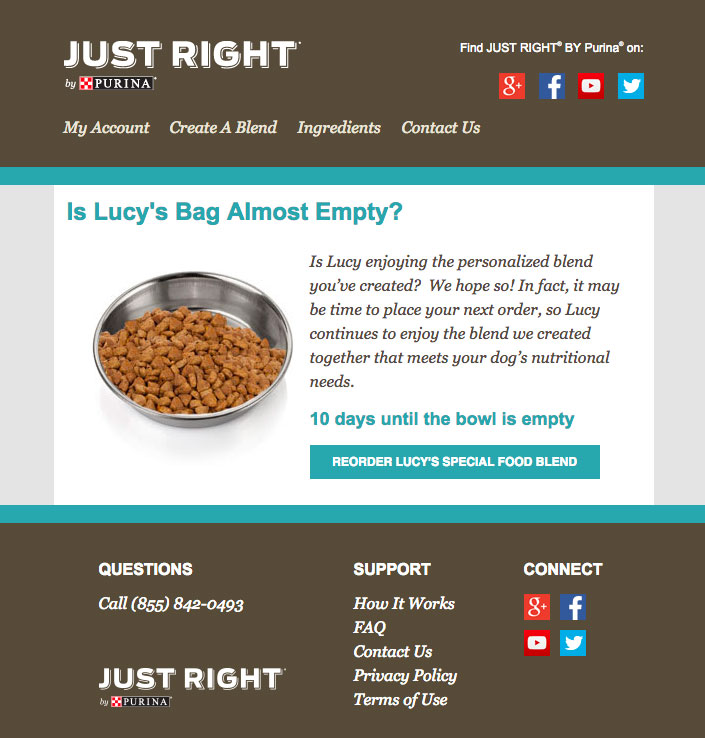 Win-back campaigns
Win-back emails go out to lapsed customers to try to entice them to purchase again. At Jilt, our default for a lapsed customer is anyone who hasn't made a purchase in 90 days (based on the nature of your product, that timeline may vary).
In a win-back campaign, you're trying to re-engage the customer, often through a discount or offer. If after a few win-back emails, the customer still hasn't clicked through or showed any signs of re-engaging, it's time to purge them from your email list.
In this win-back email, Sephora uses a common win-back technique: A loosely emotional, but not too desperate, headline (in this case, "We've missed you"). They also offer a special coupon to further incentivize the customer to come back, and spotlight some key product categories.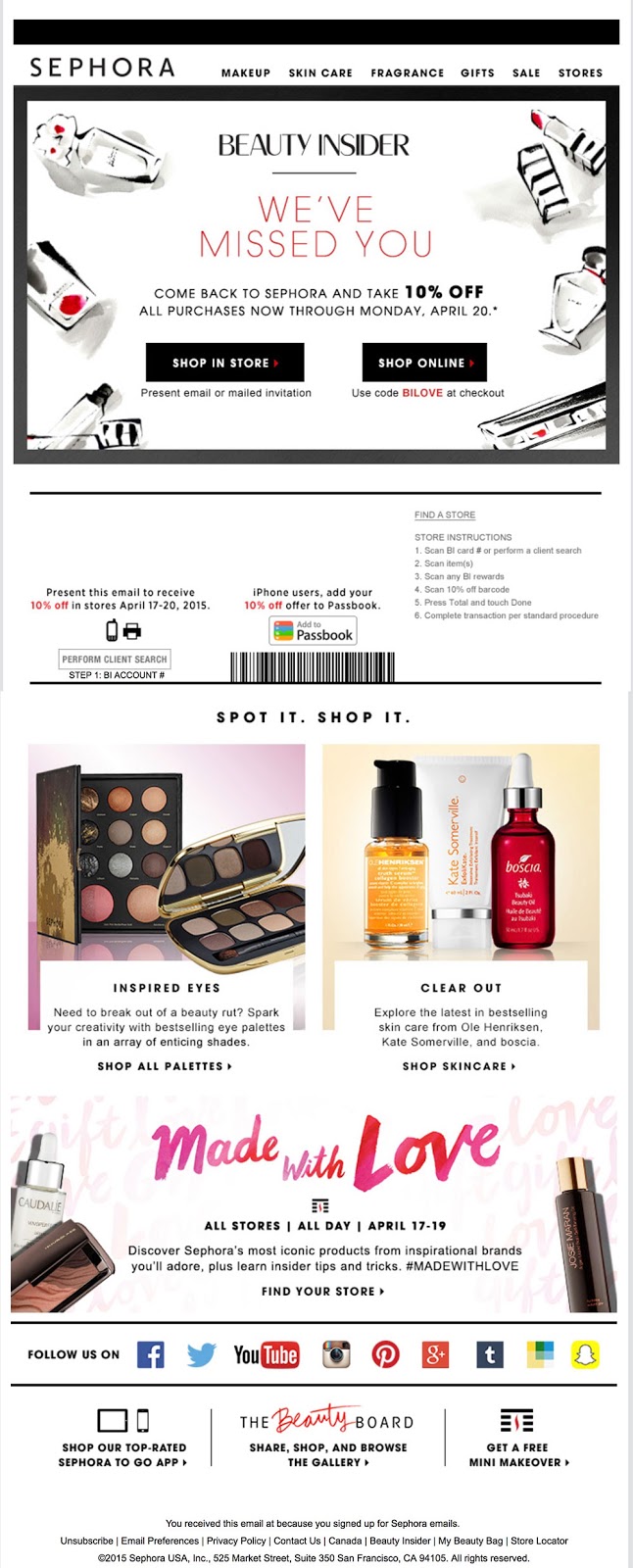 Source: Milled
---
Key takeaways
Lifecycle emails help you nurture and grow your relationship with your customers, from when they first subscribe your to your email list all the way through when they (ideally) become a recurring customer and brand advocate.
During the time when a subscriber is a prospect, you'll send a welcome email and cart abandonment emails to grow the relationship and turn them into a customer.
When that subscriber becomes a customer, now you'll develop and grow your relationship with thank you emails, requests for feedback and reviews, and retention and loyalty programs.
And if a customer stops engaging with your brand, you can try to heat up the relationship again with replenishment emails or, as a final effort, win-back campaigns.
The best part of all of these lifecycle emails is that they're automated. You don't have to monitor each customer's journey—you just set up these emails and your lifecycle marketing platform takes care of the rest.
And as long as your emails are smart, on-brand, and well-timed, they should help you improve your customer relationships, conversion rates, and revenue.
---
Tips
In order to run successful email marketing cmapiagns, you can use the Marketing Automation tools integrated with Jumpseller! We recommend the following apps for this purpose:
E-goi: A complete marketing automation platform with various functionalities including, E-mail marketing, SMS Marketing, Web Push and Push Notifications.
Mailchimp: MailChimp is the world's largest marketing automation platform, mostly known for their e-mail marketing features worldwide.
About the Author
Max Rice is the cofounder and CEO of eCommerce email marketing platform Jilt. He started his career in eCommerce over a decade ago and writes regularly about running an online store on the Jilt blog.