Let's say you are traveling, but know nothing about the city in which you just arrived. Hungry and lost, you decide to explore and find a good place to eat. There are lots of restaurants around, but you have no idea which one to choose.
While standing on the street corner you start noticing a pattern… most tourists are entering and exiting one restaurant in particular. You don't have any information about the food, prices, or service quality, but you decide to have lunch at the same restaurant.
What just happened there was social proof - one of the principles of Influence.
As safety-seeking humans we tend to base our decisions on what other people are doing. The "wisdom of the crowd." There is nothing wrong with this, by the way. It's a heuristical technique that helps us make sense of the world.
In marketing, physical businesses have this advantage over internet businesses. So long as you have a great product, good pricing, and treat customers well, your customers will attract more customers. On the internet, that's a different ball game.
And this is why Fomo exists.
Do you know how many people visit your website on a daily basis, but leave and never come back because they don't trust you? With the exception of large brands, the other 99% of internet businesses have just a few moments to establish trust with website visitors.
When a prospect lands on your website they ask themselves: How do I know this is not a scam? Are there other people buying from this website? Do they do what they claim?
Answering this question quickly and honestly is the fundamental idea behind Fomo. Now let's pop the hood and show you the engine – the specifics – about how Fomo adds social proof to your e-commerce store.
Setting things up - the first step to social proof notifications
In order to start showing social proof notifications to your visitors, first you need to embed Fomo's snippet into your website. Without it, all the configurations you make inside your Fomo account will be in vain.
Fomo has a step-by-step guide to Jumpseller integration that will help you through the process. If you don't understand the code or don't have a programmer to help you at this stage, don't worry. Our team will do it for you for free. Just send us a message via chat.
Showing up active visitors on your site
Remember my restaurant analogy above? Now it is time to show your visitors that you are not an empty "restaurant", and that you have people interested in what you do.
Ready?
In the top navigation, navigate to Integrations; then look for Active Visitors and click to connect. If you don't see the Active Visitors integration, use the search bar on the right side of your screen.
Once you find it, let's jump into configuration.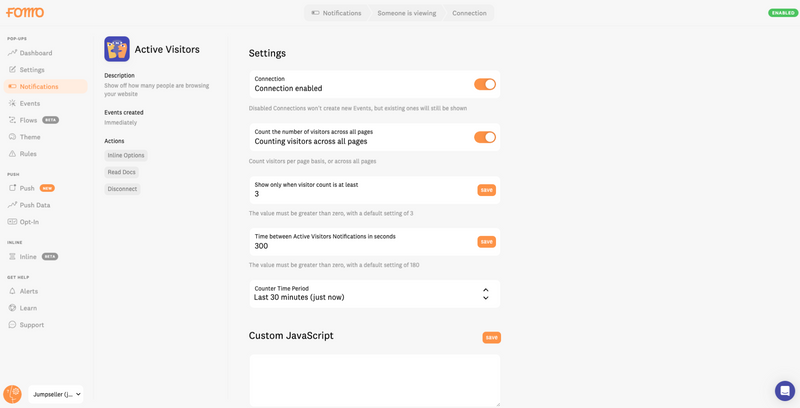 With the option "Active Visitors" you can decide if you want to tally visitors on your entire domain, or on a per URL basis. You can also set a minimum threshold of how many people should be on your website before the notifications start showing, as well as the notification frequency.
Lastly, you can edit and personalize what will be shown inside the notifications, by clicking on "Edit your template". To learn more about how this works, click here and watch the video.
I don't need to show live visitors… I need shoppers to see that I sell my products
That is easy. First, connect Jumpseller inside Integrations > Jumpseller. This will show individual product purchases and takes just a couple of seconds to set up.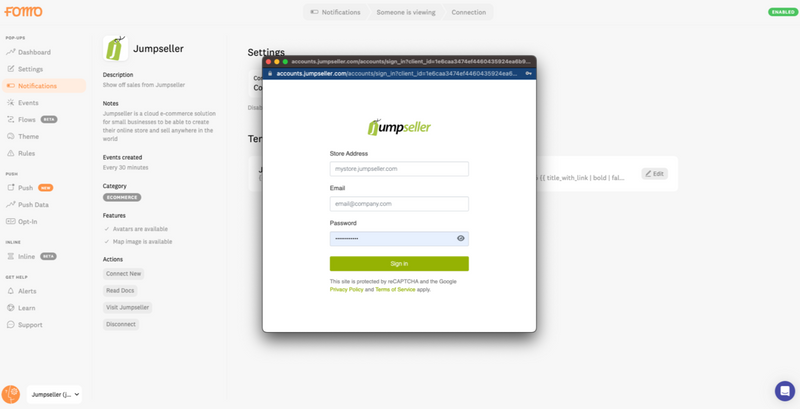 Now let's make this more interesting… With Fomo you can show "meta" notifications about your sales, such as the most popular products or just the details about a specific product, on that product's sales page.
You can accomplish this in two ways: Custom Roundups or Page Streams.
I'll explain Custom Roundups first.
What are Roundups? It's a Fomo feature that lets you "group together" all of a specific type of behavior on your website, into a single notification.
In simpler language: if 10 different people buy the same product in the last time period, instead of showing a notification for every single purchase on your site, Roundups will group them in one single notification to say something like "10 people just bought XX in the last YY hours."
Roundups may be connected to as many integrations as you'd like. Sync it with your Jumpseller integration and it will simply add new "aggregate" sales notifications to your social proof queue.
Learn here how to set up Custom Roundups.
Next, let's talk about "Page Stream". This feature makes total sense for e-commerces, as it shows off the popularity of your products on an individual and per-page basis.
How does it work?
Connect the Page Stream integration to your product page, and the integration will get the product name, and showing notifications accordingly (roundup notification and individual notifications scoped by product page).
For the seasons that your business is running slower than usual, you can establish a minimum threshold for your "Page Stream". Perhaps 2 Italians buying a Red Ferrari is still a big deal, but let's say you sell pens - two is not quite as impressive.
A full guide on how Page Stream works.
Page rules
Fomo has something called page rules, which gives you granular control over the shopper experience on specific pages of your store or blog.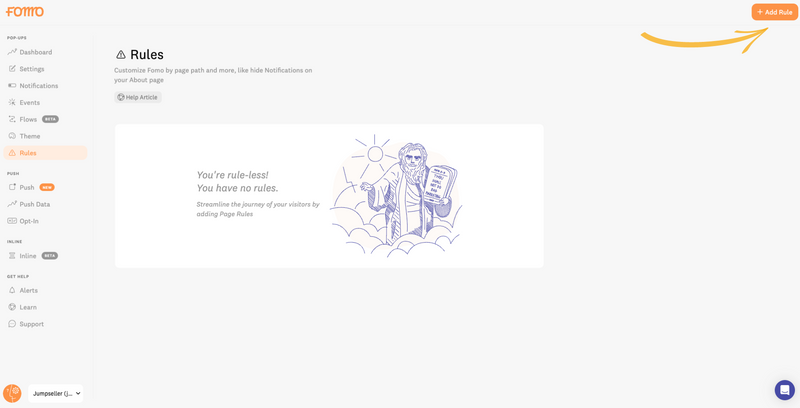 When you add a rule you can choose the conditions you want your notifications to show: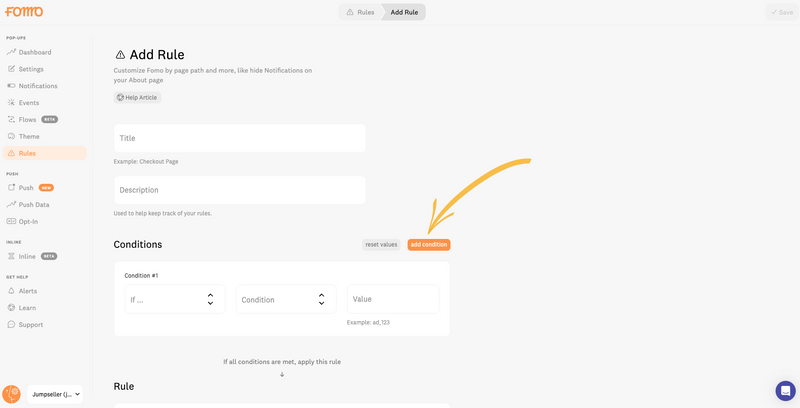 You can establish conditional rules for showing notifications, changing the desktop vs mobile experience, and even modifying the timing delays. In the example below, we're showing only 4 and 5-star reviews notifications on our checkout page.
Page rules and integration settings help you protect your brand, and automate Fomo's impact on your website.
Social Media Integrations
Besides live visitors, sales, popular product insights, and reviews, Fomo has a vast number of integrations that you can use to help you validate your social proof efforts. Social media apps like Twitter, Youtube, Facebook, and Instagram are just a few of these additional options.
Integrating non-sales related activities into Fomo's marketing mix will expand your visitors' understanding of your business by bringing the conversations happening on other channels to your home page.
Extra Money
You are in e-commerce because you want to build a business that generates profit on a daily basis. Profit keeps the lights on, and the hustling keeps the profit flowing. Fomo helps you achieve that by converting more customers to your business.
In addition to doing this with our social proof notifications, it can help you make more money for yourself with Fomo Partners. This invite-only affiliate program offers up to 35% of recurring revenue for every Fomo customer you refer to them.
Final Thoughts
Fomo is the world's first social proof marketing platform. We believe honesty is the best marketing channel. But some marketers break this rule: unsustainable advertising, aggressive popups, and not enough personal connection.
Fomo exists to help businesses leverage another strategy by increasing credibility. By building transparent relationships with your audience, social proof turns your customers into your greatest sales channel.