Most of the countries globally have experienced lockdowns in some way or the other—pushing E-commerce sales up and brick-and-mortar sales down. While the U.S. economy is beginning to reopen, the after-effects of the coronavirus will be felt well into the crucial back-to-school and holiday shopping seasons.
E-commerce will remain the center of the retail experience - Web, mobile, social channels, and stores. Brick and Mortar stores are moving online faster than ever before after the COVID-19 pandemic in light of current events.
According to Business Insider, "Our 18% growth forecast for US E-commerce in 2020 reflects a notable increase in both the number of digital buyers and the average spending per buyer. These gains reflect the pandemic's impact on new buyers joining the online retail space, including 12.2% growth for those ages 65 and older."
---
Understanding the impact of coronavirus in the E-commerce space
How E-commerce Will Change After Coronavirus
1. Online shopping will go up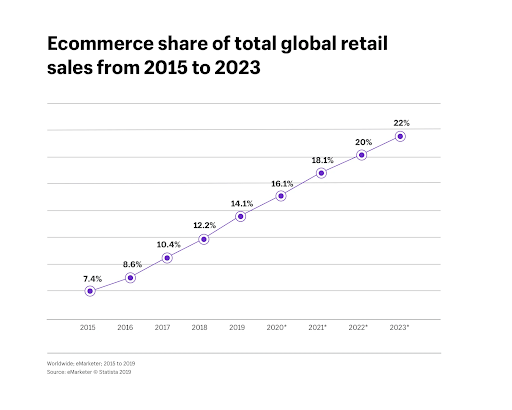 Coronavirus pandemic has forced more shoppers to go online. Since March 2020, E-commerce sales have topped 25% growth this year.
U.S. consumers are turning to E-commerce more during the COVID-19 outbreak since social distancing measures and shelter-in-place orders have made online shopping more convenient or in some cases, the only way to get the goods they need.
2. Online retailers seek to diversify supply
With the outbreak of the Coronavirus COVID-19, it has become clear that a diversified sourcing base is critical to success. The virus has caused major if temporary, a disruption that will affect the supply chain out of China for months to come.
However, "just in time" sourcing is a high-risk logistics strategy, a risk that has been made all too evident by COVID-19.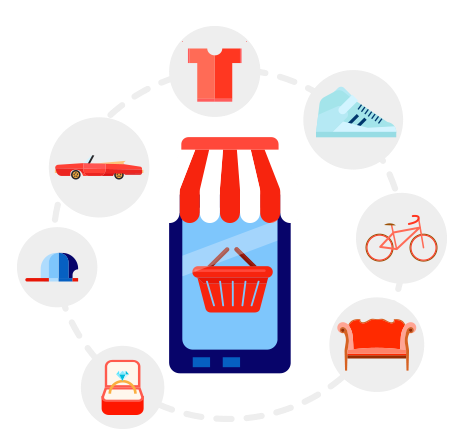 3. Omnichannel and mobile services take on greater importance
The omnichannel experience is at the forefront of the retail industry. It empowers users to personalize their own experience thereby increasing a store's customer retention!
Combining the online, offline, and physical worlds is another great way businesses can improve the customer experience with omnichannel marketing.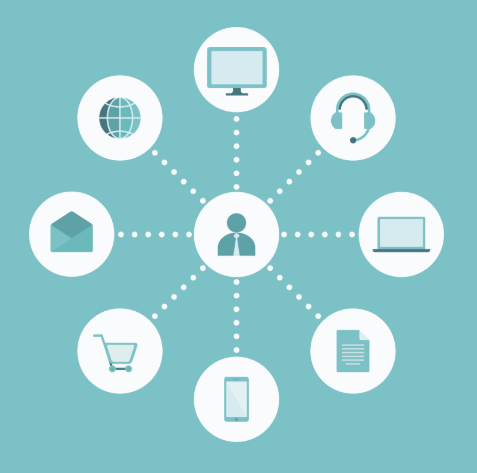 4. Grocery and Alcohol E-commerce
Shoppers turned to online to find the goods they needed but weren't available at their local grocery stores. The following graph, with data from Rakuten Intelligence, shows a huge spike in grocery-related E-commerce.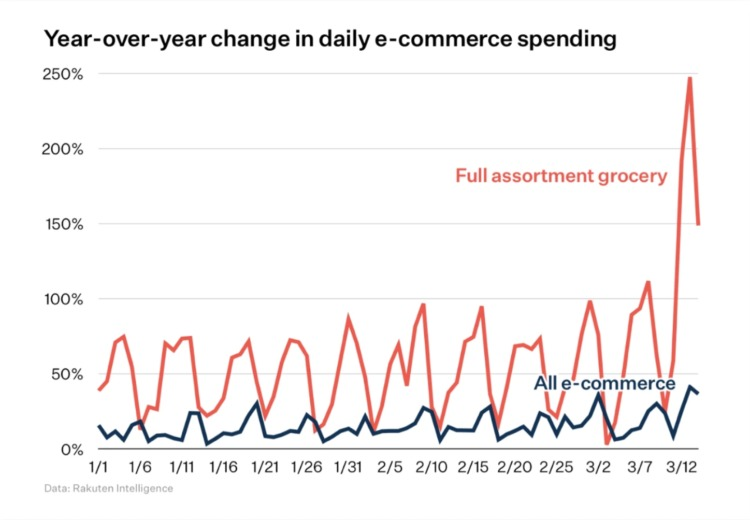 What will change for good? - Increase in contactless payments
Contactless payments are increasing in E-commerce especially after the Coronavirus pandemic.
They were designed for quick, low-value, low-risk payments but after the pandemic, shoppers will purchase even more expensive items from an online store as contactless payments make the payment process easier and more convenient for consumers, who see benefits of shorter lines, cash-on-hand issue elimination and faster moving queues.
So, how does the technology pitch in?
As shoppers spend more time online, they tend to shop more frequently. With the pandemic affecting our day-to-day lives - shoppers avoid offline stores.
According to McKinsey, "Stores need to digitize to meet the increased customer expectations now a reality in an always-on, whatever-you-want world. More than 60 percent of Americans have a smartphone and 80 percent of these consumers are "smartphone shoppers" – they use their phones to help them shop while in a store, most often to research product reviews, specifications, and compare prices."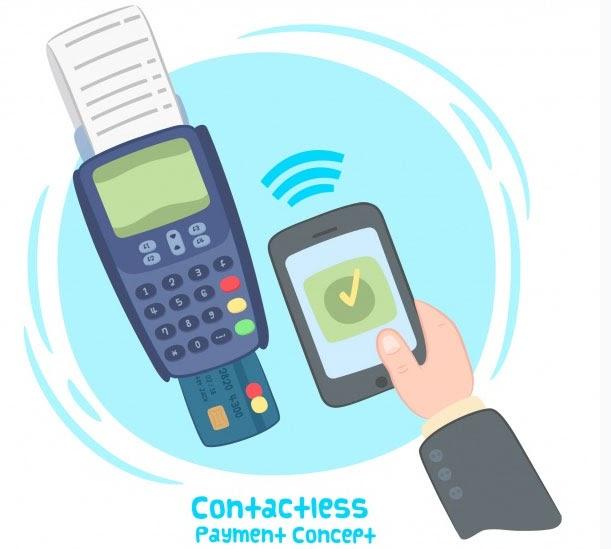 Pre-COVID and Post-COVID numbers at a glance
1. E-commerce shipments in 2020 outpace 2019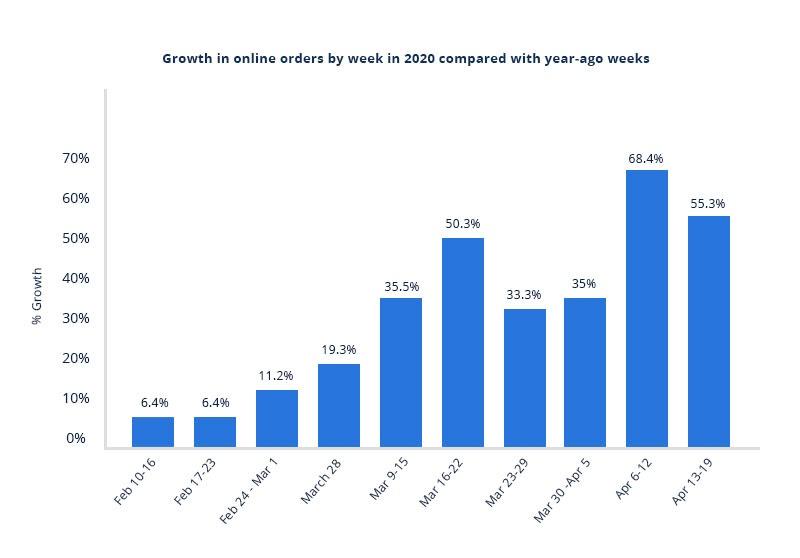 There is a huge spike in online orders from March 2020. According to logistics vendor, Narvar Inc.that handles more than 650 E-commerce clients has seen a consistent increase of 47% in E-commerce shipments post-pandemic, which is after March 2020.
2. Pre-COVID-19 Vs. Post-COVID-19 Email Marketing Stats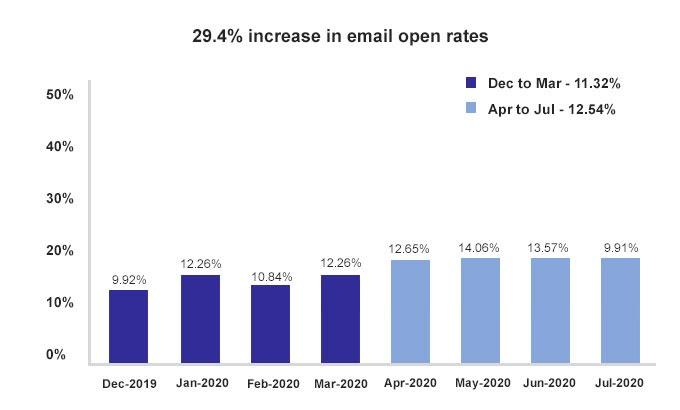 TargetBay's BayMail, an E-commerce email marketing tool has sent more than 50 million emails from December 2019 to date. There's a considerable increase of 29.4% in email open rates after the pandemic.
Email open rates were as high as 18%, so it's evident that the screen time has gone up since March 2020, shoppers are eager to learn about the email campaigns/promotions sent by E-commerce stores - hence the increase in email opens and open rates.
---
6 powerful ways to drive more sales during and after the pandemic
Brand Messaging is critical right now
Brand messaging is critical in E-commerce in today's world. It's all about how people perceive you—not just your customers, but also your own team. Branding starts from within.
So what is brand messaging?
It's the art of using the right words to communicate the essence of your brand to potential customers. Ultimately, it makes customers want to buy your product.
In a lot of places, Brick and Mortar stores are moving their business online.
Use customer reviews to build credibility
Improve the credibility of your products & brand through reviews
It's always good to catch the attention span of your shoppers when they are on your website. Use a review widget to add more credibility to your store. User-generated content and customer feedback in real-time play an important role here.
Product Reviews are specific to product experience and exclude other aspects of shopping such as website navigation, customer service, shipping, delivery, etc.
Reviews and Ratings can be indicated alongside the product, on any page. When the shoppers click on a particular item and navigate to the product detail page, they will be able to see the customer reviews.
Learn how you can add product reviews to your Jumpseller store.
Rich snippets to display customer reviews
Build your organic traffic and take it to the next level!
Make your online store stand out in the Google SERP (Search Engine Results Page). As compared to normal snippets, a search result displayed with Google Rich Snippets presents key information on the Search Results Page listing itself, helping viewers instantly know more, at first glance.
Shoppers generally prefer to click on rich snippets results. This gets E-commerce brands a higher Click Through Rate and traffic to the website begins to build, eventually improving ranking on SERP.
Upsell and cross-sell your products
Cross-selling is about giving a boost to the foot traffic that already comes through your retail store doors. You want to maximize your per-customer sales, and you want to give your customers more bang for their buck.
Understanding customer behavior creates an opportunity to upsell and cross-sell the right kind of products that customers are more likely to buy.
Reduce cart abandonment
Cart abandonment is a prime reason behind many sleepless nights for E-commerce store merchants - both seasoned professionals and beginners. The issue may be complex, but defining cart abandonment is pretty simple: When a potential customer adds products to their cart and exits the website without completing the transaction, it leads to cart abandonment and in other words - a loss of revenue.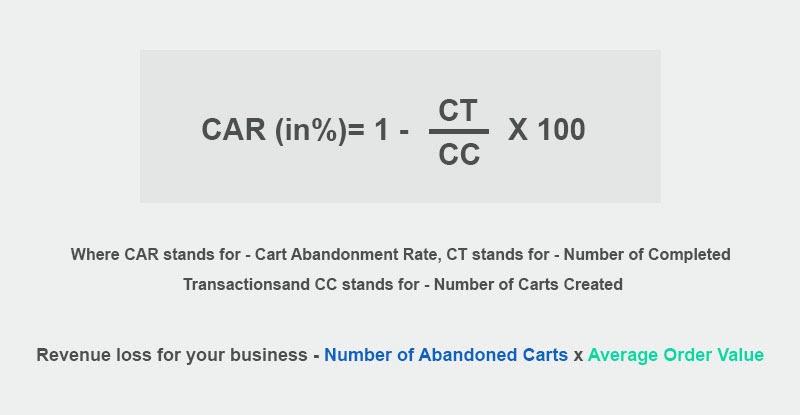 The Necessity of a Cart Recovery Strategy
Despite these efforts, cart abandonment is inevitable. So it's imperative to have a solid cart recovery strategy in place.
The most popular tactic used is sending out an abandoned cart email. Abandoned cart emails have higher open rates and bring in a good rate of conversion (around 2.9%) when compared to other mediums such as pop-ups and retargeting ads.
Just sending out an email doesn't guarantee conversion. There is a science to sending the perfect abandoned cart email. Here's how you can create a successful cart recovery email strategy for your E-commerce store.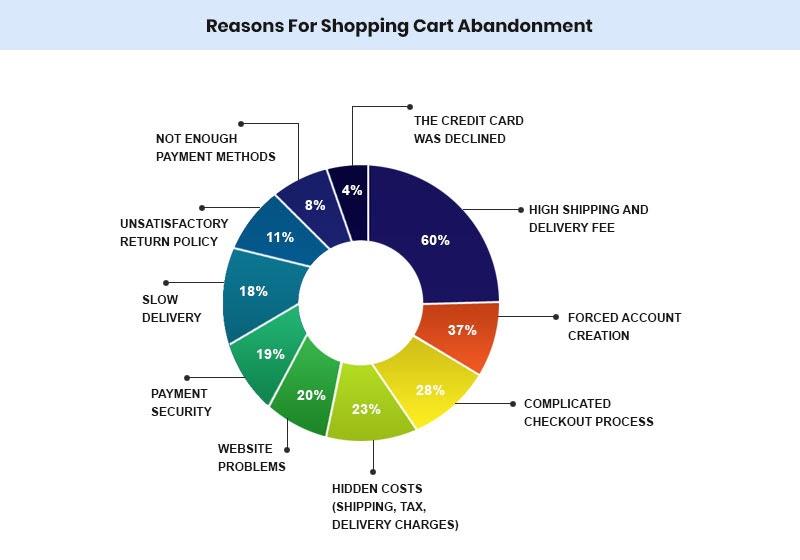 Deploy smart pop-ups to collect reviews
Those pop-ups that have focused messages and which drive the user to perform a specific action are called behavioral pop-ups.
Using E-commerce pop-ups has proven to increase conversions, drive more email subscribers, and also curb exit intent. Types of pop-ups for your store, like:
Simple opt-in pop-ups

Opt-in pop-ups with offers

Scroll-triggered pop-ups

Exit-intent pop-ups
One good option is enabling an exit-intent pop-up. It curbs the issue by preventing the customer from leaving the site and reconsidering their action to do so.
The popup should have catchy content and fun design to really stand out and grab the customer's attention.
---
Final Thoughts
Focus on user experience and branding in E-commerce has increased tremendously in the recent past, especially after the pandemic. E-commerce sales have a direct correlation with positive user experience for shoppers.
User experience starts with the user's first interaction on your website. It could be your homepage or any other page your visitor sees first when they land on your website.
With the advent of search engines, any web page in your E-commerce store can be the first touchpoint. In the first interaction, they expect to find products or content that will keep them engaged or interested.
The ongoing coronavirus pandemic has presented an opportunity for E-commerce stores to up the ante. If you focus on the all things shopper experience viz. - shopper's first visit experience, easy website navigation, faster checkouts, and automating your email marketing can improve user engagement.
Small and medium business store owners have to adapt to the ongoing changes in the E-commerce ecosystem to navigate through this crisis, but following some of the guidelines mentioned above can improve your store's sales considerably.