Learn
Facebook Commerce
A complete guide to understanding the Facebook Commerce universe
Facebook has big plans for integrating e-commerce functionalities in its popular products i.e Facebook Shop, MarketPlace, Ads, Messenger, Instagram and even Whatsapp. The Facebook App is being updated to offer more features and to create a bundle/package where you get a multitude of tools and features that you can link to your Online Store.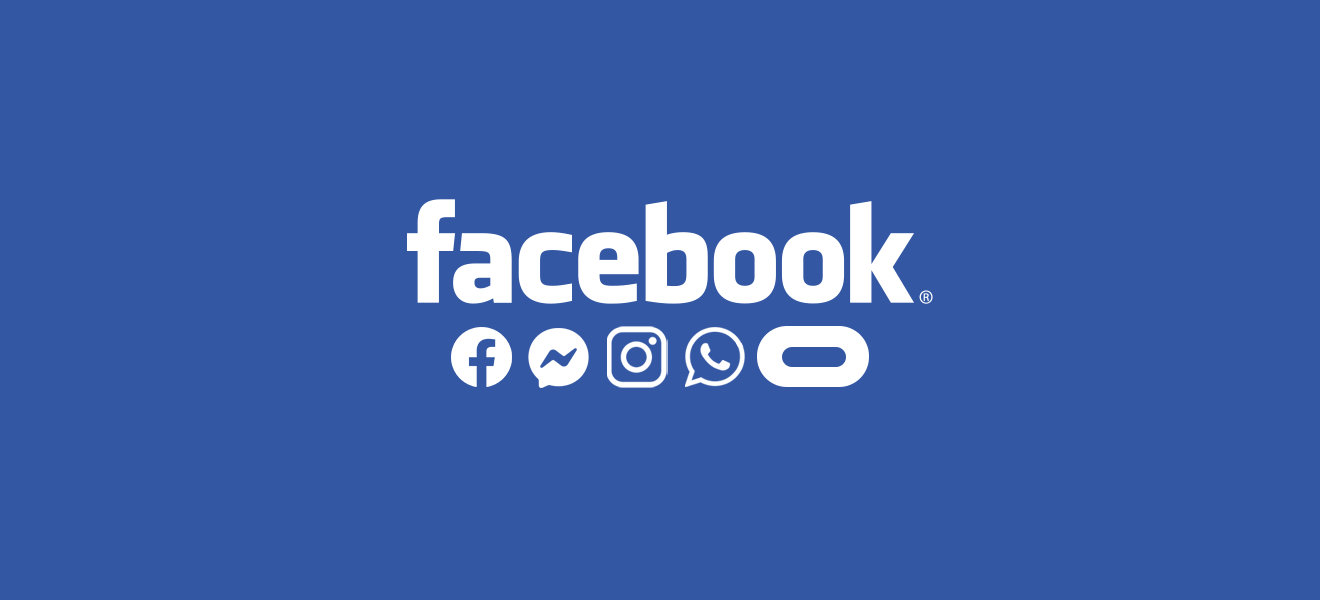 In this article, we explore the three aspects of Facebook Commerce:
---
Prerequisites
Before we go into details about each individual tools, let's look at some requirements that will have to be met in order to successfully implement them.
---
1. Commerce
Facebook Page Shop
The Facebook Page Shop allows you to sell to a large audience, you are allowed to add unlimited products, create collections, check your stats and create ads! You also have the Shop Tab that shows on your Facebook Page on the left sidebar, basically, once you have a Facebook Page for your Business, you have the option of using the Shop Tab where you can list your products and sell easily (products are more accessible for the buyer). If you are in the US, you can sell directly without the customers having to leave the platform.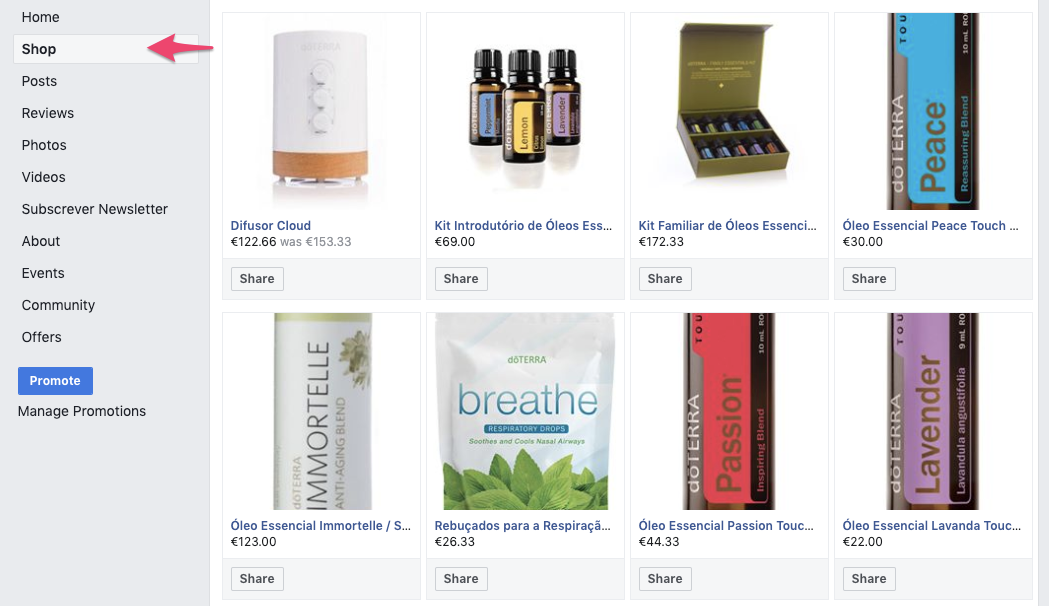 If you have a personal Facebook page, you can easily create a page for your business and import the products from your Online Store. This is also known as your Store Inventory. Once the products have been imported you can feature them on Facebook Ads (pending approval).
The following video demonstrates how to create a Facebook Page Shop from scratch:
Facebook Marketplace
The Marketplace is a convenient way to buy and sell products/services. Originally, it was not designed for Business, rather it was for users to sell items in their local area. You can look through listings or search for items near you.
Users can browse products by category, price and/or location that has been put up for sale. This puts users and businesses in direct contact with the seller. For now, Facebook does not facilitate payment or delivery details and it will also not verify the products that are for sale. However, they are testing a direct payment option for this, right now it's an option for the US market only.
Selling on Facebook Marketplace gives you many benefits such as:
Real-time communication: Using Messenger you can have direct and quick interaction with the customers even on the phones.
Free listings: You do not have to pay to list products there.
Bring products to people where they shop: Sell to millions of people every day.
Ads: You can create ads to show up on the Marketplace to highlight your products.
Currently, there are three types of businesses that can sell inventory on Marketplace:
Automotive
Property
Retail and e-commerce
Learn more about the Facebook Marketplace
Instagram Shopping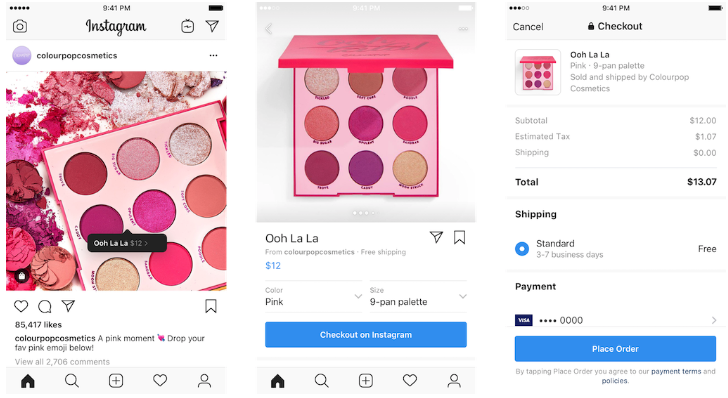 A big aspect carrying the success of Facebook Commerce is also related to the ever-improving Instagram shopping features. Similar to the checkout feature on Facebook Shop, now customers can also make a direct purchase on Instagram without having to leave the platform. Instagram shopping currently offers the following features:
Tagging Products on Posts
Direct Checkout
@shop account
Shopping directly on Business Profiles
Shop Button on Explore
Wishlist
Shop Directly from Feed Videos
Shopping from Creators
Ads
Learn more about Instagram Shopping.
---
2. Communication
Messenger
In the past, many businesses would use Facebook Messenger to offer real-time support to customers, but now the Messenger Platform is much more than that!
Once you have it integrated with your online store, you can use it in a variety of different ways depending on the product or service you provide. Booking appointments, stock updates, customer care, order tracking/shipment tracking, product reviews, product requests, promotions and even direct selling! The Buy Now feature from messenger allows you to close sales fast and increase conversions.
Many companies use the chatbot functionality of a messenger to boost customer service and sales by using automation. This is not only efficient it can actually help you save money!
The Messenger Sales Channel allows customers to view your product catalogs within the Messenger app! And when they find something they want to buy, they are taken to the e-commerce checkout page.
You also have the advantage of working with offical Facebook Partner companies that can handle the Messenger Sales chanel for your business! This include:
---
Whatsapp
Facebook has big plans for Whatsapp in particular the one for Businesses. Work is being done to introduce a payment system for buyers recently they started testing a service in India.
The App already had features such as:
Creating a Business Profile.
Tools to automate and quickly respond to messages.
Open conversations with ads that click to WhatsApp.
Send people important information.
The Business API allows even large businesses to send messages to customers efficiently and at scale.
For the latest visit: Whatsapp for business
---
3. Ads
You can use the Facebook Ads independently of Facebook Commerce as well, you would need to have the following configured:
Product Catalog
Pixel
Custom Audience
Page
Facebook offers different types of Ads formats, these are:
Video
Image
Collection
Carousel
Slideshow
Instant Experience
Lead generation ads
Offers
Post engagement
Event responses
Page likes
You can learn more about Facebook ads with the Facebook Ads Guide.
Once you start to create an ad you can follow a comprehensive list of steps as you see in the image above. The Ads manager section of Facebook is easy to navigate! Start with choosing a goal you want to reach, choose if you want to use dynamic ads for Facebook, input the details regarding the ads campaign (Offer, Audience Budget etc.). Next, you will be able to create the actual ad upload images or media and view the preview for the ad you're creating.
You can use a custom targeting to make sure your ads show the right people, Facebook has a keen interest in improving the ads experience for mobile users which is why they are constantly updating the visual for ads.
A large amount of revenue is expected to be generated from Ads. While right now the ads are mostly following the Do-it-yourself principle, Facebook and Instagram Ads are also moving to a more Dynamic interface, especially for video ads! Meaning that the process is more automated. For example, Facebook has said that automatically generated landing pages featuring a dynamic video have shown to decrease cost per conversion.
While on Instagram you already have the popular option of tagging products, they now offer Shoppable Story ads, Video ads, Collection ads and more! Similarly, on Facebook, Shoppable story ads are going to be more popular.
Check out our list of companies that are considered the best tools to create Facebook Videos and Ads.
After you run a Marketing campaign, you can review and measure the impact of that on the sales and make improvements. With a few clicks, you can run ads across Facebook, Instagram, Audience Network and Messenger. By making a single campaign, you can reach people on all of their favourite apps and websites.
Learn more about how to create a Facebook Ad
Put your ideas into action!
Create your store with the 14-day free trial.
Let's look at the Pros and Cons
The Pros
Fewer Clicks: Customers can shop without leaving the social media platform. Fewer clicks are an important factor in increasing sales.

Direct Interaction: Facebook allows the consumers to directly contact the sellers. This way, the consumers can clear any doubts they might have regarding the product.

Customization: Give your store personality by adding images and videos.

Traffic: Facebook has a lot of organic traffic on their platforms that you can tap into to drive sales.

Targeted ads: Create different Facebook Ad campaigns, set each one with a different target audience, experiment. Remove the low-performing ones or improve them.

Payment and Shipping: Still in beta phase, but this will be a huge plus! Having all your information saved on the platform and just making a purchase with a few clicks. Additionally, customers will also receive notifications directly on the platform via messager or Instagram depending on where they made the purchase.

Support and Automation: Messenger has come a long way from its old days, now it is a full blown support automation asset. You can set it up to make sure your customers are never left hanning.
The Cons
Short Attention Spans: The one thing above all else that determines F-commerce success is engagement. If you are not regularly posting content, users are going to forget about you. It's as simple as that!

Direct Interaction: Sometimes also considered a benefit, one can argue that direct online contact with all their consumers can be too much pressure since the workload can increase exponentially.

Safety and Ownership: Accounts can be hacked, banned, suspended or even taken down which is a risk for your business if you rely on sales solely from social platforms. Also, the customers technically 'belong' to the social media platforms, not your business.

Integrations and Customization: Till now, there can be no customizations for the business apart from the theme if they need an extra checkout field for example. Plus, no integrations with other useful e-commerce platforms, like MailChimp for newsletters.

Lack of Branding: There's an opportunity to create a unique customer experience on your own site. A great platform for telling your brand story and build customer loyalty.

Unstable Feed: Any future update Facebook makes regarding their feed for users will undoubtedly affect the visibility of your page posts, your products, and will limit your chances for interaction with new and existing customers. Also, just because someone clicked Like on your page does not guarantee that they will see your updates on their news feed.

Ads and Costs: There is a difficulty for small businesses when it comes to Facebook advertising. You pay either by a cost per click (CPC) minimum $.01 or cost per impressions (CPM) minimum $.02. However, Facebook recommends bidding higher than that when you are creating the ad. This is because, If other advertisers bid more, their ads are more likely to be shown.
---
Using Facebook with Jumpseller
Considering all the cons pointed above, it is best to start your online business with an e-commerce platform with full Facebook integration. This way you can enjoy all the benefits of F-commerce while covering the cons as well. The drag and drop technology on e-commerce platforms means you can bootstrap and build your own website yourself with little to no coding knowledge.
Once you create an Online Store with Jumpseller, you can then install the Facebook App to make use of all the Facebook Commerce features. For now, even though the checkout is only available in the US, visitors on your Facebook page can add products directly to the cart and be redirected to the checkout page, making the buying process for your Facebook audience relatively simple.