Some of these features are still in the beta phase, or only available in select countries.
Facebook has been working hard on making the Instagram Shopping exprience better for both the buyers and sellers! Just in the past months, we have seen numerous updates and new features annouced. With that said, let's take a deeper look at some of the most recent features of Instagram Shopping.
---
Dedicated Shop & Reels Tabs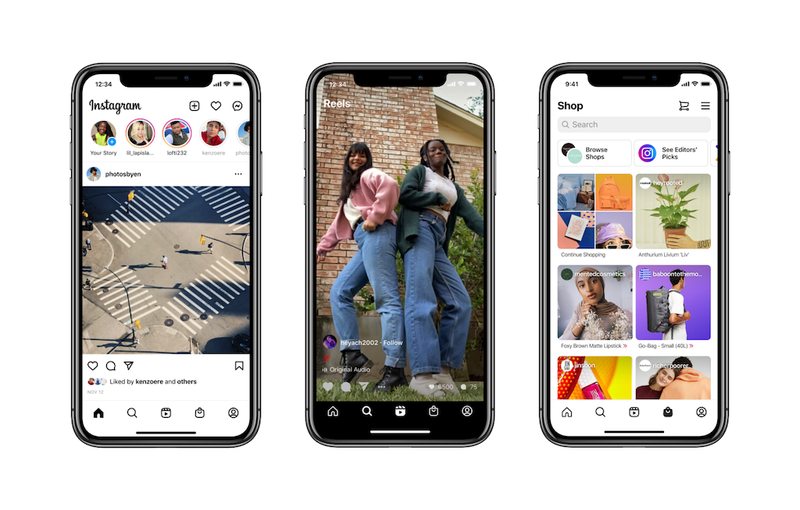 Instagram Shop has an entirely new presence! Now located in Explore, Instagram users can discover the latest trends, get personalized recommendations, and preview exclusive launches–all in one dedicated tab.
It's a huge change to Instagram's home screen. If you're going to shop, make sure you understand the new layout! It's the small purse/bag icon at the bottom of the main navigation bar.
---
Guides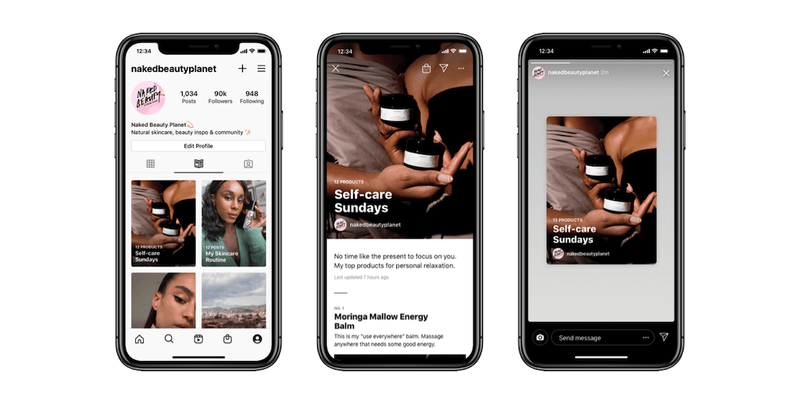 Instagram Guides allow creators and users of the app to "find, curate and share the products, places and posts from your favorite accounts on Instagram."
Originally born out of the COVID-19 pandemic, Instagram worked with experts and creators to provide these resources to help others with grief, self-care, and other useful content.
Now, guides are available to all users of Instagram! Look for Guides on Profile, and then be sure to share them in Stories and in DMs.
If you're looking to monetize your guides, consider making a Product Guide, which can be featured in Instagram Shop (@shop).
Go visit the @shop profile, you might find new products from accounts you don't already follow. Get inspired by what content people are loving on Instagram with Guides!
---
Tagged Products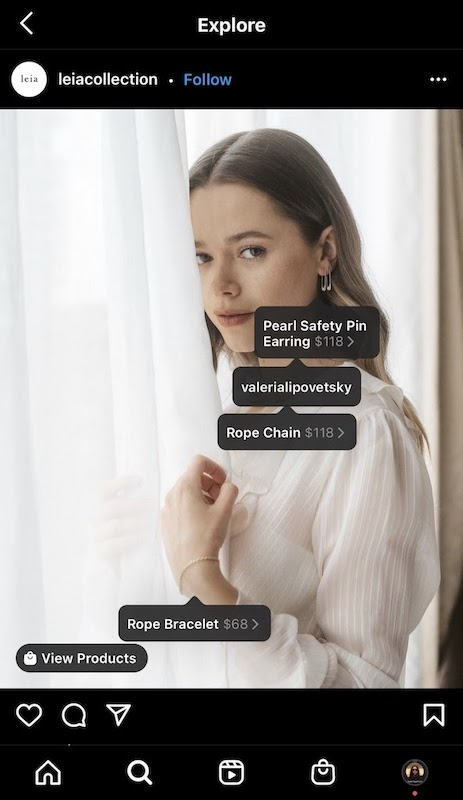 Many businesses use Tagged Products to allow Instagram users to buy products or services directly from their posts. Look for the shopping bag tag in posts.
Tap the tag, and you should see all tagged products. Simply click the tag of the product you wish to purchase to move forward with your transaction, or view additional information, like:
Product photo

Product name

Product variants

Price

Checkout, or a Shop Now button that redirects to a site

Facebook Pay
Don't have a product-tagging strategy for Instagram yet? You should! 130 million Instagram users tap to reveal a shoppable tag every month.
---
Checkout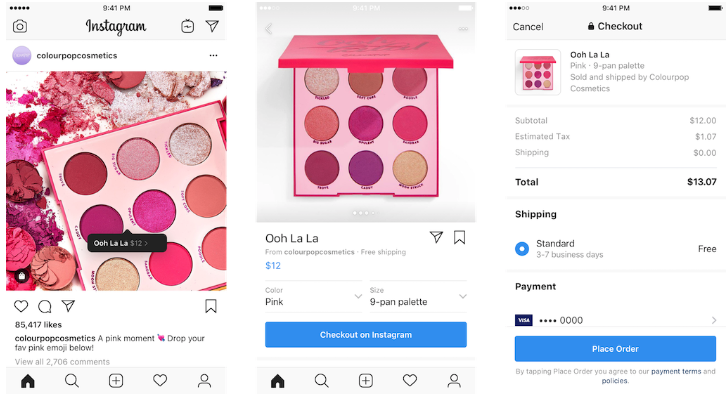 If you're looking to reduce friction for your current and potential customers, try Instagram's Checkout feature.
While currently only available in US markets, Checkout allows people the option of buying products directly through Instagram. Payment credentials are securely processed, and stored later for future purchases.
To use the service, simply click "Checkout", and select the required options, like size or color. Fill in your shipping and payment information, and you're officially an Instagram shopper.
You can continue shopping, and you'll receive notifications about shipment and delivery from Instagram.
Build awareness and drive transactions all in one place with Instagram Checkout!
---
Instagram Business Profiles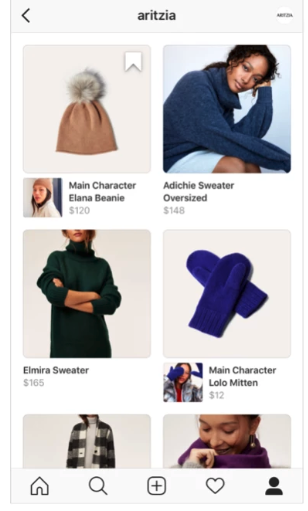 Business Profiles feature a Shop Tab which allows you to view all products from their shopping posts. These are different from guides, which are curated.
Quickly browse products details–such as item name and price–when you're on a Business profile by tapping the Shop button.
---
Shop on Instagram Stories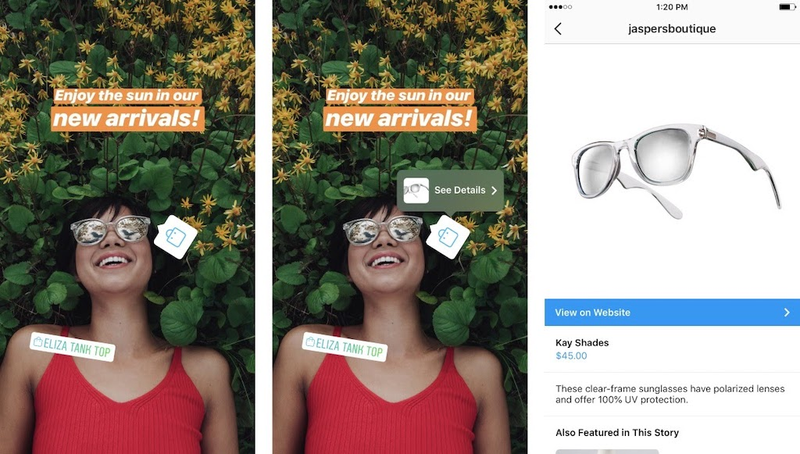 Did you know that more than 500 million people watch Instagram Stories every day?
Make sure that customers can shop your stories. Start by uploading a Story. Then, tap the sticker icon and select a Product.
If you have multiple products, select the corresponding item from your product catalog. Take note: you can only tag one product per story.
---
Creators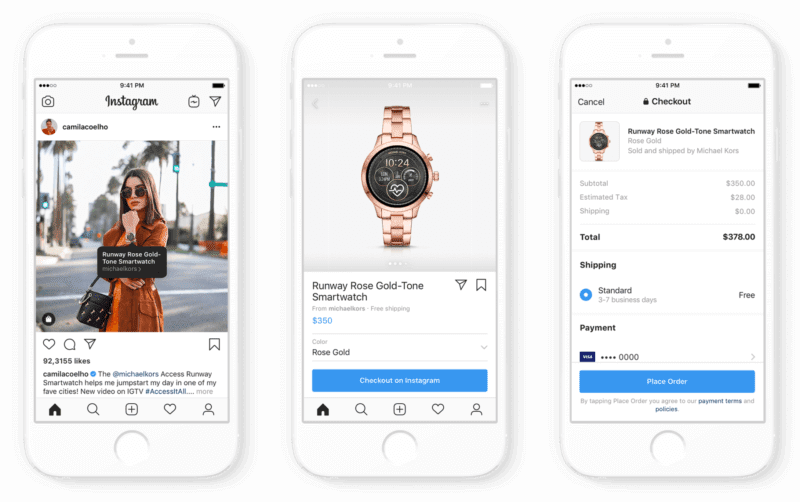 Want to partner with an influencer or celebrity? You'll benefit from the Creators updates. Shopping from Creators allows Instagram users to shop inspiring looks from creators they love and idolize without leaving Instagram.
Creators, such as Nike, can partner up with public figures, like Ronaldo, to create global brand appeal, simplifying how people can instantly buy the products they see their favourite celebrities wear.
It's not just celebrities either: micro- and nano-influencers can benefit from creator partnerships!
No matter the account size, Creators' products appear more relatable and attainable as they see someone using it. Then Instagram users are just a few clicks away from owning it!
Learn more about Shopping for Creators.
---
Set up @shop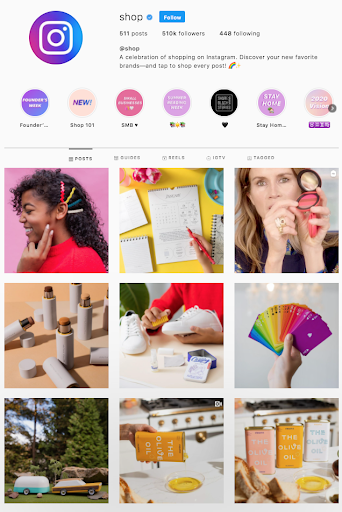 With over 500,000 followers, the official Instagram @shop account has been growing at a steady pace. Here, you'll find a variety of products from globally emerging brands–all inspired by the Instagram community of shoppers.
All of these products are tagged accordingly, so you can easily tap and make purchases. Though it is managed by the Instagram team, it is not clear how to get featured on this account.
Instagram says that the account is a "reflection of our community's interests across top shopping categories like fashion, beauty, home decor and more."
With the @shop account, Instagram is attracting and motivating small businesses and creators to use the platform to grow faster.
---
Live Shopping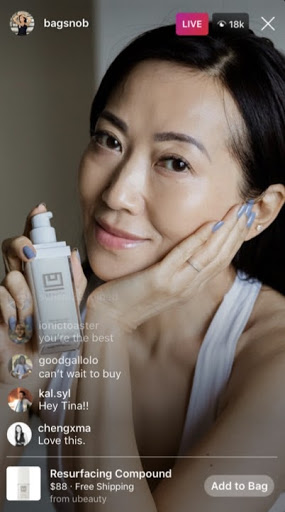 Similar to Tagged Products, Instagram creators can now add products to their Live Video, allowing users to purchase products directly.
This new flow allows for a much easier purchasing process, and users no longer need to search for the featured product or ask in the Live Video chat where/how to purchase the product.
---
Shopping Collection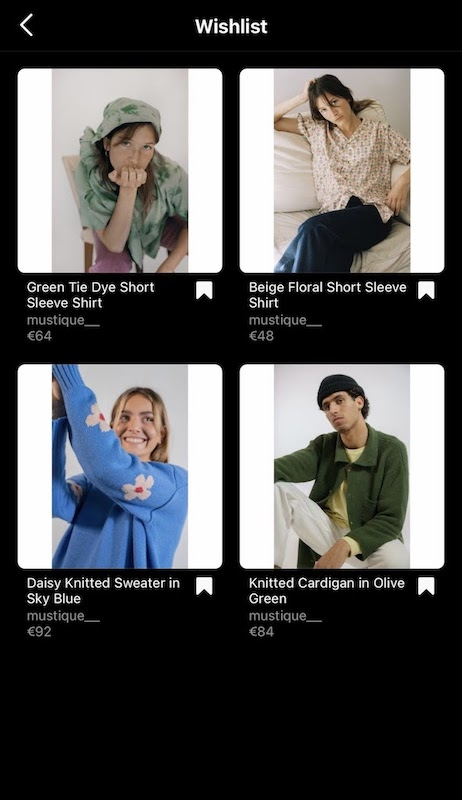 Come across a must-have? Just save it to your Shopping collection to buy it later. While looking at a product Stories or Feed, just tap the Save icon in the bottom right corner to save it to your Shopping collection.
Just like existing collections, you can access your Shopping collection from your profile. It's an easy way to keep your wish list up-to-date and store creative gift ideas for the holidays.
---
Shop Directly from Feed Videos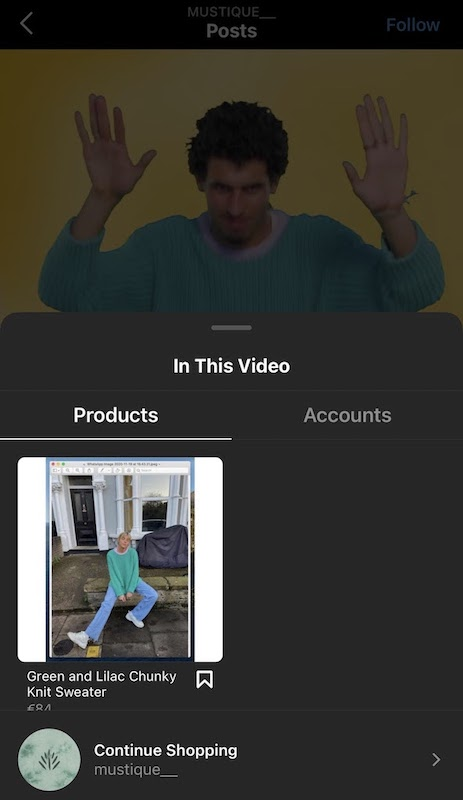 When browsing through video posts of your favourite businesses, you can now tap a Shopping Icon on the bottom left corner and see the products featured in the video and get instant access to their details.
---
Instagram Ads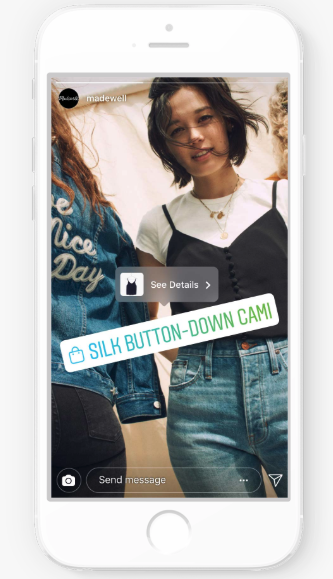 Instagram ads can help boost sales and increase conversions. Now, you even have the option to create Shoppable Story Ads, meaning you can combine the Tagged Product feature with your Instagram Ad.
In total you have the following options for advertising on Instagram:
Stories ads: Over 500 million accounts use stories daily.

Photo ads:** Square or landscape, tell a story through Instagram's original canvas.

Video ads:** Add sound, and motion to your ads with video. Showcase your product as it really is!

Carousel ads:** Add depth to your ads with additional photos, videos–all in the same post.

Collection ads:** Inspire your buyers or help them see your vision by using collections to group products together, with a lifestyle focus.

Explore ads:** Extend beyond the feed by reaching users in the discovery page. Read more about Explore ads here.
---
Facebook Pay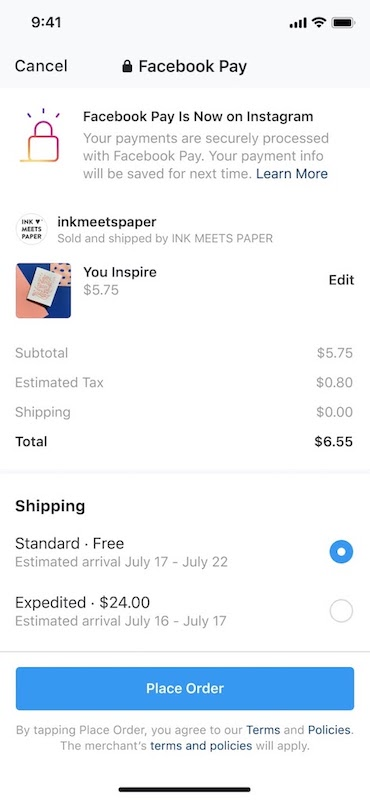 For accounts that already use Checkout, Facebook Pay is a safe, secure, and convenient way to save payment information for future purchases. Only available in select countries, Facebook Pay allows Instagram users to shop and make donations.
There are even extra security features, like a unique PIN or device biometrics, such as Touch or Face ID. Purchase Protection is also available for eligible products bought via checkout.
---
Aesthetics
Remember: this is Instagram! Use your creativity to make beautiful shopping posts that seamlessly fit in with your Instagram feed, and with your overall brand.
Create Instagram shopping posts in your profile feed or your Instagram Stories and customize them by choosing an image or video you like as the shopping post. You can even change the colour of your sticker before sharing your story.
Instagram shopping uses the same catalog for e-commerce as on Facebook Shop.