How to install Google Commerce
On this page
Creating an E-commerce store on Jumpseller is the first step to making your products available on the internet.
The next step is to add ways of bringing your products or services to more Market Channels such as: marketplaces, social media platforms, online stores and more.
In this article, we talk about how to show the products from your Jumpseller Store on Google. For this, you must install the Google Commerce Sales Channel and create smart shopping campaigns.
---
Introduction to Google Commerce
Google Commerce allows users to search for products on online shopping websites and compare prices between different vendors.
Customers can either go to the Google Search homepage to enter a search query, select the Shopping tab under the navigation bar, or go directly to the Google Commerce homepage.
Google search homepage displaying product ads: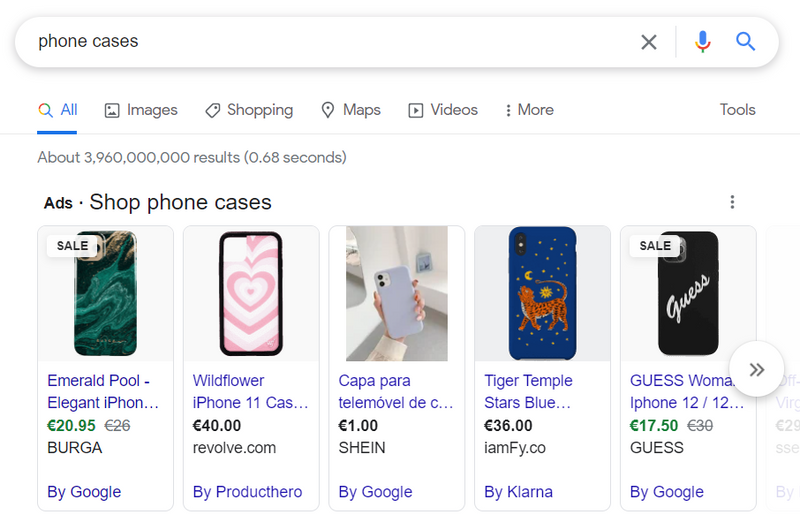 After clicking on the Shopping tab a user will see the following:
The search results show sponsored (Paid Ads) products at the top.

Below the ads, other relevant products also show up on the search result even if they are free listings. Which is why it is important to make your products discoverable!
Tip: Now you can create free product listings on the Google Commerce tab.
Google Merchant Center & Google Ads Accounts
While easily linkable, Google Merchant Center and Google Ads have different accounts. Once you set up your Merchant Center account with the Jumpseller Google Commerce App it does not automatically create a Google Ads account by itself.
Note: When you use the Google Commerce Sales Channel with Jumpseller, you cannot use a pre-existing Merchant Center Account.
A user who intends to use Google Commerce will always get a new account created by Jumpseller once they configure the app. Let us further explain:
There are 2 types of accounts:
Google Merchant Center Account

Google Merchant Center is where you create your product feed to be used on Google Commerce.

When you configure the Google Commerce Sales Channel, a Google Merchant Center account is created by us. Our integration will send your products in the correct format to that Google Merchant Account.

This is done in order to avoid potential errors from mixing feeds from different sources.

You can connect 1 Merchant Center account to multiple Ads accounts (a maximum of 5 accounts) and change which one is connected, etc. They can all be active, and all of them are "using" the same data feed.

Google Ads Account

Compared to Text Ads, Google Commerce Ads are a bit different. Keywords are more important for text ads, when you create campaigns and ads it is all focused around keywords that you have selected.

With Google Commerce, it is Google that determines when a product listing ads show up. Similar to SEO, Google here considers your site, feed and bids to determine which search queries should trigger your ads.
---
How to "Unclaim" your website from the Google Merchant Center
Important If you DO NOT have an existing Google Merchant Center account linked to your website at the time of installation of the Jumpseller Google Sales Channel, please skip this step.
When you install the Google Sales Channel, a new merchant account will be created for you during the installation process. While you do have the option to use an existing Google Ads Account. Unfortunately, it is not the case for a Google Merchant Center Account. So, if your website is already connected to an existing Google Merchant Center account, you will first have to Unclaim your website so you are able to link it to the new account that will be created during installation. You can do this easily by following the instructions below:
Visit the Google Merchant account with which you made the "ownership claim" of your current website.

Click the wrench icon in the top right.

Select Business Information.

Click the Website tab on the next page.

Delete your website URL, and then click Save.

If you received an error message when trying to remove the claim, try entering a fake domain name instead. For example, instead of www.YourDomain.com, try www.YourDomainBreak.com or www.YourDomain123.com. This fake domain being saved should void the claim in your personal Merchant Center account.

Now you can install the Google Sales Channel in your store with your Google Account that is connected to your Ads Account. You will be able to claim ownership of the website with your new Merchant Center account (you'll be creating it at that point).

When asked to select the Ads account you want to work with, select your current Ads account.

Finish the setup.
---
Setting Up Google Commerce and Performance Max
Initial Requirements:
First, you will need to have a Terms and Conditions page and a Return and Refund Policy. You can do this by using our Terms and Condition Sample and the Return and Refund Sample pages and adding them in the Admin Panel > Pages > Legal.
Also, in order for Google Commerce to work properly, you will have to claim ownership of your website (you will be asked to do this during the installation process).
If everything is okay with your store, you should have your store verified between 24 - 48 hours. If your store does not meet a condition, you will receive an email from Google stating your store was not approved.
Note: You need to have a custom domain before you integrate with Google Commerce.
On your admin panel, go to Sales Channels > Gallery and next to Google Commerce click on the Install button.

Click on the button "Yes, Authorize".

Sign in to your Google Account.

Check the "I agree with Google Merchant Center Terms of Service" box and click on the "Create Account" button.

Write down your phone number and click on "Request code via SMS". After receiving the code, type it on the verification field and click on "Send verification code".

Select the main country where you will sell your products to and click on "next step".

Now you can either choose to "connect an existing ads account" to the merchant center or "create an ads account" and connect it to the merchant center.

Click on the "Accept invitation" button and after you are redirected to a new page, fill in the billing (payment) information. Once you are done, go back to the Jumpseller page and click on the "next step" button.

To create a smart shopping campaign, enter the "Campaign name", "select the country" where you want to sell, enable or disable the "campaign status" and "set a daily budget". Finally, click on the "Create campaign" button!

Once your campaign has been created, you can just click on "continue to Menu" and you will be redirected to the Google Commerce Sales Channel main page.
Optimize Product Feed
In order to have the best chance of making a sale via Google Commerce, it is always advisable to optimize your product feed!
Here is a list of some of the things you can try optimizing:
Optimize your titles - Try to have a structure that includes Brand + Product type + Attributes, like the following examples:

Brand + Attribute + Product type + Model #

Example: LG A++ Free Standing Fridge (KG49NXIEPG)

Brand + Gender + Product type + Attributes (color, size, material)

Example: Adidas Male T-shirt - Deep Blue, size M, 100% cotton

Optimize your description - Imagine your product description as your "ad". Your goal should be to focus on having the most relevant information about it. Also, you should also strive to have relevant keywords and information from your landing page.

Optimize your images - A great picture can communicate everything you want to transmit to the potential customer. Make sure your images are high quality and relevant.

Add recommended attributes - Think of recommended attributes as extra information that, although optional, can help shoppers compare products. Before adding extensions like product ratings and shipping to your product feed, you need to add the information required.
With Jumpseller, changing the titles, descriptions and images is really simple, you only have to make these changes on the products page and we will update the products on Google Commerce in real-time.
Sending your products to Google Merchant Center
The Google sales channel will list all the products from your store. In order to have them published and ready to be advertised, you need to get the status indicator to be green.

To send a product, simply click on the toggle next to it. The product will then be sent to Google for them to review. You can also "Enable All" products by clicking on the button at the top.

Once the products are reviewed by Google, you can click on "Verify All" and it will update the status colors of all your products. If you want to see details on a specific product, you can click on the "Verify" button again and the details of the warnings and errors from google will be shown.
Select which products you want to submit to the feed just by flipping the switch.
Enabling or disabling the product will automatically insert or remove the product from the feed.
Note: All the products load as disabled by default.
---
Products and Account Approval
After you submit your products to the Merchant Center, Google will start a review process that includes:
If you click the verify button next to your product it will update your product status according to the Google Merchant Center. A product can have these statuses:
Green and Enabled: The product configuration is correct and the product shows in your Google Commerce feed.

Red and Enabled: The product configuration is not correct but the product shows in your Google Commerce feed.

Red and Disabled: The product does not shows in your Google Commerce feed.

Blue: The product is still being evaluated by Google.
Request Review: If you want to request a review, you can do so by going to Products > Diagnostics > Account Issues in your Google Merchant Center.
---
Performance Max Campaigns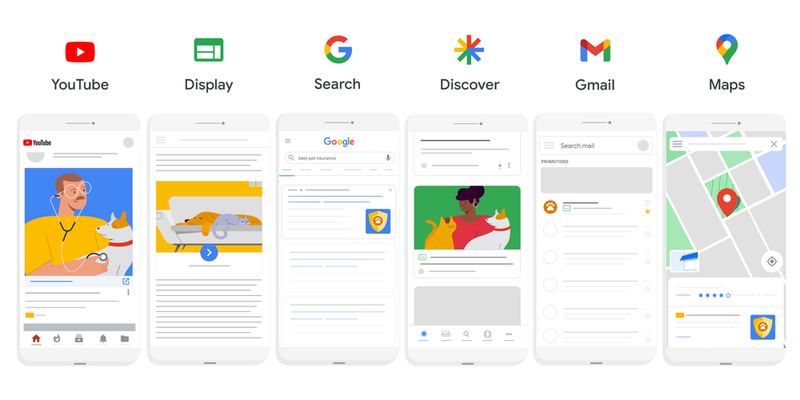 With the Performance Max integration you can create ads for multiple Google Channels including Search, Shopping, Images, Maps, Discovery, YouTube, Gmail and more.
Now that your Products are ready, your website has been verified, and you have created your first Campaign, let's take a deeper look at it.
You can see the details of each campaign you have created by clicking on the "Smart Shopping Campaign" menu on your Google Commerce sales channel main page and clicking on the "edit campaign" button on any of your campaigns:

Here you can edit the campaign's name and the daily budget. Also, you can see a summary of the campaign's performance. To see more detailed numbers, click on the "See Stats" button:
Which will lead you to the following page: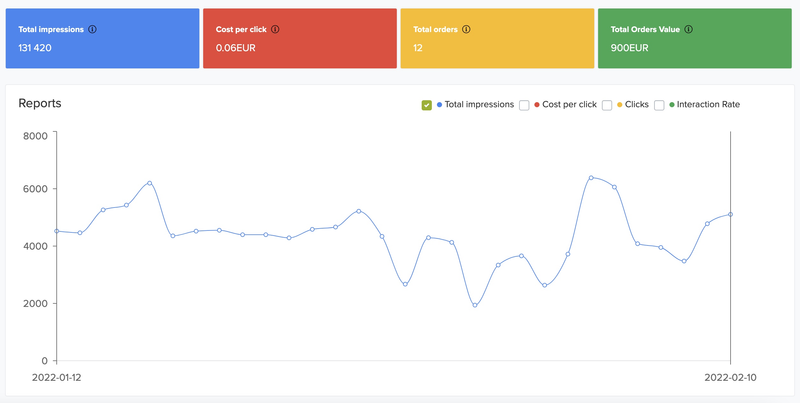 ---
Enhanced Conversions
With enhanced conversions you can accuracy of your conversion measurement and unlock more powerful bidding.
When a customer completes a conversion on your website, you may receive first-party customer data such as an email address, name, home address, and/or phone number.
This data can be captured in your conversion tracking tags, hashed, sent to Google in its hashed form, and then used to enhance your conversion measurement.
Visit Google to learn more about enhanced conversions.
Click on Google Shopping Ads.

On the Google Ads dashboard, click on Tools & Settings from the top menu.

Click on Conversions under the Measurement Tab.

Select your Conversion Action.

Upon being redirected to the new menu, scroll down to find the Enhanced conversions tab.

Open it and click on the check box Turn on enhanced conversions.

Select API and click Next.

Click Save and you are done.
---
Most Common Google Merchant Center Errors and How to Fix Them
In order to help you with these best practices and to improve the quality of your products we elaborated a ranking with the most common Google Merchant Center Errors and how to fix them:
Pending Initial Review
After uploading items to your account for the first time, there will be an initial review that takes up to 3 business days.
If the items that are under review are also disapproved for other issues, you are advised to fix those issues first.
Finally, if after resolving the errors, the items are still showing as pending review, please contact Google Support.
Read more information in Google's Policy Violations Guide.
Missing Shipping Information
Follow Google Instructions on how to setup the shipping costs.
Promotional Overlay on Image
This happens when some of your items have images with promotional text (for example, your store logos or calls to action) or obstructing elements such as watermarks.
You can correct your images automatically by activating the "automatic image improvements" option (This fully-automated process may not always be successful. If an image can't be improved, the product will remain disapproved.).
To check and fix your images manually, follow Google's Guide.
Invalid or missing GTIN value
A GTIN is a unique and internationally recognized identifier for a product.
To find yours refer to the barcode on your product's packaging.
If you can't find the GTIN, you can always contact your supplier or the product's manufacturer to ask for it.
Not all products require a GTIN, for example, Custom Made products such as custom Shirts or art don't need one.
However, if your product has one and you don't submit it the product performance on searches might be limited.
Read more information in Google's GTIN Guide
Missing Google Product Category
On the product settings of your Jumpseller Store, add the Google Product Category of your product.
Account suspended due to policy violation: return and refund policy
Please ensure that the return and refund policy is clearly available on your website, it should be easily discoverable and shouldn't be missing.
Create a policy on your Admin Panel > Pages > Legal and then add them to one of your navigation menus in your Admin Panel > Navigation.
Account suspended due to policy violation: Restricted purchase
Make sure that the products sent to your Google Commerce feed are allowed by Google and that restricted prodcuts such as alcoholic beverages, adult oriented, healcare, gambling and political content follows the shopping ads policies.
Other Recommendations
Make sure there's a business address that resolves properly on Google Maps and a business phone number that rings and is answered during normal business hours.
Ensure that the website displays identical information to all users, in all locations, regardless of any user-specific details such as IP address, browser, user-agent, etc., and meets the language requirements of the target country.
If you have any further questions you can always contact us.
If you have specific questions about Google Merchant Center or Ads please contact Google Support: ads-support@google.com