Support
How to setup Predictable Media for your online store
The easiest way to Analyze and Build 1:1 relationships with your customers at scale.
Codeless, simple, and for everyone.
Predictable Media's AI-powered Customer Data Platform, connects your data sources, predicts purchase behavior, and delivers the right message to your customers.
Start for free, pay as you grow.

---
Content
---
Product Tags
CDP, Customer Data Platform, Marketing Automation, Business Analytics, Business Intelligence, Audience Creator, Audience Segmentation.
---
Use Cases
a) Loyalty
b) Business Intelligence & Analytics
c) Digital Marketing
---
How to connect to your e-commerce platform
Easy, at sign up, select your data source as your e-commerce (Jumpseller), by providing your login credentials. Predictable Media won't push or do any changes into your e-commerce, it will only receive the data from the e-commerce.

Depending on how much historical data you have, the data gathering may take up to 15 minutes, the platform will let you know by email when the process is complete. From then on all of your data sets will get refreshed constantly.

Once completed, get ready to use Predictable Media, by going frst into "Performance", in order to prioritize your marketing focus.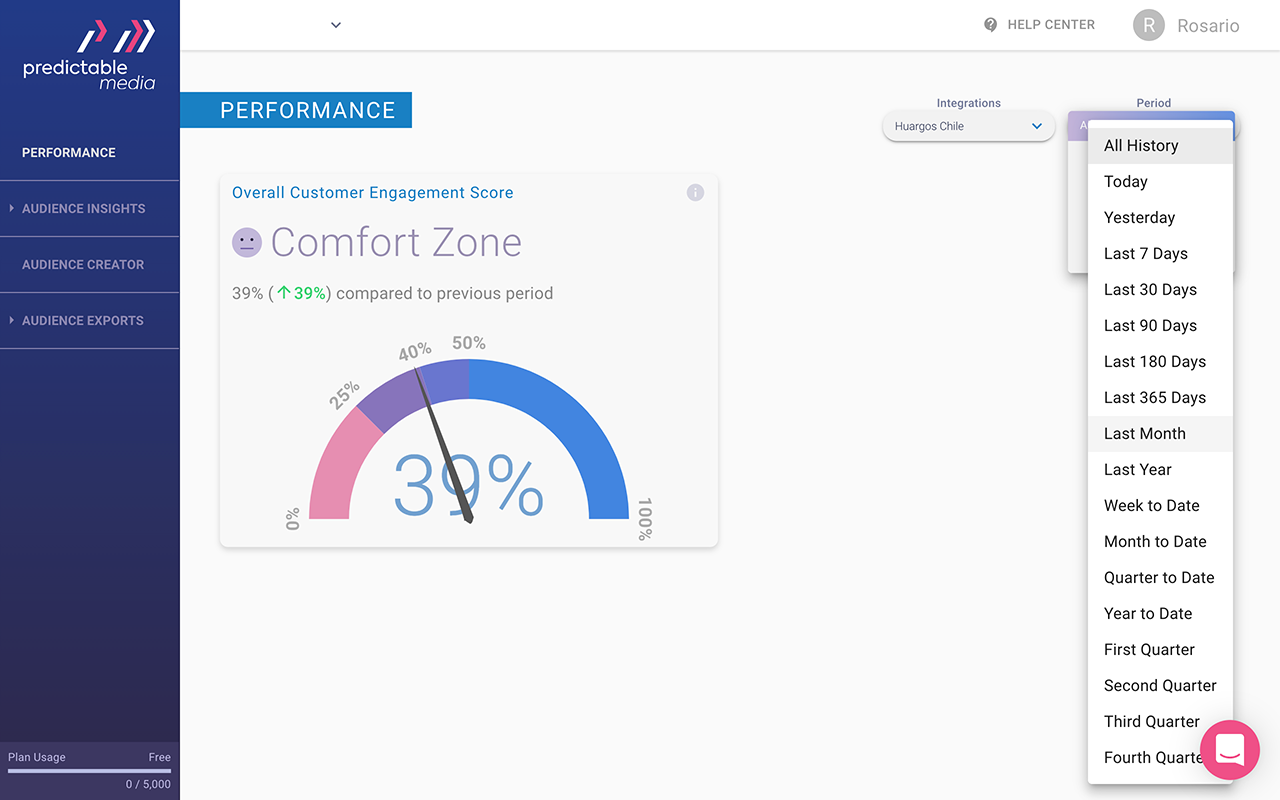 ---
Request a Demo
Get Started for Free
https://app.predictable.media/sign-up
Contact Us
https://www.predictablemedia.com/company/about-us
---
Support
Email: support@predictablemedia.com
We have live support on the web, at sign up and on the platform. Support is provided by an intercom bubble available at all times. There's also a Help Center within the platform and API documentation upon request.
Support is provided on a SLA basis depending on the plan, we strive for service and usually answer before those times.
---
Contact
Email: info@predictablemedia.com
Linkedin: linkedin.com/company/predictablemedia
Web (via intercom): predictablemedia.com
---
Web Page
predictablemedia.com
---
Integrations Landing Pages
For new integrations: predictablemedia.com/technology/integrations
---
Marketing Assets
The following link contains visual assets associated with Predictable Media: https://drive.google.com/drive/folders/1b-KJjYfwv1_ojgw6g3BTOO_QVWsITmCT?usp=sharing
Here you will find:
a) Branding: Logo in different versions

b) Deck: Spanish presentation and screenshots

c) Screenshots: Actual software use

d) Videos & GIFs, available on YouTube:

| | |
| --- | --- |
| [What is Predictable Media ? | CDP for everyone](https://youtu.be/WedlzEMbhYE){:rel="nofollow"} |

e) Vector Assets: Cleaned software visualizations