As technology evolves, there is greater demand for convenience and speed. People are often doing things on the go and as a result, there has been a rise in m-commerce.
The convenience of being able to purchase anything easily from your mobile means that over 50% of online sales are now made via mobile.
This rate is one that is growing quickly and by 2021, mobile sales are expected to be worth around $3.5 trillion globally.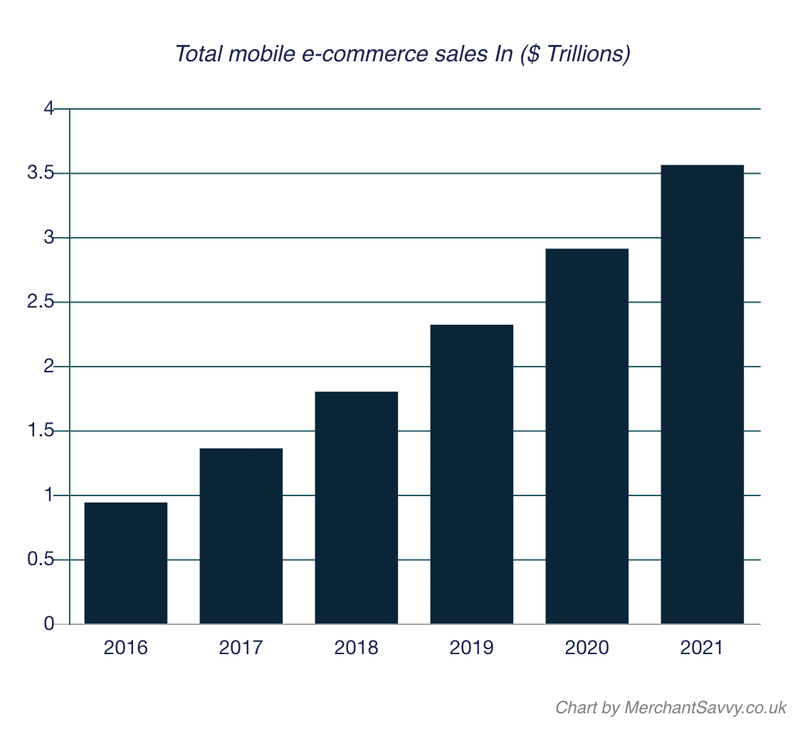 With more customers shopping on their mobiles, it is important to make sure they have a good shopping experience. Factors such an unresponsive page and interruptive adverts can negatively impact the browsing experience.
When designing for mobile, it is important to think about the design of your mobile app as well as your webpage. Both must be optimised to best sell your product and meet the customer's needs.
Additionally, Google algorithms are designed to prioritise mobile-friendly websites. It is best to optimise your website for mobile if you want it to have a high search engine ranking therefore.
---
How to optimise your website and make it mobile-friendly:
Reduce loading time

The bounce rate increases drastically the longer it takes for your online store to load. When the load time is between 1 - 3 seconds, the bounce rate is just 32%, however if it takes up to 10 seconds to load, the bounce rate increases to 123%. On top of this, 37% of customers are less likely to return to a slow-loading site – first impressions are everything.

Having a fast mobile loading speed on a page that loads in under 3 seconds is therefore one of the most important factors to address when optimising your website for mobile. To decrease page load time, simplify the design, optimise and compress images and decrease image file size, and minimise HTTPS requests and redirects.

Optimise the design

It is important to remember that the user will be viewing your website on many different devices, so the design must be adaptable to suit all screen sizes. It may sound obvious, but if there is too much text on a page and the user finds it difficult to read on a small mobile screen, they are going to click off. Make sure product descriptions are snappy, accurate, and easy to digest quickly.

Use predictive search and customise the information based on the user's preferences; it can be beneficial as it speeds things up for the user. This will also increase customer satisfaction, as well as customer loyalty.

Make it easy to navigate

Following on, the design should be uncomplicated to allow customers browse your products with ease. Items should be categorised to allow customers to filter by preference and quickly find exactly what they are looking for.

The navigational menu should be logical and easy to follow, with any navigational text being clearly visible to lead the user to the CTA to ensure the customer completes their journey.

Minimise number of clicks

Customers will lose focus if there are too many steps to go through to complete their order. Minimising the number of clicks in the payment funnel will provide a better shopping experience and consequently increase conversion.

Additionally, when considering the mobile app, features such as push notifications – and a sticky CTA button on the mobile website respectively – will be a permanent reminder for the user to make the purchase, and will also make it easier for them to reach the shopping cart with just one click.