Who doesn't want a cool looking, colorful, visually stunning website? Selecting the theme for your website can be a fun experience, after all this is what gives your online store life! I mean it is good to have the logistics set up and the machine well oiled behind the scenes, but if you don't make a good first impression, not many people will like to hang around and dig deeper. Therefore, it is a good idea to spend some time and think about the theme of your website, to decide on the perfect fit for your product or service.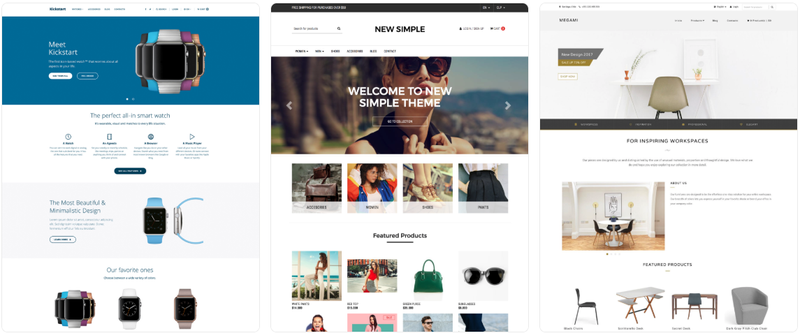 Although there are many things to consider when it comes to creating/selecting a theme for online stores, let's look at the most important aspects that contribute to making a theme great.
User Friendliness

The visitors should easily be able to explore and work their way through your website. The important sections have to be clearly listed, the website should not be cluttered, make it organized, give a segmentation option (popularity, price, new, old etc), visitors must have a clear path to undo their action such as canceling a purchase or making changes to the order, all of these things help create a memorable experience.

Features

Add a section to subscribe to your newsletter, create a page where visitors can leave feedback, make it easy to get in touch with you, have a search bar, show them all variants for particular products, create a thank you message after they complete a purchase. These are just some of the features that can boost the appeal of your Online Store.

Speed and Compatibility

It is all good to have a visually stunning website, but sometimes simplicity can be good enough if you are clever. If you fill your website with heavy visual items like videos and animations and loads of pictures, it will affect the speed of the website, and a slow and lagging website can be a frustrating experience, avoid it at all cost.

Check if the website works equally good on all platforms and browsers. It is important to have a smooth website for mobile and tablets as well. We live in a digital world, you can't afford to miss out on potential customers just because your website doesn't work well with particular gadgets or browsers, so do test it out!

Customization

Often times people can get templates of themes on which they can create their online business. However, most times these templates are very basic and require a certain degree of customization to give it the complete look that matches your product and business model. These might be minor things such as changing the font style or adding a live chat to your landing page, but these details can go a long way in making your website unique.

SEO

Attracting visitors is the pinnacle of a successful website, having an SEO friendly website can save you money that you would be committing to tools like Google Ads to help you rank higher on searches. Jumpseller themes are already optimized for search engines, you do not have to add anything extra.
Put your ideas into action!
Create your store with the 14-day free trial.
Start your journey with us!
Free trial for 14 days. No credit card required.
Selecting the Ideal Jumpseller theme for your Product
Have a picture of your product in your mind when selecting a theme, since not all themes work with all types of products. It is important to consider the elements of the products that need to be highlighted, the color schemes that match best, the features required and other details before selecting a theme for your store.
Examples
If you have a watch and jewellery online store, these are products that probably require bigger and high quality photos as compared to a detailed textual description, so for these types of products it would be better to go with a theme that offers you elements to have bigger pictures per products and more visual aids such as magnification, rotation, etc. The College theme would be a good fit in this case.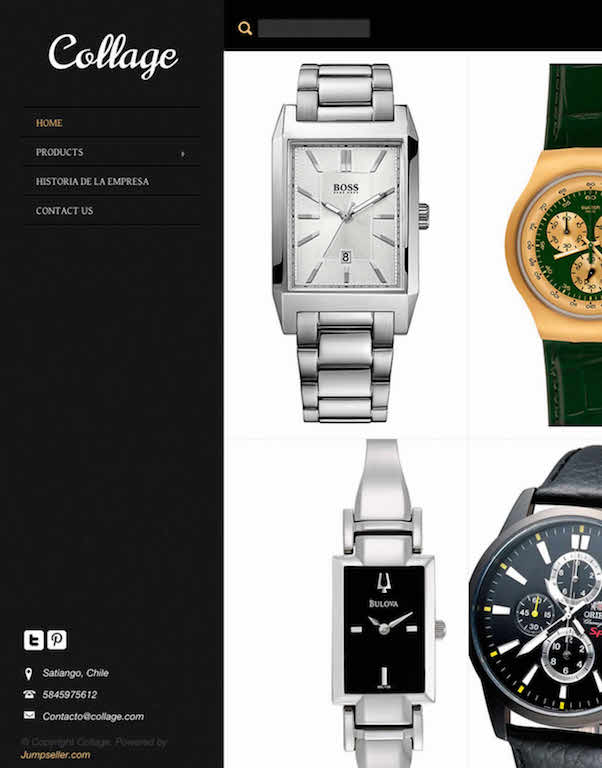 If you have to sell food items like Desserts or have products that are focused on children, you can use the Cupcake theme from our Gallery, which is more colorful and lively, lets you avoid the serious tone and makes your store provide a warm experience.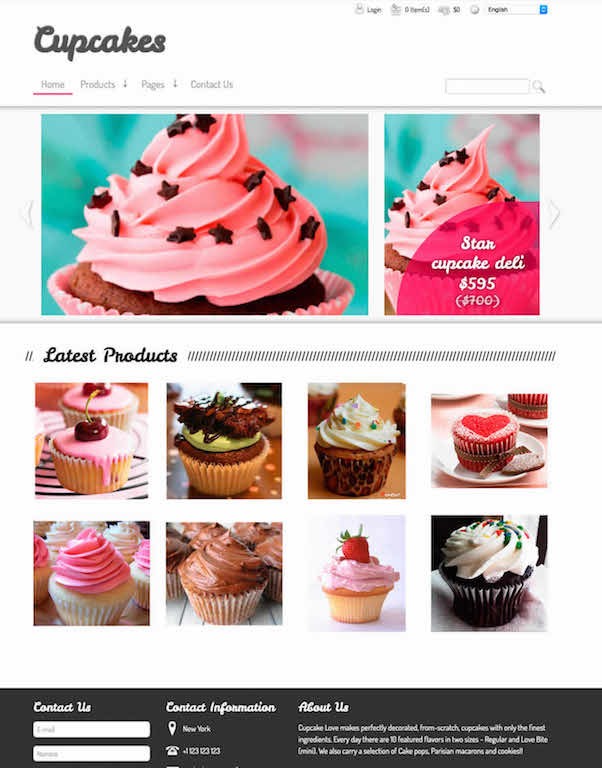 For more examples, visit the Jumpseller Themes Gallery.
---
Theme Customization with Jumpseller
You can easily further customize the theme you pick by going into Themes > Theme options on your admin panel.

Here, you have a two-part layout:
Left side is where you can customize stuff.

Right side shows a live preview.


You can click the icon next to save to toggle between desktop and mobile size preview.

What you can customize depends on your theme - some themes have theme-specific sections that can be enabled or disabled.

You have the ability to.


Customize default messages and strings (for new clients, campaigns, etc).

Alter the store info that is displayed such as contact email, phone, etc.

Customize what and how much information is shown on specific parts of the store (e.g. "Related Products on the Product page").

Enable or disable specific sections.

Choose the fonts to be used in your store, as well as their different sizes.

Change all the colors in the different sections of your store (background color, topbar, primary and secondary text color, etc).

Upload custom favicons and images (for slideshows, banners, etc).



Code Editor (theme)
If you have web design skills or if you plan to enhance the look and feel of your store by working with an external design agency (see recommended professionals), we offer a wide range of pre-made code snippets that you can quickly add to your theme, a useful reference to the liquid markup language used in all of our themes and finally, a reference guide to all the custom liquid variables we provide to all store which links all the data from your Admin panel.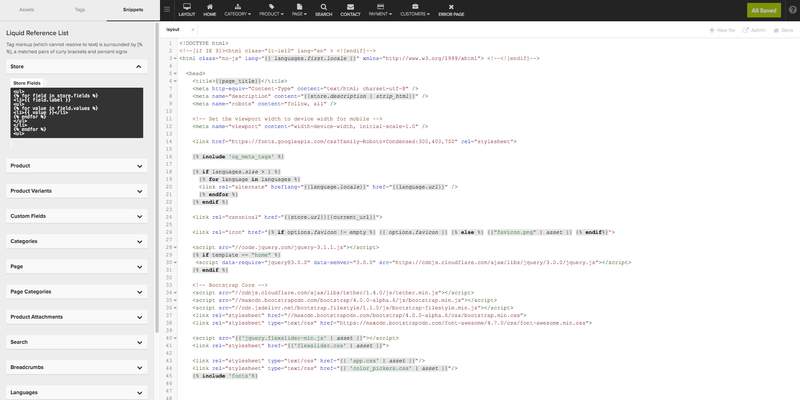 For advanced customization, you also have the option to use the Jumpdesign service.
---
Conclusion
Not everyone can afford to pay for a nice looking website, this is where you have the advantage with Jumpseller, it offers a variety of high quality premade templates (visit Themes Gallery) to choose from, and they are free to use no matter what plan you have.
Use the Jumpseller Free Trial to create your Online Store Today!