Support
How to sync a Facebook Shop with your Online Store
Sales Channel
Creating an e-commerce store with Jumpseller is the first step to publicize your products on the Internet. The next step is to link channels with your store to present your products or services to Marketplaces, Social Networks and other important platforms. In this article, we talk about how to connect your store to the Facebook Sales Channel.
---
Content
---
With this Sales Channel, you can perform these actions:
Sell on Facebook and Instagram

To sell on these platforms you need to synchronize your catalog with Facebook. In the case of Instagram, your business must comply with the conditions of that platform. In addition, to use the Instagram Sales Channel, you will need to have a Facebook Commerce account.

Behavior analysis of your customers

In order to define and create advertising campaigns and improve the process of buying your customers, Facebook delivers tools to measure and study how your customers move in the store. For this you need to create and configure a data source called Facebook Pixel.

Facebook advertising

Have you noticed that sometimes it seems that Facebook or Instagram reads your mind when displaying advertisements for products you have searched online? This can be achieved through advertising campaigns aimed at customers who visited your products. This requires the installation of Facebook Pixel and the Synchronization of your products.
---
How to set up Facebook as a Sales Channel
All you need is a Facebook account, there are no pre-requisite steps, everything you need to get started will be created during the installation process.
---
Frequent questions
How can I link/unlink my Instagram account with my Facebook profile?
Please follow the steps described on the Instagram Help page.
How to verify a domain on Facebook?
To verify the ownership of a Domain found in Jumpseller, select from the list of verification options Update DNS TXT record with your domain record.
Facebook will indicate a DNS record of type TXT similar to the following:
facebook-domain-vericiation=xxxxxxxxxxxxxxx
The record is obtained in the option: DNS Verification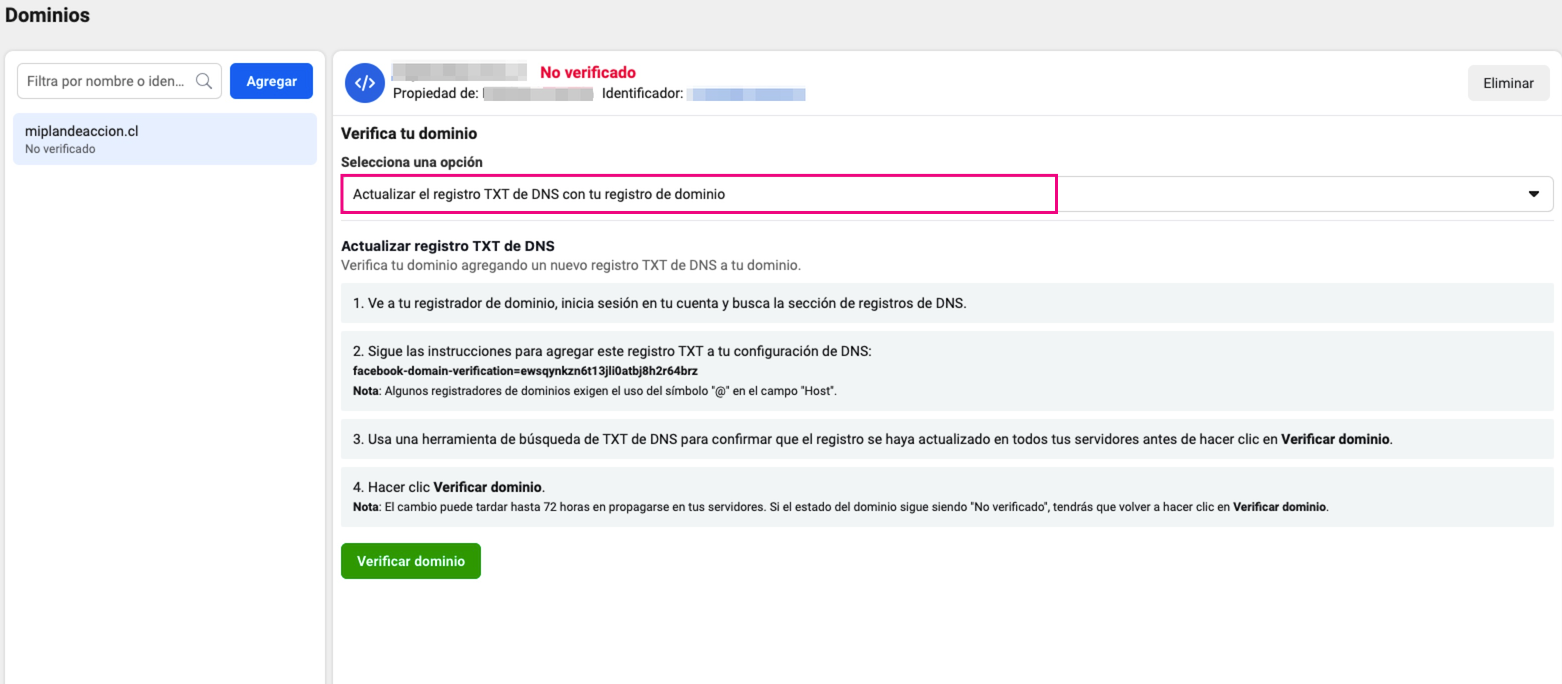 You must follow this procedure:
Enter your Admin Panel: Configuration > Domains

Choose your domain when verifying and go down to the section called "Advanced DNS Configuration"

Create a new entry, the Host value must be Blank. Type must be TXT and value must be Facebook code.

Save the changes, it may take a few minutes for Facebook to recognize the DNS changes.

Why my catalog does not show in Instagram?
It's recommended to create a "Facebook Commerce" account, so you can set up the Instagram Sales Channel. Please create one here (you must be on your computer).
I can't configure the Facebook application
Please make sure you have disabled all / any ad blocker in your browser, and enable the option to save and read cookies in your browser, while configuring the Facebook application.
My Facebook Pixel shows some errors or does not work properly
Only in Google Chrome, after deactivating all ad blockers, install the Facebook Pixel Helper plug-in and open your site web to confirm if all data is displayed correctly on each page.
The store section is not showing on my Facebook page, why?
You may be violating Facebook Merchant Terms and Policies. Check them here: Terms and Policies.
My products do not sync with Facebook or the images of my products are not displayed, why?
Uploading images to the Facebook store can be complicated, however, Facebook provides some recommendations to have the best chance of being approved. Note: each product must be approved before it can be displayed in your Facebook Store.
I want to sell on Instagram, but my account is not approved, why?
First, you must meet the following requirements to use purchases on Instagram. You must send your account to review it through your Instagram account settings. Note: your account can be rejected without any explanation, the approval of the catalog / account is at the sole discretion of Instagram.
Are there any Image Requirements?
At least one image is required for each product.
Each image must be of the product itself. It cannot be a graphic representation (for example, an illustration or an icon) of the product.
Use images that:

Be easy to understand and show the whole product.
Have a resolution of 1024 x 1024 or higher.
Be in square format.
Show the product closely.
Have white backdrops.
Capture the product in real life situations.

Do not use images that contain:

Text (for example: calls to action, promotional codes).
Offensive content (example: nudity, explicit language, violence).
Advertising or promotional material.
Watermarks.
Time sensitive information (for example: price drops for a limited time).
Any particular requirements for the Descriptions of products?
Use Rich text only (not HTML).
Offer only information directly related to the product.
Be digestible (for example, use short sentences and / or bulleted lists).
Highlight unique product features.
Be correct in grammar and punctuation.
Your descriptions should not have:

HTML.
Telephone numbers or email addresses.
Long titles.
Excessive punctuation
All uppercase or lowercase letters.
Spoilers of books or movies.
Links to external sites.
We are here to help you, so if you have any questions, you can contact us at any time.