Having a strong Facebook presence is one of the key components of running a successful online business, it can go a long way in helping you establish your brand. In this article, we take you through the steps to understand and use the Facebook App with your Jumpseller online store.
---
Contents
---
Facebook Shop
With a monthly traffic of 2 billion, it is safe to say Facebook is an essential area for online marketing and sales! Next time you go for a coffee, notice how many people around you are on their mobile devices using Facebook. To cater to your target audience on this social networking giant you NEED to use the Facebook App!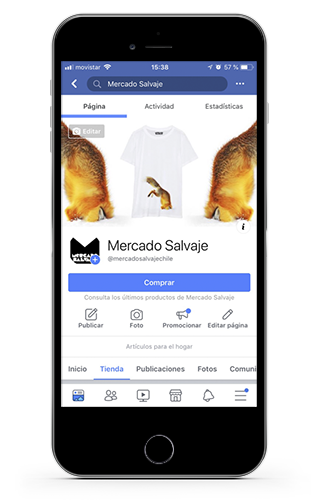 Instead of selling products on a Facebook page, you can now create a Facebook Shop. You have two options:
Option 1 (No Jumpseller Store)
Now, if you do not have an online store externally from Facebook, you can still set up this Facebook Shop, however, it will be the more difficult option! You will need to create an app that helps you upload your product information and pricing in to your Facebook shop and display them on the Product Catalog (after getting approved!) while you would also have to find a way to solve the payment process no matter which of the following to options you decided to go with:
Option 2 (Already have a Jumpseller Store)
If you want a simple way to set up a shop on Facebook, we recommend you create an online store with Jumpseller and use the Jumpseller Facebook App!
The app creates & install a Facebook Pixel for your Facebook Page

The app creates a product catalogue on Facebook

The catalogue can be used to create Facebook Ads

The catalogue is synced to a Facebook Store (if your page is a business)

The catalogue is synced automatically with Jumpseller (and can also be synced manually)

The payment is made at your Jumpseller Store
---
Jumpseller Facebook App
With this app you get to have the complete Facebook package, that means, Facebook Pixel, Product Catalogs, and Dynamic Ads all in one. You can use these perks to drive your sales and increase profits. With this app, you get the chance to:
Reach the right people: Set up Facebook pixel to find new customers, optimize your ads for people likely to buy and reach people with relevant ads on Facebook.

Show them the right products: Automatically create carousel ads that showcase your products, or use dynamic ads to retarget your site visitors with ads based on what they browsed.

Measure the results of your ads: When you have the Facebook pixel set up, you can use Facebook ads reporting to understand the sales and revenue that resulted from your ads.
Many online retailers have found success using Facebook pixel to track the performance of their ads and run dynamic ads:
"The ability to measure sales was the first sign that our business would be a success. Our first day of breaking 100-plus sales always sticks out. Point blank, our marketing plan is Facebook, Facebook, and more Facebook... Facebook is 100% the backbone of our customer acquisition efforts and it's been made even better with the improved Facebook pixel" Ali Najafian, co-founder, Trendy Butler

"With dynamic ads, Target has been able to easily engage consumers with highly relevant creative. The early results have exceeded expectations. Performance has been especially strong on mobile devices — an important and fast-growing area for Target — where we're seeing two times the conversion rate" Kristi Argyilan, Senior Vice President, Media and Guest Engagement at Target
---
What is included?
Pixel installer
The new Facebook pixel makes conversion tracking, optimization and remarketing easier than ever. Use the new pixel with standard events and you'll be able to access all the features listed below.
Conversion tracking: Check how successful your ad is by seeing what happened as a direct result of your ad (including conversions and sales).

Optimization: Show your ads to people most likely to take a specific action after clicking on them, such as adding an item to the cart or making a purchase.

Remarketing: You can reach the people who visited your online store and remind them of your business with a Facebook ad.
This is a customizable system. You can have campaigns running indefinitely with multiple targets. It will easily become your favourite app if you are deeply invested in Facebook Ads.
Events
Events are actions that happen on your website, either as a result of Facebook ads (paid) or organic reach (unpaid). These standard events within the Facebook pixel code enable you to track specific events, optimize for conversions and build audiences. Jumpseller Facebook uses the fbq('track') function to track the following standard events:
AddPaymentInfo: When payment information is added in the checkout flow. A person clicks on a save billing information button.

AddToCart: When a product is added to the shopping cart. A person clicks on an add to cart button.

CompleteRegistration: When a registration form is completed. A person submits a completed subscription or signup form.

InitiateCheckout: When a person enters the checkout flow prior to completing the checkout flow. A person clicks on a checkout button.

Lead: When a sign up is completed. A person clicks on the customer login button.

PageView: This is the default pixel tracking page visits. A person lands on your website pages.

Purchase: When a purchase is made or checkout flow is completed. A person has finished the purchase or checkout flow and lands on thank you or confirmation page.

Search: When a search is made. A person searches for a product on your website.

ViewContent: When a key page is viewed such as a product page. The ViewContent event fired is shown in the Pixel when there is information to be displayed of a product or set of products on that particular page.
Product catalog integration
Importing your product catalogue to Facebook enables you to use dynamic ads. Dynamic ads look identical to other link ads or carousel-format ads that are available on Facebook. However, instead of individually creating an ad for each of your products, Facebook creates the ads for you and personalizes them for each of your customers.
Scale: Use dynamic ads to promote all your products without needing to create individual ads for each item.

Highly Relevant: Show people ads for products they are interested in to increase the probability of a purchase.

Always On: Set up your campaigns once and continually reach people with the right product at the right time.

Cross-Device: Reach people with ads on any device they use, regardless of where they first see your products.
---
Configure the App for Your Store
Before you use the Facebook App, it is recommended that you create a Facebook Page for your Business, and configure a Facebook Ad Account with at least one valid payment method.
Follow these steps to start using the Facebook App with your Store:
Go to the Apps Section on the admin panel of your store and click on Gallery, here you will see the Facebook App, click to install it.

Once done, go to the Installed section and click it. You should see this page, here click Get Started.

Now you should be viewing the setup wizard for the App, as you see below, Click Next:

Next, you have to select the Facebook page for your business:

Select a pixel for your site, if you have one associated with your Facebook Page, it should already be selected, if not, you can go ahead and select one.

The App will show you the number of products to be imported from your online store inventory. Any new product you add to your store will already be added to your product catalogue on your Facebook Page. On this occasion, the app will create the first Product Catalogue for you and import your products from the Jumpseller store. You can also create more catalogues manually on your Facebook Business Manager Account.

Now you have to wait for Facebook to approve your products (images and descriptions) and after approval, you are ready to create an Ad for Facebook. Your products, that were imported from your online store, will be shown (pending approval) in the Dynamic Facebook Ads interface.

You can now go to your Facebook Page, specifically to your Facebook Business Manager and view your product catalogue there, it should look similar to this.
How to create a Facebook Shop (Video)
Mobile Demo
When the configuration is completed and the shop/products are approved by Facebook, you can visit the Facebook page and select the Shop section to test it out. Below is a sample of what you can expect for the mobile version:
---
Frequently Asked Questions
I can't setup the Facebook app.

Please make sure you have disabled all/any ad blocker in your browser, and to enable the option to save and read cookies in your browser, while you configure the Facebook App.

How to use the Facebook Pixel?

The pixel will not do anything by itself alone, it will allow you to track customers so you can then use Facebook Ads to show them products they might be interested in and then hopefully drive sales to your store.

If you have more questions about Facebook Pixel, please visit the following page: https://www.facebook.com/business/help/742478679120153

If you have more questions about Dynamic Ads, please visit the following page: https://www.facebook.com/business/help/1598907360340114

My Facebook Pixel is showing some errors or is not working properly.

Only on Google Chrome, after disabling all ad blockers, please install the Facebook Pixel Helper plugin (link - https://chrome.google.com/webstore/detail/facebook-pixel-helper/fdgfkebogiimcoedlicjlajpkdmockpc) and open your website to confirm if all data is being properly shown on each page

Is it free?

Yes, it is free but in order to take advantage of it you will need to have a budget for Ad Campaigns, it does not do anything by itself alone, so keep that in mind.

Can I add products manually?

Once your products have been uploaded to the Facebook Catalog, it is possible to add individual products manually afterwards, however, if you add products manually before importing products from your online store to your Facebook catalog, the previously added products will be deleted when the import process is completed.

How can I manage my Facebook Catalog?

On the Business Manager you can manage your Facebook Catalog. Don't forget to change to the correct account on the header of the page.

The shop section is not showing on my Facebook Page, why?

You may be violating Facebook Merchant Terms and Policies, please review them here: Terms and Policies.

The Pixel is working as expected, except that it triggers two View Content events. Why is this happening?

The ViewContent event is shown in the Pixel when there is information to be displayed of a product or set of products on that particular page.

For exmaple, here you see repeated ViewContent events: 1 is for the main product in the page and 1 for the related products (when present) on the concerned page.

My products are not syncing to Facebook or images of my products are not showing, why?

Uploading images on the Facebook store can be tricky, however, Facebook provides some recommendations in order to have the best chance of getting approved. Note: Every product needs to be approved before it can be shown on your Facebook Shop.

Images Requirements

At least one image is required for each product

Each image must be of the product itself; it can't be a graphical representation (ex: an illustration or icon) of the product

Recommendations

You should use images that:

Are easy to understand and show the whole product
Have a resolution of 1024 x 1024 or higher
Are in the square format
Show the product up close
Have white backdrops
Capture the product in real life situations

You shouldn't use images that contain:

Text (ex: calls to action, promo codes)
Offensive content (ex: nudity, explicit language, violence)
Advertising or promotional material
Watermarks
Time-sensitive information (ex: limited time price drops)

Descriptions Requirements

Recommendations

Your descriptions should:

Provide only information directly related to the product
Be digestible (ex: make use of short sentences and/or bulleted lists)
Highlight unique product features
Be grammatically correct and properly punctuated

Your descriptions shouldn't have:

HTML
Phone numbers or email addresses
Long titles
Excessive punctuation
All the letters capitalized or in lowercase
Book or movie spoilers
Links to external sites
Learn more about uploading products at: Facebook Help Center
We are here to help, so if you have any questions you may contact us anytime.
Related Articles