With so many sites competing for attention, Google search engine rankings are more important than ever. As has been evident by many studies over the years, users tend to only look at the top five results. It is paramount therefore, to improve your SEO and visibility in order to appear top of the search engine results page (SERP).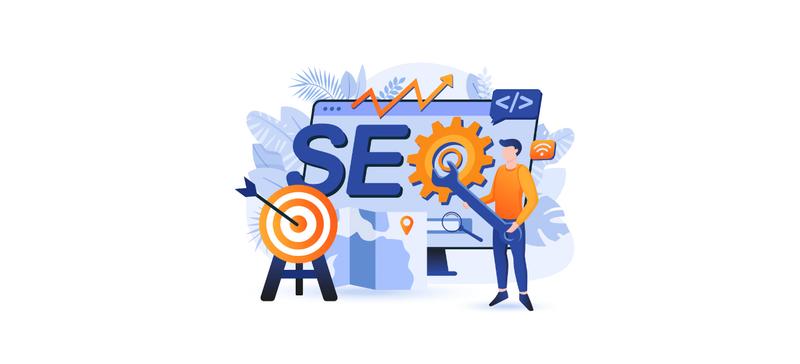 As we are frequently asked by our customers, "how can I rank higher on Google Search results?", we put together this guide with actionable steps to take for your online store to show up on Google and increase click-through rates (CTR) organically.
---
How SERP affects lead generation
Being seen first makes a huge difference to the success of your business. Studies show that the top organic Google search result averages a CTR of 31.7%, whereas the other end of the first page results only sees a CTR of around 3.09%.
So to improve lead generation and receive a high number of clicks, there are certain steps to consider. Website optimisation
There are many individual factors a website is made of that can affect SEO. These include both front end factors that are visible to the user, as well as back end factors working behind the scenes to make up the technical DNA of your site.
5 tips for user-facing features
Content quality It goes without saying; having high-quality content results in a higher CTR, and attracts a more serious audience that will increase dwell time and lead generation, eventually becoming loyal customers. High-quality content consists of accurate information that's original, informative and relevant to the target audience's interests. Keeping a blog with frequently updated content means your content is always fresh and relevant, and embedding a few long-tail keywords will help with discoverability.

Image optimisation Image content helps to make your site more engaging, but it's important to make sure it's optimised for the page. For example, larger image files slow down the page, which leads to slower page loading time and subsequently higher site abandonment. This is especially prominent with mobile devices, as customers are less willing to wait for a page to load. You can compress your images, and also include keywords in the file name to improve SEO.

Digestibility Making sure the page is easily digestible will reduce the bounce rate and increase dwell time, automatically improving rankings on SERP. This comes down to the design and formatting of the page; how friendly or pleasing it is to the eye, and how easy it is for the customer to scan to find the information they need. Short catchy titles and subtitles, ideally less than 40 characters, will make the page easier to scan.

Navigation Leading on from the aesthetics of the page, the ease of navigation across equally plays a huge part in determining how long customers spend on your site. A logical journey with clear and prominent CTA buttons makes it easy and enjoyable for the customer to stay on and move around the site.

Mobile optimisation Many customers access sites on mobile devices, with different sized screens. It's important therefore, to make sure that the design and layout of your site is adaptable and compatible with mobile dimensions. Additionally creating a mobile app can help with SEO, as Google indexes apps so this will also appear in search results.
5 tips for the technical strategy
Page loading speed As we've already mentioned, the page loading speed hugely affects SEO. The slower the page loads, the lower it will rank on the SERP, therefore it's best practice to do everything possible to reduce the heaviness of the page. Removing unnecessary content, compressing visual content, as well as minimising http requests help speed up the page loading time.

Meta description Having a captivating yet concise meta description will increase the CTR, and will help with SEO especially when it includes long-tail keywords. Meta tags should also be carefully considered, with a mixture of short and long-tail keywords. Always be aware not to stuff your site with too many keywords, as this will negatively impact SEO.

Links Outbound back-links to relevant and valuable content improves the authority of your own site, which results in higher traffic. In addition, fixing broken links and ensuring you're not spamming your audience with loads of links encourages them to visit your website, which improves the organic discoverability.

Crawlability Some of the factors we've already discussed account for your site's crawlability, such as fixing broken links and helping navigation across the site through the use of breadcrumbs. Making sure the underlying architecture of the site is organised logically, and that the URL structure matches the structure of the site also enables search engine bots to crawl your site with ease. There are various tools you can implement to help map your site, which you can then submit to Google Search Console for more insight on how to improve your SEO.

Latent semantic indexing Search engines commonly look for words related to your keywords. Latent semantic indexing (LSI) works by including other relevant words or phrases on your site, so the search engine can better identify the nature of the content on your site, allowing it to show up in other indirect search results. In the same way you would other other keywords, make sure to thoroughly research and plan your LSI keyword strategy so you don't overload your site.
---
External factors
Aside from optimising your website, there are other external things you can do to improve visibility and show up on Google and other search engines. Here are 3 top tips:
Social Media Encouraging your customers to share your content on social media helps to improve visibility and drive traffic to your site. With more engagement and clicks, your site will grow in authority and begin to rank higher on SERP. Creating content that is high-quality and containing a few keywords will help optimise your social posts and set up social media to boost SEO.

Customer reviews Allowing customer reviews on Google makes a big difference to your ranking on the search engine. Most customers check reviews before making a purchase or even entering a site. Especially if you have a physical business, it's important to have Google customers reviews to help you appear higher in the search engine results.

Business profile For any businesses that have a physical store, creating a Google My Business (GMB) profile allows your business profile to appear in the search, and also enables your business to be pinned on Google Maps. This is obviously important for customers to be able to locate your physical store, and providing up-to-information for your business profile (following the required guidelines) will help you rank higher.
---
Conclusion
When hosting your online store with Jumpseller, we take care of all of these factors for you, with our built-in, SEO-optimised features. We also provide support along with insights on how to improve our site, show up on Google, and most importantly, increase conversion.
Hopefully this comprehensive guide has answered your questions and will help you on the journey to achieving optimum visibility and high search engine results. It is important to remember that it is an ongoing journey that you continuously need to optimise to remain top ranking.