When a potential buyer visits your store, they may not be ready to buy, but they sure are ready to learn. A blog is one of the pillars of content marketing strategy, a concept used to describe the practice of generating valuable content with the intention of educating and helping your potential customers.
It can contain several types of multimedia content such as articles, audio files, images and videos - this can also be connected to your online store.
The important thing with a blog as opposed to other digital marketing tools is that it is not just another way to sell superficially or be aggressive to lead people into making a purchase. It is about learning and sharing informative content. this can lead to an informed purchase being made of course but that's not the goal!
"If you're not doing content marketing, you're losing a great opportunity. And the problem is that other companies will do it. This is one of the best ways for your potential customers to find your store and learn with it." explains Emily Paterson, CEO of Quatrain Criativa.
---
7 Advantages of having a Blog for your Online Store
Gain authority and credibility for your store: When you offer a library of articles, downloads, case studies, videos and podcasts. This builds trust in your brand and builds a relationship.

If you become a source to provide answers to the questions that your consumers have, you position yourself as an industry leader.

In a brand, reputation is an intangible and immeasurable value. A blog allows you to build it.

Gives an opportunity to get shares and generate traffic without spending a dime.

A good blog makes buyers loyal. If you do not provide information and education about your industry, your competitor will do it.

Adding content to your site, allows your store to rank higher on search engines.

Helps you build a network.
Blog types
Personal blog: It is a mean of expression for those who want to communicate to the world who they are, what interests them and how they see life. It's interesting to notice that most bloggers who started writing for passion have evolved their content and their online business community to online platforms for courses or e-commerce. A good example of a personal blog is Sincerely Jules, that has 4.9 million followers on Instagram. She is one of the most famous bloggers in the world.

Corporate blog: The difference between a company that just announces events and press release communications in their sites and those that offer a diverse content to educate their potential customers is noteworthy. Two examples of corporate blogs in Fintech - Financial technology - industry are Founderlist and Fintual. The first one is an interesting example of the variety of formats and themes you can offer in a blog, the second is a reference to understand how to stand out in an industry, that usually has a serious tone of communication, by using a spontaneous and irreverent form of expression.

Professional blog: An excellent way of building a personal brand to consultants and people that want to stand out from other market professionals. The chosen example is the Venezuelan businessman that created a powerful brand through his content, Vero Ruiz del Vizo.

Niche blog: Those who gather content for people interested in certain topics. One of the niches where there has been an explosive growth of bloggers is fashion.
---
What should I write about?
The first thing you should know to write well is who is your buyer. To do that, it is wise to create a Buyer Persona, for example: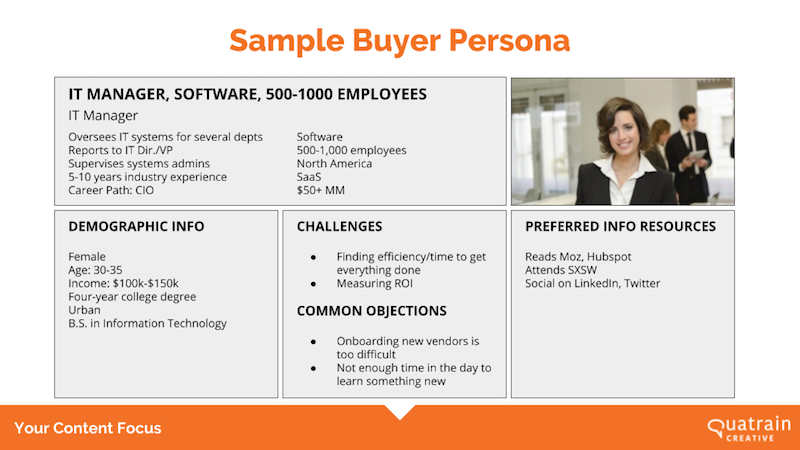 The main questions you must ask are:
What are their demographic profiles? Age, income, geographic location, what are their problems?

What are their goals?

Where do they look for information?

Who are their role models?

What kind of social groups do they belong to?
After clarifying this, make a list of the products and services you offer and what you want to communicate. In the combination of what you need your customer to understand and what they need, lies your field of creation.
For example, my client's problem is that they do not find stores that offer fair prices to buy organic foods. And my eCommerce offers these products. I can create content with tips to save money by buying organic fruits and vegetables.
Ideas for content
Find keywords and phrases that are most searched for within your niche. To do that, you can use the keyword planner of Google Adwords, Moz or Semrush.

Read other blogs in your branch to find inspiration. And when you like a content, ask yourself: why did this impact me?

Write about events related to your business and the current trends in your industry.

Get inspiration from the obstacles you have in your work and that your customers may face. Write about it.

If you have a lot of keywords for a position, you may choose to publish a series of posts around the same topic.

Ask your customers what kind of content they would like to receive.
---
Content Format
According to Emily Paterson, CEO of Quatrain Creative, who has a team of more than 100 freelancers writing to companies around the world, there must be two kinds of content in your blog:
Evergreen – thorough and lasting content:

It is published less often.
It is long and detailed.
It is not an SEO priority, that is, not created to improve your store positioning, but to offer a thorough education to your customers.
Examples: product guides, e-books, whitepapers – a document that helps to understand a matter thoroughly, webinars and case studies.

Snackable – A light and fast content to consume:

It has a short life, which means it may not be relevant in a few months ahead.
It is quick to digest
There is not much depth on the subject
You should always promote content in greater depth. For example whitepapers or other documents for download.
Types: posts, infographics, lists, short videos, interactive videos and quizzes.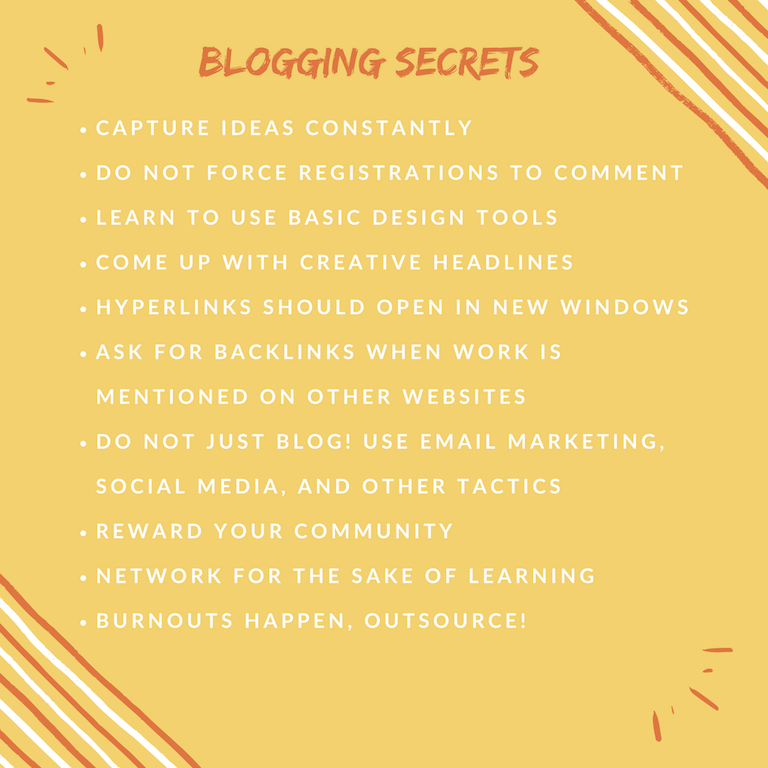 Bonus Tips
Create visually appealing content! Include images and write short paragraphs.

Always include a Call to Action (CTA): read another blog, know a product /service, subscribe to a newsletter, download extensive content.

If you upload infographics in your blog, make sure they are responsive - they look good on computers, phones, and tablets.

When submitting an image, name it with keywords so that it can also be tracked by Google's image search engines.

Include videos on your blog. (Google often shows in the search results videos that start with these words: how, product reviews, tutorials, what is related to fitness and sports, the word interview.)

50% of search queries use four words or more. Experiment by using longer phrases in your headings and try to use a similar phrase in the first paragraph of the articles you publish. (The keywords should be in the file name, video title and description.)

Create topics for the next 6 weeks and add the publishing date to a calendar, try to follow a schedule. Plan in 6-month cycles.

When you make lists, remember that the most popular numbers are: 5, 15, 7 and 20. For example, 5 unmissable products to decorate your home this winter.

Other popular trigger words: better, worse, last, bigger, more stupid, more fun.
---
How to create a blog?
To create a blog with your online store, you have two options: host it inside or outside your platform. The important thing is that, in both cases, it stays visible and connected to your site.
Leave a link in your menu, a simple "Blog" is good! Some other terms used are: resources, academy, library, publications, learn, guides.
From the SEO point of view, it is 100% recommended that your blog is hosted within your platform, because the more quality pages you have associated with your domain, the better your rankings will be on Google.
You can easily add a blog to your Jumpseller online store. Follow this guide to set up your blog in under 5 mins!
---
6 blogs to inspire you