Building your own online store can be a daunting prospect. There are so many things to consider, and it can be difficult to know where to start. Here to help you get things off the ground, we have the ultimate 9-step guide on how to start an online store.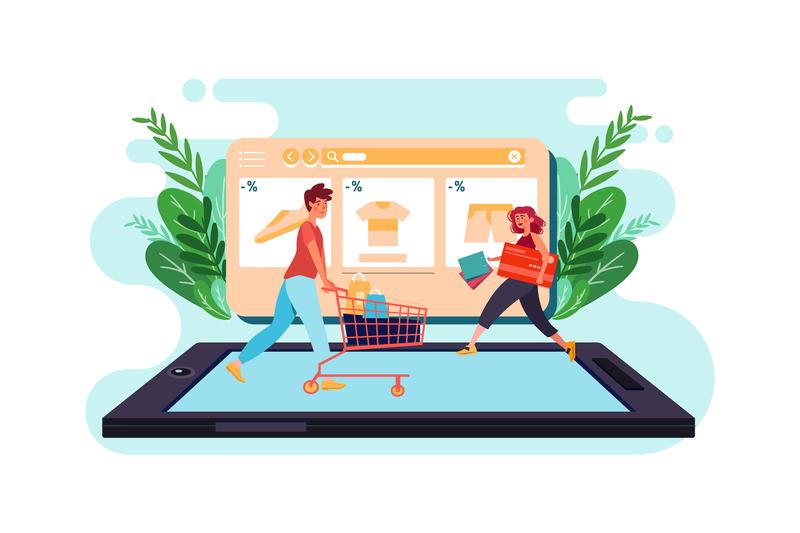 ---
Decide what to sell
First thing's first, you have to decide what to sell. There are many blog posts on what products to sell that can give you inspiration to begin with. Doing a bit of research will help you find out what's selling well, what's predicted to increase in demand over the following years, and where there might be gaps in the market.
Top tip: When you begin your market research, it's useful to start mapping out your strategy to keep track of things. Here's a useful e-commerce business plan guide to follow to get started.
---
Define your target audience
Once you know what you want to sell, you need to work out who to sell it to. Outlining your buyer persona is essentially putting together all the details and demographics of the ideal customer you wish to target: age, location, socioeconomic status, interests, dislikes, and behavioural traits both online and offline.
Doing this is so important, as it'll determine the success of your online store. In order to tailor your products or services to appeal to your target audience, you need to understand what they want, and what they will respond to.
---
Build your brand identity
When building your brand identity, you need to think about your overall goal, and what do you want to be known for. To create the brand identity, you need to define the characteristics of your brand, the tone of voice, brand colours/style and the behaviour and habits online — keeping this consistent across all forms of communication online will allow your customers to recognise you.
Remember to have your target audience in mind when building your brand identity. The most successful brands are those that engage with their customers, in a language that speaks to them.
---
Choose a platform to host your store
There are many available platforms to choose from to host your online store, so it's wise to choose one with a structure that will benefit your business. As well as customisable site designs, we at Jumpseller, for example, also offer a lot of support to cater to all of your needs.
From setting up payments, to creating social media promotions, choose a platform like that will provide you with all the tools to create a successful online store.
---
Plan out your payment and shipping options
There are different payment methods to consider, depending on where you are based, and where your target audience is based. Credit or debit cards are commonly used in many countries around the world, but it's good to do some research as certain regions have other preferred methods of payments. Using a third-party company in the form of a payment gateway is another popular method, as well as e-wallets and even digital cryptocurrencies.
With shipping, again it depends on where your inventory is being stored and where you will be shipping to. There will be different fees for different countries, so it's important to check things like international tax if you plan to ship products to a number of different countries.
---
Upload and present your products
Once you have decided on what products to sell, the next step is to take high-quality photos, and write an enticing product description for each item. It's important not to underestimate the power of compelling language and strong photos: this is what is going to sell your products. With the knowledge of what your buyer person is interested in, you can tailor your language and visual style to appeal to them.
Top tip: Find out more about how to create product listings that sell in this short video.
---
Create a marketing plan
Once your online store is set up, the next step is to create a marketing plan. Your audience will not automatically find you online, so you need to reach out to them, via social media platforms, online forums, and, once you have generated some leads, through email marketing too.
With social media, you have the option of using both paid ads and organic outreach to engage with your audience and drive them to your site. There are various tactics that can be used to increase the click-through rate, from posting at strategic times, to using branded hashtags and encouraging user generated content.
---
Track your analytics
In order to get a good measure of factors such as where your traffic is coming from, drop-off rates on the site, and how many customers complete the user journey and make a purchase, you'll need to set up and track analytics. There are various online tools that you can use, and tracking analytics is also a service that your host platform will often help with.
---
Measure, optimise, and repeat!
Measuring analytics is only beneficial if you use the data to optimise your approach. Both quantitative and qualitative analysis will give you insight as to what products are performing well, what marketing strategy is most engaging, and on the other side, to recognise what isn't working.
Converse with your audience and use customer reviews to your advantage. The more you practice social listening, the better you will understand your audience and be able to meet their expectations. This practice is not something that should be done once — to be continuously growing and improving, you need to regularly analyse and optimise your strategy.