Threads is the new social media platform built by the Instagram team. It's described as a text-based conversation app with real-time updates and public conversations. Mark Zuckerberg, CEO of Meta, excitedly announced that only 5 days after launch Threads reached 100 million users! This steady growth should motivate any business, brand, entrepreneur, or e-commerce site to jump on board. This ultimate guide shares how to understand Threads, create an account, its limitations, and differences from other social media apps, as well as how to advertise a business and products on Threads.
A Guide for Instagram's Threads
Threads recent launch ignited discussions about its potential to replace Twitter, which has experienced a decline since Elon Musk's takeover. Like Twitter, Threads thrives on engaging users through clever one-liners. In contrast, Mark Zuckerberg has clarified that it is not intended for political discussions and will monetize once it reaches 1 billion users. Moreover, Threads also adopts the image-scrolling approach from Instagram's successful strategy.
How to create a Threads account
Threads has experienced rapid and exponential growth in its subscriber base, and one of the key factors behind this success is its seamless integration with Instagram accounts. After downloading Threads from the Google Play Store or Apple Store, users can effortlessly use their Instagram account to log in.
Mirroring Instagram's format, Threads profiles feature a profile photo, bio, and a link section. This gives e-commerce sites an opportunity to include their website or update it to guide users to specific sales or promotions. A complete profile should include a bio describing the product or service, contact information, a clear call to action (CTA), and a link to the website.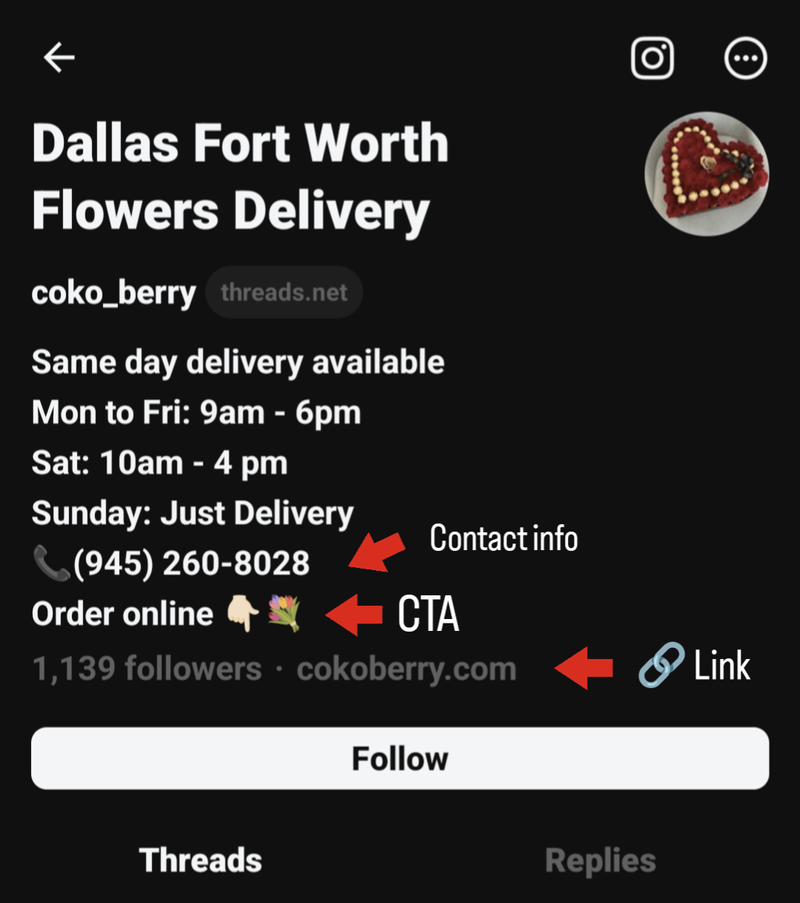 Example of a complete profile: coko_berry
How to use Threads
The characteristics of Threads posts are simple. These can be up to 500 characters, as well as include links, photos, or videos up to 5 minutes in length.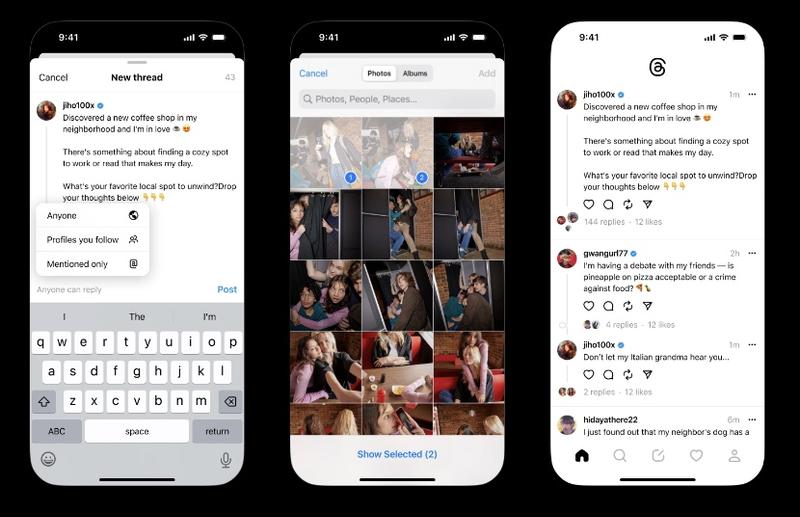 (Source: Threads Instagram Text Feature)
Many features carry over from Instagram:
Subscribers are also able to follow the accounts they do on Instagram
Verified profiles on Instagram will be verified on Threads as well
Users can choose to make their profiles private or public
Threads posts can be shared on Instagram Stories and any other platform
Thread's limitations for e-commerce
Like any new app, there are certain features that users are accustomed to having but Threads does not offer, at least not yet. Below are the limitations that are most relevant to brands, businesses, and e-commerce sites.
Direct messaging This text-based app does not have direct messaging. This can become an obstacle for creating connections and why it's more relevant than ever to have a direct form of communication on your website. A recent survey showed that Live Chat has the highest level of customer satisfaction. Learn how to integrate customer service channels on your e-commerce site.
Mobile-only Unlike Meta's other platforms such as WhatsApp, Instagram, and Facebook, which can be accessed via desktop, Threads is exclusively available on mobile devices. This is why it's important that brands have a recent mobile device model dedicated to the needs of their businesses.
No hashtags Hashtags have become obsolete on Threads, the innovative platform that has bypassed this outdated method of content discovery. Instead, SEO experts recommend alt-text as an effective strategy for optimizing searchability. By including descriptive alt-text in posts, users can enhance the visibility and discoverability of their content, making it more accessible and relevant to the target audience.
Search function Unlike Instagram's search function which suggests different categories when searching for specific text, Threads emphasizes a user-centric approach by exclusively focusing.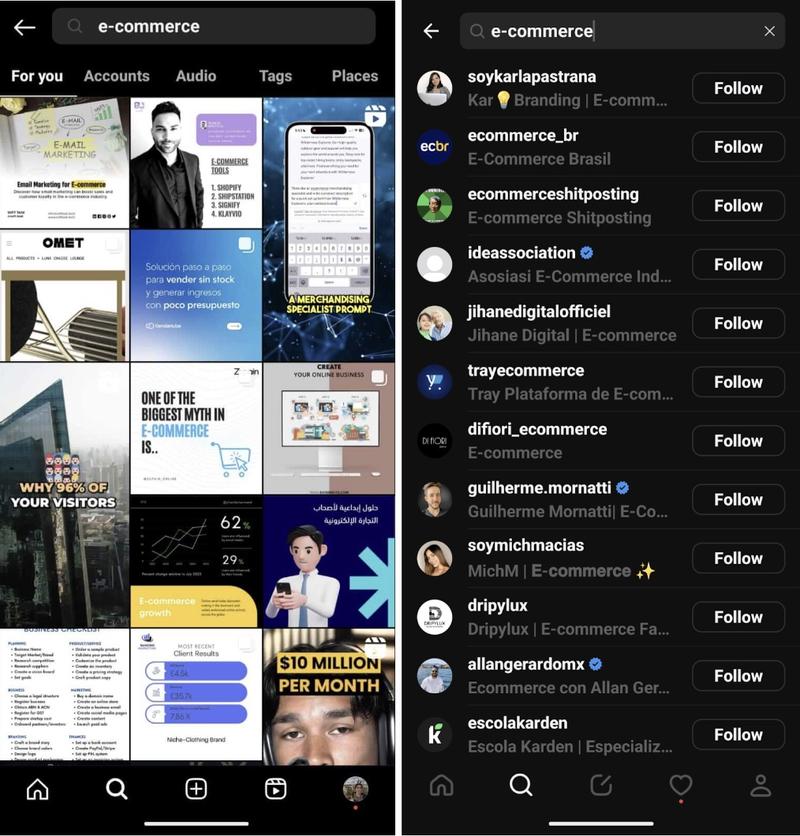 Instagram vs Threads search function
No Monetization Threads does not offer monetization features or direct ad placements yet. The app's main focus is solely on connecting and engaging users.
How to Grow Your Business on Threads
With Threads' functional limitations, advertising limitations follow. Since monetization is not a possibility we'll share a guide for brands, businesses, entrepreneurs, and e-commerce sites to take advantage of the benefits offered by this new app without feeling overwhelmed with yet another social media app.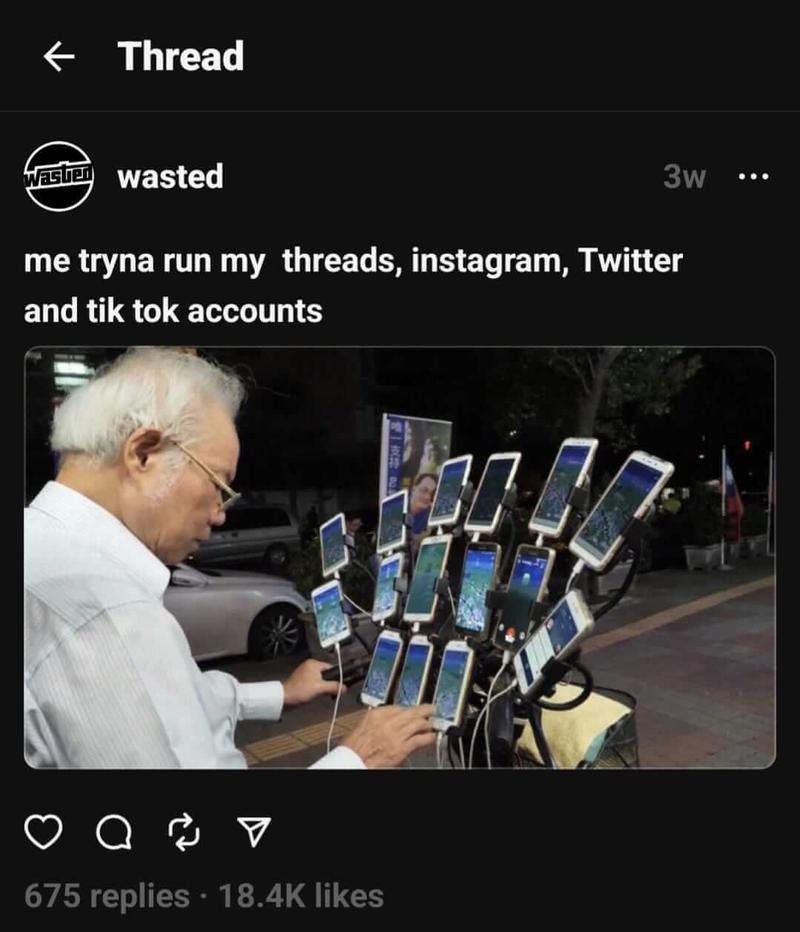 Connect with customers
A new social media platform offers the possibility for a fresh start. Follow relevant accounts to your business and engage with other users' content, especially after posting on your account.
Create relevant content
Threads is meant to be a text-based app so copywriters can thrive. Create engaging one-liners that are conversation starters, or funny enough to be shared by users. If writing is not your strength, you can use AI such as ChatGPT or Copy.ai to improve your text. Here's a guide on how to use ChatGPT for e-commerce.
Another great option is to find new content creators to write content for your business. Community managers can benefit from the new beginnings to engage with new influencers and content creators on Threads. Although the profile verification check mark transfers over, Threads opens up the possibility for witty writers who did not connect with Instagram's image-based users.
Join the conversation thread
Since Threads is a text-based app, a great way to attract potential customers to your profile is to join conversations related to your product or service. For example, if your e-commerce site has a shoe sale, you can join the conversation on a thread by a major shoe brand where users discuss their needs and pain points.
Share announcements
Social media is already one of the best ways to share product and sale announcements. Use this new platform to reach new users. The best part about using a new platform is that we are all figuring out together which is the best type of content. Experiment with a new strategy. This approach could include scenes that the business has not shared in public before, such as the development of a product or getting to know the team behind the brand. Tag vendors, distributors, or anyone relevant to the business.
Grow organically
Since there are no ads or hashtags on Threads, this is an opportunity to grow the account organically. Similar to Instagram, Threads allows users to tag others. This creates connections by appearing in the feeds of users where otherwise your content would not display. Unlike Instagram, Threads currently displays posts from all users, instead of profiles followed by you and ads.
We also know that similar to Instagram and Facebook, the feed is not displayed chronologically. We can only assume that it displays content based on your interests (posts liked and accounts followed). Experiment with tags, type of content, posting times, and anything that will offer a multivariate set of strategies to understand what works best for your business.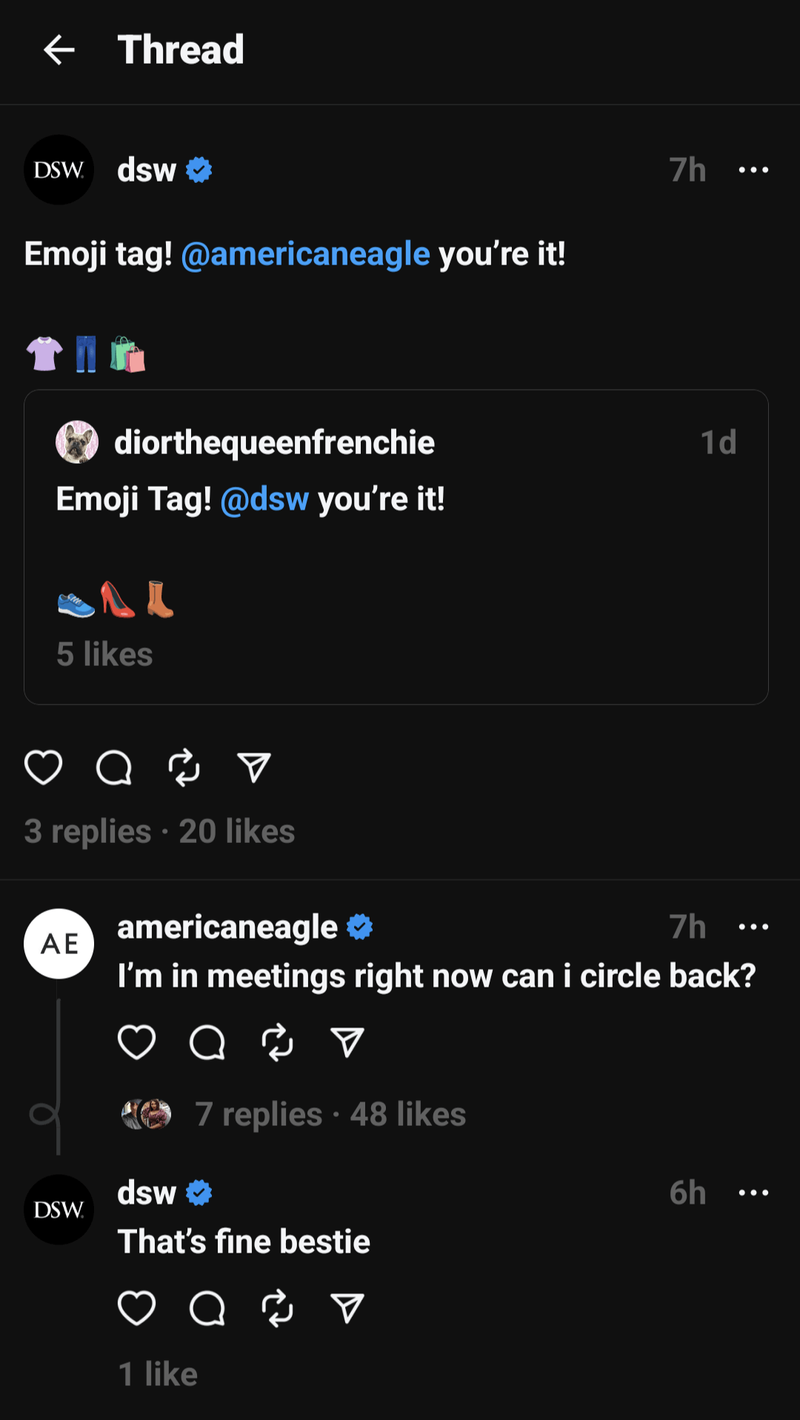 Start a thread with relevant accounts.
Collect feedback
Contests and giveaways might not have created the desired engagement on other platforms, try running them on Threads instead. These tend to create engagement around the brand or product launches while helping the business collect feedback from potential customers. Don't forget to include a link, photo, or video with a clever and brief description.
Also, Q&As are a great way to collect feedback. When asking a user to tag a friend, we can learn about their engagement with the brand, their geography and so much more.
Giveaway sample post with creative graphics.
Create engagement
After launching a product, e-commerce businesses must sustain customer engagement. This involves follow-up emails, review requests, special offers, and responsive customer service. These strategies keep customers informed, gather feedback, provide incentives, and build trust for lasting relationships.
Lessons from Meta's Successful Product Launch
Threads had a massive registration upon launch. A large part of this success is due to a strategic product launch. Meta partnered with influencers and celebrities to create excitement around the new app prior to its launch.
For e-commerce businesses, building anticipation before a product launch is crucial. Email marketing, social media teasers, and influencer collaborations effectively capture potential customers' interest and drive early demand for the product. Read more about how to convert sales with email marketing with this article.
As many users have stated, Threads launched during a time when users were looking for a replacement for Twitter. It solved a problem by offering a product that resonates with users. Similarly, businesses can emphasize through content why their product is so relevant and unique and why it solves the customer's problems. Describe the unique highlights of your product, it could be, superb customer service, innovative design, or competitive pricing. This will help the brand stand out from the competition and resonates with the target audience.
Threads offered a smooth transition for Instagram users. Likewise, providing a seamless user experience is essential for e-commerce businesses. From navigation to payment and delivery, meticulous attention should be given to ensure a streamlined experience for customers. Simplified interfaces, efficient search options, secure payments, and optimized delivery processes contribute to customer satisfaction and loyalty.
Threads and E-commerce Integration
Leveraging these features and strategies allows e-commerce businesses to capitalize on Threads' user base and drive traffic to their platforms effectively. Sign up now to secure your handle, even if you're still figuring out the best strategy for your business. Jumpseller offers many integrations that help e-commerce sites provide a seamless user experience. From sales channels, customer service, email marketing, and more, learn about the many possible app integrations for your e-commerce site.
---
Contact us with any questions or concerns at support@jumpseller.com / Facebook Jumpseller / Twitter @Jumpseller / Instagram @jumpseller