With the increasing popularity of online stores, dropshipping has become a go-to way to kick-start an online business. If you are someone who wants to create an online store but has a limited budget, dropshipping could be the ideal solution for you. Many people who are not too familiar with the term dropshipping still ask questions like How does Dropshipping work? and How to start a dropshipping business? In this article, we tell you all you need to know before diving into the world of dropshipping.
---
Contents
---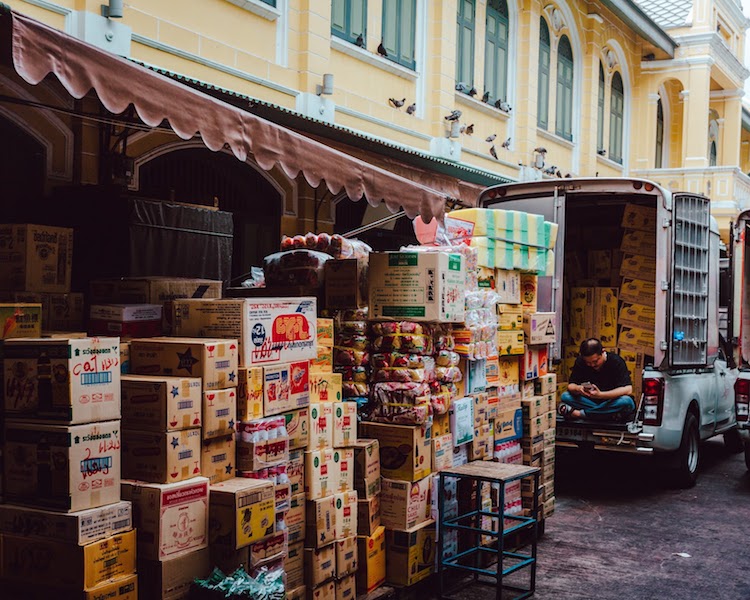 ---
What is Dropshipping?
Dropshipping is a way to sell online, where the store serves as an intermediary between the suppliers (who hold the inventory), the sellers and the buyers. In this case, the seller is only responsible for promoting and selling but does not manage the inventory, or packaging or shipping. What is the key to this model? Have a well-defined niche, invest smartly in digital marketing, have effective communication channels with suppliers and customers and analyze data to make decisions focused on what your target audience demands.
---
Why is it so attractive?
Because you do not need to invest large amounts of money in keeping inventory or even an office for that matter! Simply when a buyer confirms a purchase, the dropshipper issues the order to the suppliers. This allows you to create a business idea without having the product. Now, what is attractive, proportionally has its challenges as well. We will talk about this later.
---
How does it work?
In dropshipping business model, the way you generate income is the difference between the value you pay for a product to a supplier and the final price paid by the buyer. To understand how it works, let's see in detail what is the supply chain in this infographic: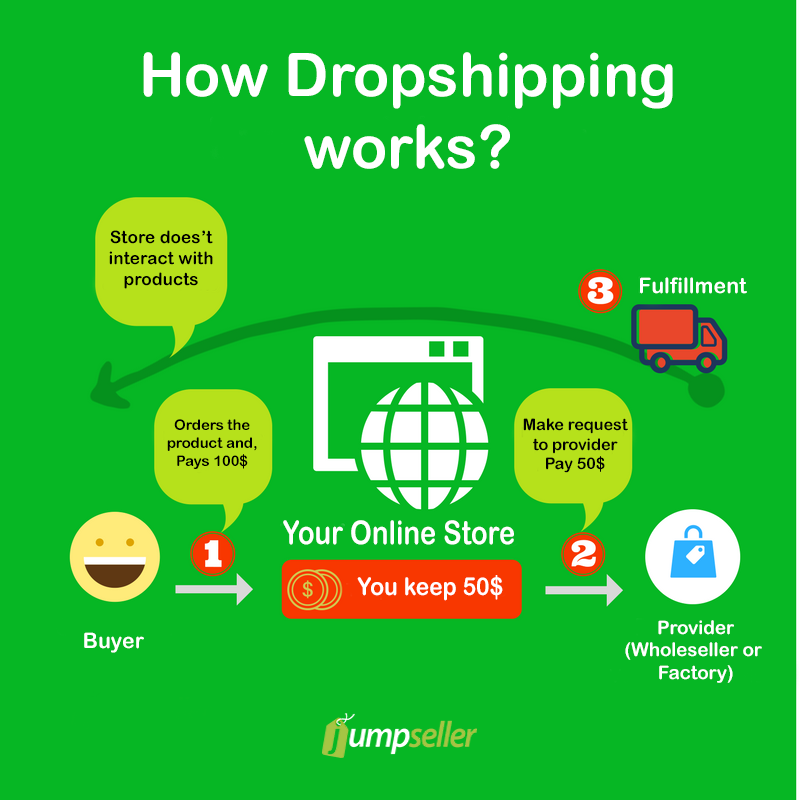 Where is the Achilles heel of dropshipping? Find authentic wholesalers, suppliers that serve as allies to build and maintain the reputation necessary for your online store to prosper.
---
How to find the right wholesalers?
It is very important to get in touch with the best wholesalers and there are several ways to find them:
Search on Google: Nowadays the dropshipping model is well known and there is a lot of information on the Internet, so you can search directly from wholesalers for the products you want to sell. Keep in mind that the credibility and level of excellence of these are not necessarily reflected in their web facades, since, in general, they are not focused on this. So be patient and do not trust the first page that appears on your search.

Contact the manufacturers directly: You can search the manufacturers of the products you want to offer and ask for information from the wholesalers with whom they work. Repeat this and after you have contacted 5 to 10 manufacturers you will be able to know who the popular wholesalers are in that market.

Investigate your competition: Also, you can order a product from the competition that you think uses dropshipping and when the product arrives you can trace the original shipping address to find the supplier.

Subscribe to a directory: Another way is to search online directories, filter out useless information to make authentic wholesalers visible.
Signs of good suppliers
Have good sales executives, fast communication, and simple processes. Imagine that you will stand up for these providers and have to deal with customer complaints. In face of complex scenarios, it is vital that you have a trustworthy and agile person who can support you to solve the problems in the shortest possible time and with the least bureaucracy.

They do not ask for monthly fees. Some providers ask for a fixed monthly amount of money with the argument of being able to do business with them. This is a common sign that it is not a legitimate wholesaler.

They have integrated technology. Although it is not a common trait of wholesalers, it will always be a relevant quality that facilitates the processes. Ex: real-time inventory and online catalog

You can place orders by e-mail

They ask you for confirmation that your business is legally constituted

They charge fees per order since the cost of packaging and shipping is different from the product alone.
Now, before taking a risk and placing a large order, you can make a trial order and see in practice how good or bad the service offered by the provider is. Also, marketplaces like alibaba, aliexpress and hubba have a huge catalog of wholesalers and products for you to choose from. Making it significantly easier to find the right products to sell.
---
Advantages
Low capital requirement: By not having to store the products of your store or handle the costs of packaging and shipping, you can start with little money. There are even experts in the sector who say that monthly costs can be under the US $ 100. You could say that the biggest capital is the time you invest in determining your niche, choose the products, the suppliers and set up your store or, upload the products and their descriptions if you enter a marketplace.

Easy to start: It's easy when you find suppliers and you have a clear niche to try. Your efforts will be focused on building a good Minimum Viable Product (A store that is good and safe enough to leave) and in promoting it. In fact, it is recommended to start with a single provider and see how it works.

Low costs: You save having to pay for a warehouse, the cost of packaging, all resources related to inventory management and accounting. As for advertising, you can try investing a few dollars (from US $ 40 a week) on social networks like Facebook and Instagram, whose biggest advantage is the level of advertising segmentation, to validate if people are really willing to buy what you offer

Flexibility: Being a service that does not have a physical presence, you have the flexibility to choose the location from which to work. Also, the fact that you can validate without having to risk buying, allows you to make quick decisions and change from the product to the form of promotion, to the extent that the behavior of your customers is giving you information.

A diversity of offer: If you were the manufacturer of a product, it would complicate the diversification of your merchandise. Instead, because you only manage a list of products, you can have several brands and suppliers that meet the needs of your target audience.

Scalable: If you had a shoe factory, you would sell online in one city and would like to ship to another, the expansion would entail proportional costs. On the other hand, by providing the dropshipping service you can go to more geographical areas as long as you coordinate well with your suppliers while maintaining low operating costs.
---
Disadvantages
Low margins: There is a high competition of actors in the market, which generates a price war. The solution is that you find an adequate market niche and focus on developing a competitive advantage different from the price.

Instability of Inventory: As you depend on several suppliers, if one of them is running out of stock, you have to quickly change the offer in your store. Otherwise, you could lose credibility.

Complexity in shipments: Having several suppliers, shipping costs may vary and this can be complex to handle facing the final consumer.

Numerous factors out of control: Any error in the shipment or in the product affects the reputation of your online store, not who supplies it. Therefore, once again, the key to the sustainability of this E-Commerce model is finding good suppliers.

The returns: One of the main obstacles in the dropshipping are the returns since the suppliers rarely agree to accept returns and even if they accept it, generally you as a store do not receive the notification when they receive the item.

Reimbursements: Handling reimbursements is not easy either because suppliers are generally opposed to issuing refunds. Most likely, they justify that the order was already issued or that they offer to resend. The risks increase proportionally to the increase in sales.
If you are willing to try for yourself and draw your own conclusions, it is key that you know that the most important thing to start is the definition of the niche, parallel to the search for authentic wholesalers.
---
Choosing the products to sell
Study what are the best selling products in the most popular marketplaces. I recommend you check Amazon's Best Sellers section, which they update every hour. This global marketplace has a direct presence in the United States, the United Kingdom, Germany, France, Italy, Spain, Japan, Canada and China, and serves clients in most countries of the world.

Investigate the trends of the growing industries in the local market: While having an online business allows you to reach places where it would be physically difficult for you, each country has a different market and regulatory characteristics. If you want to start, do it in a market that you know.

Think logistics: Know what characteristics have the logistics services of your country and what are the costs associated with packaging and shipping. To start, I advise you to start with smaller products and, with the growth of sales, you can negotiate better prices later.

Look for products that have less possibility of being returned: As the shipment is a complex issue, having products with low returns can avoid many headaches.

High margins: Not mandatory, but it's a smart choice, discard products with very low margins.

Think of products that require replacement or a repetitive purchase: It is known that large technology companies, for example, generate more income from accessories than from more expensive products.

Think of products that are popular but not easy to find.

Products that you can offer with added value in the online experience. What products could be more pleasant to buy online than physically?

Consider the potential to have coverage in the press: Is it a product that could be new and capture media attention?

Use the most searched information on Google: If you are going to sell online, one of the strongest channels to find your store will be Google. So there you have very relevant information on what is most sought by people on the Internet. You have two tools to do it. One is Google Trends that shows you the search trends and the other is Google Adwords keyword planner.

A quick test and see the results: In business, the validation of the client exceeds all market projections. So spend time going out to try if there is an interesting group of people who want to buy you.

One of the most important things: SELL SOMETHING YOU LIKE AND YOU WOULD BUY.
Bonus Tips
According to Anton Kraly, founder and CEO of Dropship Lifestyle, an online coaching program for entrepreneurs in E-Commerce, the pillars of success for a store that works with Dropshipping is:
Sell to a group of passionate people: The intelligent way to compete today is to specialize, to find a target audience with a defined hobby. For example Pastry lovers without sugar.

Build authority: When building a new site, the first challenge is for people to visit you. For that, you can link a building strategy that consists of asking actors related to your business to include hyperlinks to your content. Another idea is to create a group on Facebook and build a community.

Branding: The best and most sustainable way to build a long-term business is to develop your brand. For this, I recommend you study Inbound Marketing, the strategy of generating valuable content for your audience that leads to sales.
Some key issues in E-commerce to study and have more tools to start or grow your online store:
Inclusion of Artificial Intelligence in online stores

A-Commerce: Automated Commerce

Facebook Messenger chatbot

Social shopping (Sale through social networks like Snapchat and Instagram)
---
Resources and sources mentioned in the article
E-marketer: firma de investigación del mundo digital
Drop Ship Lifestyle
5 tendencias de Dropshipping eN 2018
5 Tendencias para cualquier emprendedor en 2018
Sección de Amazon Best Seller
Ebay Daily Deals
Lazada Top Sellers
LightInTheBox Top Sellers List
Oberlo's List of What to Sell Online
Conversamos sobre cómo montar tienda online con alguien que aprendió demasiado al respecto